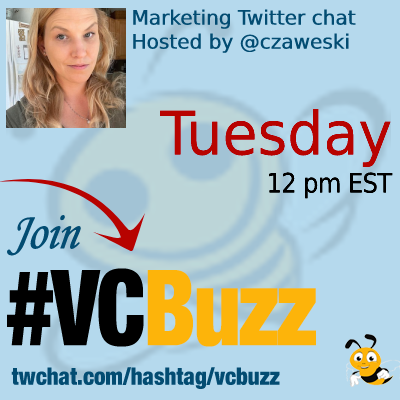 Social media marketing is a long-term strategy that promises a lot of intangible benefits, like brand awareness and positive reputation.
This makes auditing your (or your competitors') social media activity quite difficult.
Let's chat creating social media audits that prompt action and improve your marketing strategy!
***Add #VCBuzz chats to your calendar here.
***Please sign in here to follow the chat -> twchat.com/hashtag/vcbuzz
About Cyndi Zaweski @czaweski
Cyndi Zaweski @czaweski is an award winning copywriter, social strategist and journalist.
Connect to Cyndi on Linkedin
Questions we discussed
Q1 How did you become a digital marketer? Please share your career story!
From my early days with a sparkly Lisa Frank notebook and a career in broadcast journalism to studying at Columbia and becoming a brand messaging wiz, I've always been a storyteller.
As a journalist, I interviewed small business owners to uncover the heart and soul behind their brands.
My "ah-ha moment" came during the pandemic when I saw how these business owners were experts in their industries but needed guidance on how to take their message to new heights.
Q2 Why would a brand need a social media audit? What are its purposes?
Great question! Learning how to audit your social is the first step toward creating engaging content.
It gives insights into your audience's likes and dislikes, which ultimately gives you the secret sauce to creating a killer content strategy.
For example, you can use Instagram insights to track what type of posts are getting the most engagement, as well as when you're getting the most interaction with your audience.
Insights are only available to business accounts, right? #vcbuzz

— Jessy Troy (@jessytroy) May 3, 2022
Yes, to access Instagram Insights, you need a business/creator account.
Q3 What should a good social media audit contain?
You should have content goals in mind when you're auditing your accounts.
Follower Growth, Engagement Rate, and Leads Generated from Profile Clicks are a few of the most effective metrics to track to make sure you're reaching your goals.
For example, with a brand awareness goal, start your audit by looking at reach insights as well as shares.
From there you see which posts got the most reach. Double down on what's working.
Is there a certain topic(s) that rises to the top again and again? That's a good indicator of what your audience is coming to you for.
A3.
1. Setup a Social Media Audit Spreadsheet
2. List/evaluate all existing social media accounts
3. Research analytics to realistically evaluate your social marketing effectiveness
4. Define "best posts" & use them to update your strategy.
5. Ensure brand/goal alignment#vcbuzz

— Jeannie Hill (@essentialskill) May 3, 2022
Q4 Which mistakes should one avoid when creating a social media audit?
You don't have to ditch underperforming content altogether!
Which posts didn't hit the mark? Can the information be presented in a new light or enhanced to increase its value?
Audits are a time to reflect on what can be improved.
A4. Avoid the following social media audit mistakes:
1. Not correctly identify your target audience.
2. Missing a distinctive brand voice.
3. Sharing about yourself more than valuable information that your audience needs. #vcbuzz

— Jeannie Hill (@essentialskill) May 3, 2022
Yes! All of those missteps should be addressed in your content strategy, not just through a regular audit. Knowing your audience is the foundation!
A4. Incomplete profile details & working without a strategy.#vcbuzz

— Amal Ghosh (@AmalGhosh3) May 3, 2022
Yes, the biggest mistake many brands make — especially attorneys and architects — is making their site and social posts all about themselves instead of about what their audience actually wants. #vcbuzz https://t.co/cISstiPEbz

— Gail Gardner (@GrowMap) May 3, 2022
Q5 What are your favorite social media auditing tools?
I am a fan of using the in-app insights for each platform if possible.
Hootsuite is another favorite for overseeing multiple channels.
Our previous social media auditing chats: