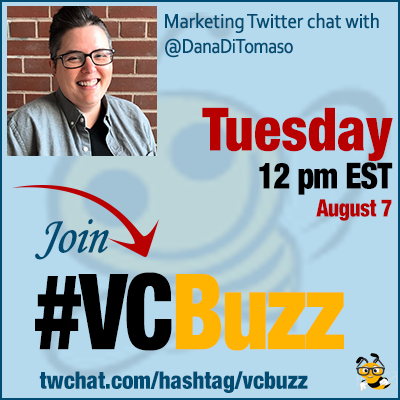 They say you cannot improve what you cannot measure, and social media marketing is one of the most difficult areas to put a price on. But there's a way to measure it, using a free tool.
How to use Google Analytics to improve social media marketing? Let's discuss!
***Add #VCBuzz chats to your calendar here.
***Please sign in here to follow the chat -> twchat.com/hashtag/vcbuzz
About @DanaDiTomaso
Dana DiTomaso @DanaDiTomaso is President and Partner @kickpointinc
You've probably seen Dana present at a conference, or maybe you've heard her on the radio.
Questions we discussed
Q1 How did you become a digital marketer? Share your career story!
I actually have a degree in Geography and was going to be a Fluival Geomorphologist, working on river restoration projects. When I got out of school, environmental jobs were scarce and so I got a job at a software company – I've always been a nerd.
I worked in software for a few years and then when I was laid off, I got a really nice severance package and used that time to teach myself web design and became a freelance web designer. This was in 2000.
When I launched my first site, my first client asked how they could rank higher on Google. From there I jumped into the world of online marketing. I went to my first conference in 2004. I'd won a pass to SES Toronto from Jill Whalen (thanks!). The rest is history!
Q2 Why Google Analytics? Are there pro and cons to using it? Does it work for any business?
Google Analytics is the industry standard, in my opinion. It's far more flexible than I think people give it credit for. When combined with Google Tag Manager it can be incredibly powerful. Most people only use a very small part of what GA can do.
Any business can benefit from Google Analytics but you need to be using it right. We rarely see GA properties that are set up correctly. And Custom Dimensions and Metrics are criminally underused.
The reason other tools are popular is that Google Analytics is hard to find what you need in and they keep changing it. It would help if they would stop doing that. #vcbuzz

— Gail Gardner (@GrowMap) August 7, 2018
You definitely need to get in there fairly often to keep up, it's true! We watch the Google Analytics changelog and they do blog about big changes.
I don't necessarily want to crap on tools that provide "enhanced analytics" but a lot of those are replicating what you can do with a smart GA setup.
A2 I did a workshop for #forgetthefunnel that dives into some of these advanced concepts: https://t.co/QcnwFwF07T #vcbuzz

— Dana DiTomaso (@danaditomaso) August 7, 2018
And the more you use GA, the more you learn about it. We also get a lot of perks, with Google recommending keywords and suggesting ad copy for us. #VCBuzz – A2

— Narmadhaa (@s_narmadhaa) August 7, 2018
Exactly! Why pay for it when you can set it up once for yourself?
GA is fine for Fluival Geomorphologists, Dana … but how can normal people understand it? #vcbuzz

— Don Sturgill (@DonSturgill) August 7, 2018
There are lots of great tutorials out there. Start with Google's Analytics Academy.
I tried the academy, but it doesn't match up to the current version of GA. Even more confusing. #vcbuzz

— Don Sturgill (@DonSturgill) August 7, 2018
That's good to know! All the Academy instructions are on Twitter. Follow them for sure, and maybe ask if it'll be updated anytime soon?
Q3 How to use Google Analytics to better understand the efficiency of your social media marketing efforts?
Start by thinking about goals. Don't think about what data you can get out now, think about what data you'd want to prove your value in an ideal world. Then break that down into KPIs & metrics. I covered that at MozCon 2014
And don't just rely on pageviews. We've created a way to measure if someone is actually reading the content or not, we call it Content Consumption.
Q4 It's important that different teams within one company should have access to analytics to better understand the overall impact. How to use Google Analytics for in-company collaboration?
First, you need a common set of goals to work towards as an organization. At MozCon this year I talked about creating a Goal Charter. In that document, you're covering what your goals are, what you're going to do to get there, and how you'll know when you're there.
Share that Goal Charter around the entire organization. Then, set up GA so it's measuring what you need to know. Do you need to track events, such as when a button is clicked or a tab is shown? Maybe you need to sort people into Custom Dimensions?
Then, once you have GA set up, build reports (I recommend Google Data Studio) to clearly demonstrate your progress towards these goals. Share these too. Yeah not every month will be amazing but you don't gain anything by hiding your results.
We always say that marketing is 1% of everyone's job and the only way you can get people involved is to involve them. Share your goals. Share your reports. Don't hide data behind oddly named metrics and conversions — these don't mean anything to most people.
Speaking of which, conversions is a terrible word. It doesn't mean anything to non-marketers. Call the conversion what it was: your phone rang, or you got an email, or someone downloaded your whitepaper.
This is one of the major reasons, non-marketers hate marketers. Jargon alienates people. When we're in a team, we must make sure everyone understands what we're saying. #VCBuzz

— Narmadhaa (@s_narmadhaa) August 7, 2018
A4 And if you want to learn more about Google Data Studio, I just did a Moz Whiteboard Friday on the topic: https://t.co/j0co7Bmjuk #vcbuzz

— Dana DiTomaso (@danaditomaso) August 7, 2018
Q5 What are your favorite digital marketing tools?
One of our favourite tools is @RivalIQ. If you do any social media work, you need to check them out. Fantastic competitive intelligence and social media analytics. Plus they have a Google Data Studio connector.
And of course we use Google Analytics, Google Tag Manager, and Google Data Studio. The @Supermetrics connector for Data Studio is A+++.
A5 I like what @whatagraph is doing with GA data #vcbuzz

— Ann Smarty (@seosmarty) August 7, 2018
My only concern with those types of tools is that you're only tossing out data. Our job is insights, not data. So make sure you aren't making the charts for the sake of making the charts — what story does it tell?
@danaditomaso Truth! but these tools make it easy to translate the data into something other than marketers can understand! #vcbuzz

— Ann Smarty (@seosmarty) August 7, 2018
We were using another (paid) dashboarding tool but we're moving everything other to Google Data Studio. It does what we want it to do and the custom fields are fantastic.
I'd argue that a really good report should do that on it's own. You won't need flashy graphics — report less, say more.
Our previous analytics and conversions chats: