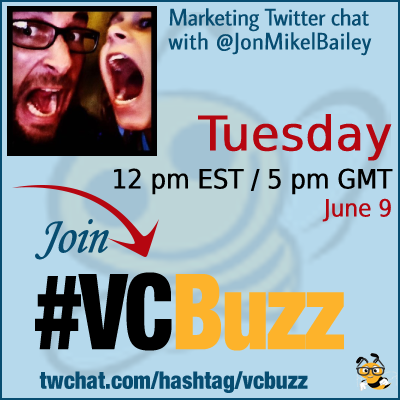 There's one thing blogging has taught many of us: We keep producing new and new content without ever looking back.
But what about old content? Is it performing as well as we hoped it would? Are there ways to improve its performance? What can we learn from our under-performing content?
All of those answers can turn us into better writers and marketers! Let's discuss!
***Add #VCBuzz chats to your calendar here.
***Please sign in here to follow the chat -> twchat.com/hashtag/vcbuzz
About @JonMikelBailey
@JonMikelBailey has already hosted our chat twice, and every time those were awesome marketing lessons!
Jon-Mikel Bailey is the Chief Development and Marketing Officer for Wellspring Digital, a full-service digital marketing firm specializing in SEO, PPC, Marketing Automation, and Content Marketing.
Questions we discussed
Q1 What is content audit and why do we need one?
A content audit is an accounting of all content assets you have and will need.
Content audits are a great way to see the holes in your content marketing efforts. You might think you're creating great content for every audience need but an audit may show you differently.
Content audits also help you to find and eliminate the crap. Bad or thin content is not doing anyone any good, KILL IT!
A1) Content Audit is analyzing the past blogs, which are performing best, mid-yorker and worst and then performing some quick off/on-page tactics to boost the ranking/traffic #vcbuzz

— Salman Saleem (@salmanlashkari) June 9, 2020
If you do a website redesign without a content audit, you might end up not bringing over great content from your old site AND/OR you might be bringing over a bunch of outdated or bad content.
Content audits can be about data but they should also be a conversation about what you're saying to your target audience, what they're doing with it, and if you should change course.
When talking about getting rid of bad or thin content, I always think of @BritneyMuller's results for @Moz in 2017.

She goes over the results in this interview: https://t.co/ZKqTgc0cGq

"we saw a lift of 13.7% year-over-year for organic traffic the following month."#vcbuzz

— Boyd Norwood – Just for fun: www.isSEOdead.org 😁 (@boydnorwood) June 9, 2020
Q2 How to create a content audit without using expensive tools?
I find that the dashboards can be misleading. As Karl Hindle, CEO at Wellspring Digital says, never trust the dashboards.
Or "trust but verify".
Sometimes manual is best. Do a review using a simple spreadsheet and some manual poking around.
There are free Excel Spreadsheet templates out there. What you'll need at a minimum is link, topic/title, type, and quality (say 1-5).
A2 This is a blog I wrote on the subject that you might find helpful – https://t.co/yAqw1cpZCc #vcbuzz

— Jon-Mikel Bailey (@JonMikelBailey) June 9, 2020
When doing a manual content audit, think of it like the produce department at your grocery store. Throw out the rotted fruit and keep the good stuff. Order more of what you don't have and your shoppers need/want.
Q3 Which tools (free and paid) would make content auditing easier and/or more insightful?
Screaming Frog will crawl up to 500 links for free. So, if yours is a small website, you can use this tool for free to get a report of all pages on your website. Then audit manually.
Screaming Frog is typically an SEO tool so it will give you analysis of your website from that perspective. SEO is an important factor for rating your content, but not the only factor.
Google Analytics is also free and will show you which pages are most popular by showing referring links, time on page, and other factors. But remember, popularity isn't always a quality indicator.
SEMRush is a powerful website crawling tool. It can get you some great competitor data to help you know which content to go after, what keywords to target, and where you might be able to beat out your competitors by talking about things before they do.
And Excel of course. 😉
A3b. I don't force all the phrases and words in the content but there a many times where I can easily add a word or phrase without compromising the quality for human readers.#vcbuzz

— Boyd Norwood – Just for fun: www.isSEOdead.org 😁 (@boydnorwood) June 9, 2020
Q4 What's next: What type(s) of action should follow a content audit?
It's important that you use this audit to develop your content and website plan. Doing an audit just to have it is a waste, plan on making some changes based on your findings.
Yes! An audit without implementation is incomplete and worthless.

The whole purpose of an audit IS to drive changes to implement.

This is something I have to remind myself constantly and force myself to do because I find the analysis part to be the most fun part. 😊#vcbuzz

— Boyd Norwood – Just for fun: www.isSEOdead.org 😁 (@boydnorwood) June 9, 2020
A content audit should show you where you need better and more page, product, and blog content. It should also inform your editorial calendar.
Don't forget about media content like videos, infographics, and podcasts. Do you have these? Can you make some/more of them? What topics? What would your audience eat up?
Be open to what your content audit tells you. You might be surprised by your findings. Be willing to pivot if you find yourself on the wrong content path.
You may also realize that you are on the wrong social channels with certain content or just in general. Be open to changes that could include abandoning any failing efforts.
Q5 Do you recommend removing content that brings 0 traffic?
If it has zero traffic and you think the quality sucks or it has little value and you can't improve it, kill it!
Yeah, me too. It can be difficult to get rid of pages that you or a team member has spent time building.

But sometimes less is more.

The key is to understand which page deletions would actually help.#vcbuzz

— Boyd Norwood – Just for fun: www.isSEOdead.org 😁 (@boydnorwood) June 9, 2020
Be careful here. Even if something is crap, there may be little nuggets you can steal and repurpose. You never know where good content is hiding. (can you tell I'm a hoarder?) "But honey, I know I'll need this someday!"
Traffic isn't the answer to every question. In fact it's often the wrong question. The right question is "does this matter to our audience?" If yes, "how can we get it in front of them?"
Exactly, every page should serve a purpose and it's not always TOF (attracting traffic) #vcbuzz https://t.co/ZbetBmj0gA

— Jessy Troy (@jessytroy) June 9, 2020
Also, never remove something until you fully understand its effect on SEO.
Our previous content auditing chats: