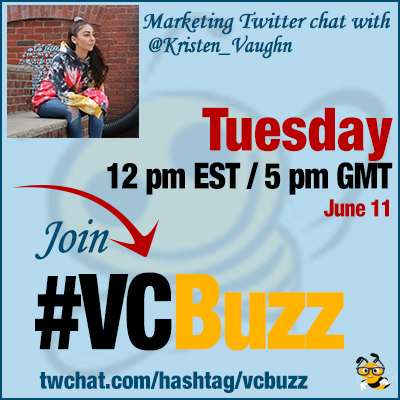 Google gives us lots of clues as to what types of content satisfy their users best and what your content should include.
Let's try and learn to read those clues to high-ranking, create better performing content!
***Add #VCBuzz chats to your calendar here.
***Please sign in here to follow the chat -> twchat.com/hashtag/vcbuzz
About @Kristen_Vaughn
@Kristen_Vaughn is no stranger to #vcbuzz. She already hosted a pretty awesome chat talking about content repurposing.
@Kristen_Vaughn does SEO, content and social over at @komarketing
Follow @Kristen_Vaughn over at her blog
Questions we are discussed
Q1 Let's start with the basics: What are SERPs and why do we care?
SERPs (or search engine results pages) are the list of results displayed on search engines for a specific query. On the most basic level, it's what shows up on Google for a search.
The thing about SERPs… they are constantly changing. New content is constantly being indexed. And, Google is constantly displaying new and more advanced features.
A1 Results pages that are returned from what a user searches on a search engine. We care because billions of people using search engines everyday to search for answers to questions and solutions to problems #vcbuzz

— Ryan Anderson (@officialryguy) June 11, 2019
Knowing what's showing up in SERPs around your keyword priorities is absolutely critical. This type of analysis will help you understand the key components and commonalities of the results listing, and what's required to rank.
A1: I would also say SERPs are like the 21st century – business cards or brochures for your business – they tell me who you are/do #vcbuzz

— Andrea Cruz (@andreacruz92) June 11, 2019
A1 #SERPs or search engine result pages showcase the most relevant results on the World Wide Web for inquiries posed by searchers. As #content people ,we care mostly about Google – 92.4% of people use it to search online. Other platforms to consider = Amazon, Bing, Yahoo #vcbuzz

— Michael Becker (@mjbecker_) June 11, 2019
A1 It's always a good idea to investigate the SERP to find what Google believes to be relevant to the search queries. Plus, you're checking what type of content are ranking extremely well. #VCBuzz

— Pitchbox App (@PitchboxApp) June 11, 2019
A1 – SERPS are basically the results shown when a specific query is entered in Google by a user. #vcbuzz

— Missy Diaz (@ChicagoGeekGal) June 11, 2019
Q2 How have Google SERPs been changing over the years? Why do you think they keep working on the layout?
A2 Google updates its algorithm hundreds of times each year. Shout out to the most recent June 2019 Core Search Algorithm Update! https://t.co/jO72rKIG3x cc: @rustybrick @seroundtable #VCBuzz

— kristen vaughn (@kristen_vaughn) June 11, 2019
Looking at Google's changes more holistically, there are a few key takeaways worth noting:
Increased need for quality
Fewer high quality pages is better than many low quality pages
More advanced features (snippets, ad placement, etc.)
Focus on the UX
Q2 Mobile mobile and mobile – along with just the various devices we all know have and also new tech like: voice search etc. #vcbuzz

— Missy Diaz (@ChicagoGeekGal) June 11, 2019
A2 Not only are organic results getting more relevant per individuals (esp. if logged into your account), but results are no longer ltd. to JUST articles/web pages… we now see maps, stories, news, profiles, 'also searched for' and way more also included in SERPs! #vcbuzz

— Michael Becker (@mjbecker_) June 11, 2019
Love that point – we are seeing SERP features become way more advanced. And, Google is also displaying more of its own answers to queries/questions rather than driving users to a website.
A2 Google keeps changing the layout in response to user testing, which is something business owners should be learning from on their own sites and UX! #vcbuzz

— Ryan Anderson (@officialryguy) June 11, 2019
For realz, it's all about the experience.
A2. Among the biggest changes:
?Making ads more prominent
?Adding more featured snippets
?Showing more featured answers#vcbuzz

— Pitchbox App (@PitchboxApp) June 11, 2019
Q3 What kind of insight can SERPs provide us with?
We can't control what Google displays in search results, but we can take advantage of the SERP features appearing. And, we can look for cues on what type of content Google thinks is most applicable to rank.
A3 If you did all this fancy, schmancy keyword research and you did NOT write down the implied ***search intent*** that was given for every word in your spreadsheet… you're doing it wrong #vcbuzz

— Ryan Anderson (@officialryguy) June 11, 2019
By staying on top of what's showing up in SERPs around your primary keywords, you'll have a better understanding of what's required to rank, and the types of assets needed to get there.
Understand what components are essential in the results listing by finding commonalities between the top ranking assets. For example, are results made up of mostly informational and educational articles, or are product/services pages appearing?
What types of articles are showing up in the top results? Do they reference particular words, styles or formats? For example, are you seeing that the top results are all list-style (X ways to), or how-to, or maybe question-based? We'll go into this further…
Q3 Intent is a word I've been hearing for quite some time now, but not till recently – has it actually sunk in. Or reached my frontal cortext. Lol. #vcbuzz

— Missy Diaz (@ChicagoGeekGal) June 11, 2019
Q4 What are the actual steps of SERP analysis for the sake of content audit?
The first, and probably most important, step is to know your priority keyword targets. Unless you have unlimited resources (doubt it!), you can't try to rank for everything. Narrow your focuses to the 10 – 20 priority keywords you truly want to be know for.
Now, start looking at the top results showing up around the phrase(s) – one phrase at a time, as each search query result should be specific to a keyword, and will likely require the creation or optimization of a unique asset.
A4 So, I take my KWR with all my words and intents, and add columns for every SERP feature available and then I go through putting yes/no in the cell as to whether I not I saw featured snippets video carousels. I typically do this on a mobile device too, not on my laptop #VCBuzz

— Ryan Anderson (@officialryguy) June 11, 2019
Woahh, you're not playing around over there Ryan. Organizational skills are clearly on point.
From here, usually I VLOOKUP in my organic position and ranking URL to to help gauge opportunity… like working on something that ranks no.8 first and not no.80 #VCBuzz

— Ryan Anderson (@officialryguy) June 11, 2019
Did you know that Google generates personalized search results based on key data points like device, location, behaviors, search query history, etc. So, you are likely seeing results that are tailored to you. This is why you must go in incognito mode!
Look beyond the basic features like title and description – click into the actual assets ranking. Pay attention to the type of content, key elements used in the content (length, headings, keyword usage, images), and authority of sites rankings.
Maybe you need to create an entirely new content asset. In that case, it's time to build out the topic and outline (that is aligned with your SERP analysis findings), and get it in your editorial calendar.
Once you have these insights, it's time to think about your content needs. Do you have an existing asset that is ranking for the term at hand? If so, how can you better align it with what's proven successful (top SERPs)?
You have to use semantics. Mix up variations. Use semantics to create titles and subheadings. Don't get fixated on the use of two or three keyword phrases used throughout a page. Use semantics and use similar search phrases. #vcbuzz

— 24 Hour Translation (@24hrtranslation) June 11, 2019
A4. Here's a step-by-step guide:
? Analyze the top-ranked organic results for your kw (How-to? Case study? Research? Guide?)
? Use @ahrefs to check the number of referring domains that each URL has
?Find low-competition kws/SERPs#vcbuzz

— Pitchbox App (@PitchboxApp) June 11, 2019
Q5 What are your favorite analytics tools?
Google Analytics and Search Console are helpful when looking at existing asset performance and thinking about opportunities to further optimize posts based on SERP insights.
@SEMrush's SEO Content Template helps eliminate some of the manual steps of SERP analysis. How it works:
Enter the keyword(s) that you want to target
The tool analyzes Google's top 10 results
Get recommendations on how to create content that is aligned
Another free tool we can use to improve our content and hopefully rank higher in Google SERPs https://t.co/lm9jDXUvlC #vcbuzz

— Gail Gardner (@GrowMap) June 11, 2019
I always recommend looking right in Google results as well. Remember, incognito mode is key. And, don't forget to check what results look like on mobile vs desktop
One tool we all need to be using is Ninja's Featured Snippet Tool. Ann @SEOSmarty answered all our questions about it in this BizSugar AMA https://t.co/3p9kj6BBqL #vcbuzz

— Gail Gardner (@GrowMap) June 11, 2019
A5: @ahrefs is one of my favorite analytics tools. It's a convenient place to stop off at get an overview of rankings, traffic, backlinks, authority & more #vcbuzz

— Maile Waite (@mailewaite) June 11, 2019
Our previous SEO chats: