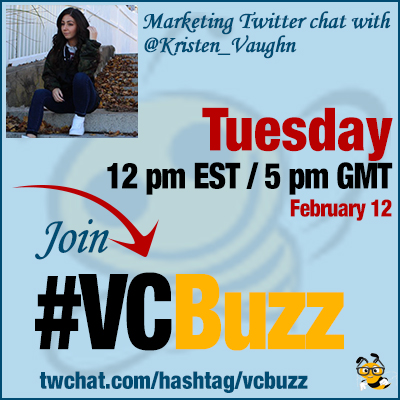 Content marketing is becoming more fragmented and generally faster. With mobile and voice search on the rise, people are getting used to looking for information on the go: It's getting more difficult to catch their attention.
This means we need to create more content and more importantly, more diverse content playing with topics and formats.
How to keep up with ever changing content marketing? Content repurposing is the answer!
By repurposing content, digital marketers can maximize on existing traffic and visibility around key themes that have proven successful in the past. Let's discuss how to find content that presents the most immediate opportunities.
***Add #VCBuzz chats to your calendar here.
***Please sign in here to follow the chat -> twchat.com/hashtag/vcbuzz
About Kristen
@Kristen_Vaughn is digital marketer focused on search engine optimization, content marketing, social media marketing and advertising, and analytics.
She does SEO, content and social over at @komarketing
Follow @Kristen_Vaughn over at her blog
Questions we discussed
Q1 How did you become a digital marketer? Please share your career story!
I got in the digital marketing space right out of college, by sheer luck… since it wasn't really something they taught in college at the time that I earned my Marketing degree.
I'd always had strong writing skills, and really enjoyed it. So, I created a blog to showcase this, and my very beginner technical skills, which landed me my first position as Content Analyst at @KoMarketing
From there, I figured out SEO was also something I was passionate about and really where I wanted to take my career.
A1) I got started in SEO by working part-time as a 3rd party freight broker. Wanted more hours and the boss asked me what I knew about meta data optimization. I said I knew a lot. Went home and learned it overnight 🙂 #vcbuzz

— Ryan Anderson (@officialryguy) February 12, 2019
This involved A LOT of learning from mentors & experts in the space, constantly reading, staying on top of changes, trainings, assessments, events, etc. And, even though I've been in the space for a bit of time now, I still do all of these things – if not, even more.
A1: I have a finance undergrad and have always loved numbers and data. I always loved the creativity of marketing and it's connection to data. I focused on it during grad school and have been in the last 11 years! #vcbuzz https://t.co/uuNnPw2Y6D

— Joe Martin (@joeDmarti) February 12, 2019
Q2 What is content repurposing and how it works?
Content repurposing involves leveraging an existing asset and altering the format to offer unique value, and reach new audiences. This tactic helps maximize on existing visibility and themes that have proven successful in the past.
One of my favorite tactics! I call it "lazy" content marketing but it's actually just smart marketing ?#vcbuzz https://t.co/38K19tGZYP

— Casie Gillette (@Casieg) February 12, 2019
This could include things like:
Making traditional posts more visual
Combining assets around the same topic into one more extensive piece or cornerstone article
Turning blog posts into premium assets (eBook, whitepaper, etc)
There's sometimes confusion around refreshing content vs repurposing content. I think the difference is important to call out…
When refreshing content – you're usually updating an asset for relevance, without changing the intent and format.
Examples of refreshing content: including more recent statistics, updating cross-links/CTAs, expanding on information, changing headings.
Content repurposing or "stealing from yourself" as I'd like to call it, is all about being clever with your time and resources available. Why spent hours crafting that perfect blog post and just letting it go to waste after? #vcbuzz https://t.co/dnZK90EXS9

— Hans van Gent ? (@jcvangent) February 12, 2019
When repurposing content – you're altering the format and even the purpose. As I mentioned before, this could include things like making a blog post into a whitepaper, articles into a cornerstone asset, SlideShare presentation into an article.
A2 repurposing content = the ultimate content productivity multi-channel marketing tactic! #vcbuzz

— Ann Smarty (@seosmarty) February 12, 2019
A2: After validating effectiveness (analytics & feedback from target audience), some content can be repurposed for video and/or downloads in lead generation /conversion funnels.#vcbuzz #contentmarketing @kristen_vaughn @vcbuzz

— Rebecca Murtagh ? (@VirtualMarketer) February 12, 2019
Q3 How and where to start? How to plan an effective content repurposing campaign?
Knowing your top performing content is a must. Watch content performance closely to help spike new ideas for repurposing. Existing topics and themes that have already proven successful present the most immediate opportunities for repurposing.
These assets can then be repurposed to create fresh content for other platforms.
When I say "top content," I'm not just talking about traffic. What other metrics do you all think are important?
@kristen_vaughn comments, social engagement, rankings, links… #vcbuzz

— HOW TO NOW (@howtonowdotcom) February 12, 2019
You can also repurpose to reach different markets. Adding foreign subtitles & voiceovers is inexpensive. #vcbuzz

— 24 Hour Translation (@24hrtranslation) February 12, 2019
A3: I dig right into Search Console (actually Search Analytics for Sheets to download more than 1000 rows and to pull query-by-page) and filter by CTR above 3% and look at URLs with a fair amount of keywords #vcbuzz

— Ryan Anderson (@officialryguy) February 12, 2019
Look into your top trafficked pieces over, ideally, the past couple of years. Figure out what assets are being shared most across social media. Find out what type of content is driving the most backlinks. We'll go over some tools for this in a bit.
Once you've realized your most successful assets, brainstorm ways to create fresh content that can be distributed across different channels – a blog, resource section, social media sites and even third party publications – to reach new audiences.
Content repurposing is also a great way to keep your old content fresh and updated RT @kristen_vaughn: A3: Look into your top trafficked pieces over, ideally, the past couple of years… #vcbuzz

— Ann Smarty (@seosmarty) February 12, 2019
When thinking about ways to repurpose this content, it's important to consider the best channel/platform and the type of asset that will perform best.
Keep these questions top of mind:
Who are you trying to reach?
What stage of the funnel are they at?
Where does this audience go to for information?
What's the most engaging way to deliver this information to the audience?
If you link from your older linked content to the fresh repurposed version, you also spread that link equity to the new piece! #vcbuzz

— Anna Fox (@manifestcon) February 12, 2019
Great point – look for cross-link opportunities.
Q4 Are there good examples of content repurposing campaign you can link to for us to get a better idea?
@Moz does a really great job with this in their Whiteboard Friday series. Each week, a ~10 minute video overviewing an SEO strategy is created.
This content is then turned into a blog post, several images, and is distributed across channels – their blog, social media, etc.
A4 Here's my own example of using a series articles to repackage them into a course! https://t.co/Jv9B1e3vli #vcbuzz

— Ann Smarty (@seosmarty) February 12, 2019
Another company that I think does a fantastic job repurposing content is @Emarsys. They create really extensive guides by compiling existing resources around the same theme. Here's an example.
A4: Took anonymous (and for marketing purposes alone, useless) claims information and turned it into a calculator so folks can see the benefit of having supplemental insurance #vcbuzz https://t.co/mahhE9SRvj

— Ryan Anderson (@officialryguy) February 12, 2019
Can't have more fun than that, Ryan … #vcbuzz

— Don Sturgill (@DonSturgill) February 12, 2019
A4: Presentations are a good opportunity. I've taken them and turned them into blog posts, put them in slideshare and used them on social and in email (ex: Mozcon) https://t.co/1H24VCqSmh #vcbuzz

— Casie Gillette (@Casieg) February 12, 2019
Casie's presentations are always pretty awesome 🙂
A4 Here are also a few tools and ideas to use Slideshare for content repackaging (with example) https://t.co/VztD1kRAfm #vcbuzz

— Ann Smarty (@seosmarty) February 12, 2019
Useful post I asked Julie @NewHorizons123 to write for me on How to Reach More of Your Target Market By Repurposing Your Content https://t.co/uS3atd2XrJ #vcbuzz

— Gail Gardner (@GrowMap) February 12, 2019
Q5 What are your favorite content repurposing tools?
The tools that I regularly use to find content repurposing opportunities are:
Google Analytics
BuzzSumo
Google Search Console
SEMrush
Let's go over the specifics of each.
Use @googleanalytics to analyze top traffic drivers (Behavior–Site Content–All Pages–Pageviews). Expand the date range to look at content over the past year or so. This will spike ideas & even find underperforming assets that could be more valuable if combined.
Video is growing so use these 50 Places to Repurpose Your Web Conferences as Video Content (or any content as video content) https://t.co/opShqMXQyl (Where to share your videos besides YouTube and Facebook.) #vcbuzz

— Gail Gardner (@GrowMap) February 12, 2019
@BuzzSumo helps figure out what content on your domain is driving the most shares across social media. Again, look at this more holistically, over at least the past year. You can also search by a keyword/topic to find the most shared content & related questions.
A5 Use @Serpstat and @TextOptimizer for finding more content angles -> https://t.co/2IrqxJk2v1 #vcbuzz

— Ann Smarty (@seosmarty) February 12, 2019
In BuzzSumo, pay attention to what platforms are generating the most shares and what topics are performing best on each.
A5 Also I did this mega post on researching niche questions (+Tools). All of them work great for content repurposing! https://t.co/o35b0thHxc #vcbuzz

— Ann Smarty (@seosmarty) February 12, 2019
I wish ALL writers could find away to afford @seosmarty's fav tools: @Ahrefs @SEMrush – maybe they would consider a special offer for writers vs SEOs (who use far more resources) oran offer for writer groups? #vcbuzz

— Gail Gardner (@GrowMap) February 12, 2019
Any free tools you would recommend?
The primary free tools writers should start with are @BuzzSumo and @NeilPatel's Ubersuggest for keyword research https://t.co/vvOe3jPzuh @kristen_vaughn #vcbuzz

— Gail Gardner (@GrowMap) February 12, 2019
Last but not least, you want to look at content from a backlink perspective. This can be done in @buzzsumo, @semrush and @moz, so it's really whatever your preference is. Just plug in your domain and start evaluating what assets are generating the most backlinks.
A5 Also @Spyfu's historical and comparison reports are pretty awesome. Can't live without them! #vcbuzz

— Ann Smarty (@seosmarty) February 12, 2019
Most writers probably don't realize there are free toolbars for @BuzzSumo @Moz @Majestic and @SEMrush! We can all use those even before we can afford paid accounts! @kristen_vaughn #vcbuzz

— Gail Gardner (@GrowMap) February 12, 2019
Our previous content repurposing chats: