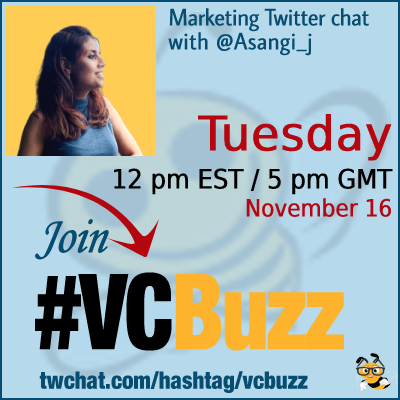 Content creation takes a lot of time and effort – how come so much content remains under-promoted?
Content distribution is all about giving your content what it deserves, i.e. a chance to get seen by a wider audience.
What is content distribution and how to do it right? Let's discuss
***Add #VCBuzz chats to your calendar here.
***Please sign in here to follow the chat -> twchat.com/hashtag/vcbuzz
About Asangi @asangi_j
Asangi @asangi_j is a marketing professional with 8+ years of experience in B2B SaaS Marketing and an overall 12 years in Branding and Marketing Communications.
Currently, she leads all marketing efforts for Linear Squared, a B2B SaaS startup that builds AI-driven forecasting and planning software.
Questions we discussed
Q1 How did you become a digital marketer? Please share your career story!
By accident 🙂
After much job hunting, I had got an opportunity at a tech company.
That was my entry into tech marketing and digital marketing.
It was a lot of learning on the job, but I'm glad I took the challenge. Since then I have discovered how awesome it is be in this field and I haven't looked back
Q2 What is content distribution and what does it normally consist of?
Quite simply put, it's publishing and promoting çontent to your audience using multiple channels & media formats. It consists of 3 broad categories- Earned, Owned, and Paid.
A2 Hello Everyone with #VCBuzz ☀️Content Distribution is the process of getting your content in front of your ideal target audience & maintaining a consistent presence, of creating, publishing & sharing where your TA is engaged.

— Debi Norton (@BRAVOMedia1) November 16, 2021
Earned – distribution channels that belong to 3rd parties (review sites, forums, re-tweets)Owned- distribution channels that belong to you (Website, socials)Paid- Paid distribution (PPC, paid SM ads, paid placements on magazines)
#VCBuzz A2.2

There are different labels/perspectives.
You'll see people reference Inbound Marketing, or Content Marketing, or old fashioned Promotion etc.

You may see channel-types, such as Earned and Paid (Owned being the common 3rd, and Shared a sometimes referenced 4th).

— Lyndon NA (Darth Autocrat) (@darth_na) November 16, 2021
Audience matching is so important. If you have targeted the wrong audience, all the hard work you put in to distribution may not pay off.
#VCBuzz A2.4
>>>

4) Consistency tends to improve results (no surprises there)
5) All should serve set goals, be monitored, have valid KPIs etc.
6) You really shouldn't rely on a single channel/platform

— Lyndon NA (Darth Autocrat) (@darth_na) November 16, 2021
It is to easy to become dependent on a single channel when it start working well. Invest in developing more channels right away! #vcbuzz https://t.co/asgPUFisr9

— Ann Smarty (@seosmarty) November 16, 2021
Q3 What are the best free content distribution tactics?
Strengthening the owned and earned distribution channels would be my best pick.  They are free (of course) & accessible to a larger audience.
Optimize content- include the right keywords, add meta & title tags, link
Repurpose content that is doing well already- republish them in multiple forms such as converting a blog into a video or inforgraph
Create a Cornerstone Piece and create black links to it, also a lot of other content around it.
Use emailers and email lists – highly targeted & personalized
Which of the owned distribution channels do you normally find most effective? #vcbuzz

— Ann Smarty (@seosmarty) November 16, 2021
The website! It's yours to control – add and edit as you need. improve SEO etc. Also as the content hub, it makes better sense for you to focus on improving the website
Agreed. And there's the counter: if your website absolutely sucks, nobody is going to take you seriously no matter how the rest of your footprint looks. Fix it first.#vcbuzz

— Don Dingee (@don_dingee) November 16, 2021
A3
Some no cost content distribution ideas
* webinars
* social channels
* guest blogging
* (kind) influencers#VCBuzz

— Debi Norton (@BRAVOMedia1) November 16, 2021
A3 Another method is groups that permit link sharing. Even if they don't, you can use them for creating authority and standing out from the crowd.

We have niche Mastermind Groups inside our BizSugar Mastermind Community now to save time + highlight thought leaders. #vcbuzz https://t.co/ainlZZT05h

— Gail Gardner (@GrowMap) November 16, 2021
A4 Content distribution at its *best* is done organically – when the content is so HOT that people want to share it!

Remember to add social sharing options right into your content – make it easy!#VCBuzz

— Debi Norton (@BRAVOMedia1) November 16, 2021
*Everything* has an opportunity cost.#VCBuzz

— Don Dingee (@don_dingee) November 16, 2021
Absolutely. Nothing about content distribution is actually free. There is so much time and effort you need to invest in it.
#VCBuzz A3.3

If you are looking for "conversions" – I still find Email to be one of the best channels.
The cost there is mostly front-loaded – you have to have already captured/earned their attention and trust.

If you are looking for Top of Mind/Soak, Social is good.

— Lyndon NA (Darth Autocrat) (@darth_na) November 16, 2021
A3: Repurpose your content by sharing it in different formats. Tweet bite-sized tidbits of your article, driving traffic back to your blog each time. Record a video sharing highlights to draw more eyes and clicks. Share behind-the-scenes content and a link on Stories! #VCBuzz https://t.co/zCQ4KgbcoJ

— Jaime Shine 🖋️ (@jaimeshine) November 16, 2021
#VCBuzz A3.5

If you are looking at B2B, you might find co-op pieces work for you (round-robins, expert roundups, panels, AMA etc.).

If you are B2C, then possibly discounts/offers (as the costs are back-loaded).

But one things that all approaches should do,
is go to Owned.

— Lyndon NA (Darth Autocrat) (@darth_na) November 16, 2021
Q4 What are some of the content distribution trends you are excited about?
AR (Augmented Reality) enabled visual storytelling – giving the consumer something interactive and unique & encouraging participation
Voice search – not a new trend but this keeps growing. According to Google, 41% of adults use voice search at least once a day! 
A4 The one I feel could get all of us the most benefit is niche groups because they're very targeted.

Get active in existing groups + grow your own. I've created a way using niche BizSugar Mastermind Groups to get people engaging instead of just retweeting. Come join us #vcbuzz https://t.co/tIkL5d6EPs

— Gail Gardner (@GrowMap) November 16, 2021
Account-Based Marketing – Personalization is key and it will never get old
Building content communities – creating focused communities around your focused topics. But this is not a one-way activity, the community takes center stage!
Yes, this is what I'm building in BizSugar Mastermind – content communities where relationships are built and people actually visit and read your site!

And doing it in a very niche, targeted way to minimize time required to maximize return. #VCBuzz https://t.co/qQHaLaTq8Y

— Gail Gardner (@GrowMap) November 16, 2021
Podcasts – podcasts have grown and continue to be a major factor in content distribution. Podcasts listeners are educated, loyal, affluent & are usually active on more than one social channel making this a trend that will stay a little longer 🙂
There are so many opportunities with podcasts! @SueAnnBubacz wrote an insightful guest article on how to grow your business with podcasts and audio assets: https://t.co/Vct3qButp3 #VCBuzz

— Jaime Shine 🖋️ (@jaimeshine) November 16, 2021
Q5 What are your favorite content distribution tools?
PR newswire is great for distributing newsworthy announcementsEmail marketing tools such as @HubSpot @mailchimp @Autopilotapp @marketo @Buffer, @Hootsuite @Tweetdeck  @SocialOomph to schedule social posts.
A5 Viral Content Bee is my #1 method of distributing content. It works because other influencers and people who are interested in a specific piece of content share it for you to Twitter, Pinterest, LinkedIn, Tumblr, Mix, Flipboard and Now Telegram https://t.co/73xXSb5eo6 #vcbuzz https://t.co/9v849WvF4d

— Gail Gardner (@GrowMap) November 16, 2021
@Buzzsumo – to identify &  compare trends, track competitor content & how your own content is performing@sniply – to add a CTA to every link you share
A5
Fav content distribution *manual* . I understand it can be time consuming – but you have the control.#VCBuzz

— Debi Norton (@BRAVOMedia1) November 16, 2021
#VCBuzz A5.

I don't really have any?

I use Hootsuite for some clients.

I love Platform searches (such as Twitters).
I like to see what's trending (and see if it aligns with what I'm seeing in my "bubble").

Spreadsheets for planning/scheduling.

— Lyndon NA (Darth Autocrat) (@darth_na) November 16, 2021
Our previous content marketing chats: