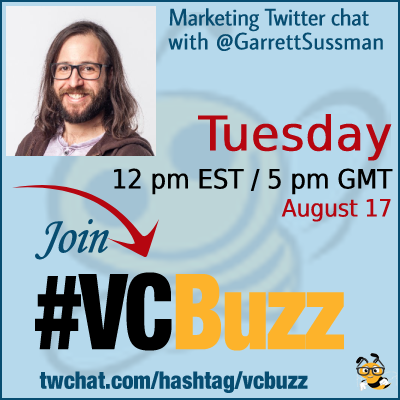 Podcasting has been slowly growing in popularity.
During months of pandemic, a lot of new people starting listening to podcasts.
That being said, if you have been planning to start a podcast, there will be no better time than now!
***Add #VCBuzz chats to your calendar here.
***Please sign in here to follow the chat -> twchat.com/hashtag/vcbuzz
About @GarrettSussman
@GarrettSussman is demand generation manager at @iPullRankAgency, an agency specializing in technical SEO, content strategy, and solutions architecture.
Previously @GarrettSussman was a host of a popular marketing podcast.
Questions we discussed
Q1 How did you become a digital marketer? Please share your career story!
In the late 2000's I joined the graphic design marketplace @99designs in a customer support and sales capacity. At the time, I found myself helping entrepreneurs create the brand of their own startups. It was inspirational to see all of the great ideas.
A1 I built a website/business for a couple of friends and learned how to promote it in the late 90s. Fortunately, search engines started showing up to help searchers find businesses. #vcbuzz

— Bill Slawski ⚓ (@bill_slawski) August 17, 2021
There were bee farmers, bakers, podcast hosts, environmental engineers, sports teams, you name it. I loved watching these businesses discover their logos, websites, and brand identity. Brand marketing was my entry point into the marketing world.
At 99designs, I found myself launching PR campaigns, link building, starting the blog, creating print collateral for tradeshow booths, managing reviews and reputations management, and taking over the affiliate program. I was dipping my toes into all things digital.
After 99designs, I headed back east and started working w/ @jonathanhall and building the #LocalSEO marketing arm of @GradeUs. I found passion in content marketing, SEO, and online reviews. Jon gets marketing, but also gave me a lot of freedom to experiment.
SEO was the driving interest. Since we were bootstrapping, learning how we could generate traffic by becoming one of the premier voices in reputation management was rewarding. We were ranking for high volume queries in our niche like 'how to ask for reviews.'
Over time, we developed relationships in the LocalSEO community, participated in forums, sponsored come communities that were in our niche, and developed a series of co-marketing initiatives around blog posts, webinars, and social campaigns.
After @GradeUs was acquired by @ByTraject, I got the opportunity to work on a variety of really cool SaaS products that had similar goals, but slightly different audiences. I loved working on @Fanbooster, @Cyfe, @GatherUp, and @AuthorityLabs for a couple of years.
A1: back in 6 years I was looking for phone on the web and curious how the results are precise. Came to know the concept of SEO and I never look back. Just started learning and it's still going well. #vcbuzz

— Hiren vaghela (@hirendream) August 17, 2021
In June, after developing a passion for Tech SEO (while not practicing, loving the community), I was given the opportunity to join @ipullrank and the @ipullrankagency as demand generation manager. The team is awesome and incredible at what they do. Learning a lot.
A1: My marriage story began on Twitter. It all started with a direct message to a DM agency. First, as a writer looking to join creative spaces to improve my craft—and later, when I was introduced to the different DM roles, it all turned into a love story.#vcbuzz https://t.co/H9jiYacd76

— BobWayneWonders (@bobwaynewonder) August 17, 2021
Q2 Why did you decide to start a podcast?
March of 2020, the pandemic's emerging. Doing the same old marketing didn't make sense. We were pivoting our content strategy. I thought that a podcast from marketing leaders around managing the pandemic made sense. I started the Agency Ahead podcast @ByTraject.
The podcast had an interview format and as my conversations rapidly happened, I started to get selfish. I loved geeking out with people in our community about their passions. I wanted to just talk marketing and hope that others found value in the conversations.
A2. Our listeners are busy bees (if you will 😉). They needed content they could consume on the move, that would keep them up to date with the latest updates and trends within #InfluencerMarketing without a huge time commitment – a weekly podcast was the perfect fit!#VCBuzz

— Cure Media (@curemedia) August 17, 2021
When producing 2 episodes every week, finding guests in a short time frame became challenging. That's when I reached out to the community to source interesting people.
I discovered some amazing voices early on with the assistance of @danleibson and @areej_abualiI've adored so many of the conversations
I've had. Some of the fantastic interviews early on included:
I have a Hangout on air, "Bill and Ammon's Bogus Hangout," and the value behind it is to enable me and a bunch of other 20+ year SEOs to talk about SEO publicly. #vcbuzz

— Bill Slawski ⚓ (@bill_slawski) August 17, 2021
You could check out @PodcastindexOrg for more information about podcasting stats. HT 🎩 to @GrowMap for informing me about this Twitter 💬 chat. I started podcasting in 2006. I participated in an Ask Me Anything session on podcasting on @bizsugar in 2019. #vcbuzz #podcasting

— Martin Lindeskog🗽🌐💎☕️🍵🙃 (@LyceumPeripatos) August 17, 2021
Q3 Where to start? What should be the first steps one is planning to start a podcast?
When starting a podcast, you don't need to overdue the budget. Honestly, you can get away with Zoom and a $20 monthly subscription to @TransistorFM.
You should think about your format, your subject, your actual content. Are you discussing news? Chatting with a friend or coworker? Interviewing people in your industry?
A3 What questions do people have, and what do they want to learn? If your visitors have a bunch of "aha!" moments, you win the internet that day. #vcbuzz

— Bill Slawski ⚓ (@bill_slawski) August 17, 2021
I don't think there's anything wrong with iterating on your show. At first, you might update episode to episode. Then season to season. Eventually, you'll want to find a format and stick with it. People love consistency.
Once you have your concept set up, create your description and get your feed up on Apple Podcasts, Google, Spotify, Stitcher. Wherever you can! They're all free. The more you reduce friction to listen to the podcast the quicker you will grow.
A3 (3/3)

3. Tech – For the love of all that is holy, please don't dial-in on your 4G mobile connection. ☎️🙅‍♀️#VCBuzz

— Cure Media (@curemedia) August 17, 2021
The other big thing is to plan out all of the other ways that you need to prepare and execute.
Questions for interviews
Recording conditions
Spreading the word on social and via email
Post-production
Q4 How to gain your first listeners? How to promote your new podcast?
Honestly, the best way to get started is to self-promote to your own community. Share with the people you already have a relationship with. Friends, family, people that you're connected to in your industry, your social networks.
If you don't have your own community, join relevant communities that already exist. Many will let you do some self-promotion to their community if you are a contributing member.

But, be aware of their rules or run it by the mods and be actively supportive first. #vcbuzz https://t.co/qYnrsl6S28

— Gail Gardner (@GrowMap) August 17, 2021
The inner hipster in me hates self-promotion, but the reality is that social media and emails are crowded! It's hard to capture the attention of busy people. It's okay to repeat your content multiple times. Don't apologize for self-promotion haha
A4: It's better to have looked at this before starting a podcast. That awareness plan prior to the podcast can fire you off to a good start.

🗣 The use of social platforms. You could go ahead and be creative around it.
⭕️ Inner circle.
🤝 Join spaces in your field. #vcbuzz https://t.co/9b48raMOmq

— BobWayneWonders (@bobwaynewonder) August 17, 2021
Once you've 'overshared' with your network, leverage the podcasting network. Research and discover other podcasts, webinars, and video shows that share your audience and get yourself on as a guest. It makes so much sense since the material and medium are there.
A4: Find collaborators! From your guests to co-hosts to people or businesses with shared interests, reach out to others to tap into the power of collaboration and help your podcast grow. #vcbuzz https://t.co/u0TCRuzu9g

— Jaime Shine 🖋️ (@jaimeshine) August 17, 2021
But to get on those other podcasts and co-marketing venues, it all comes back to the community. Give back to the people in your industry and network a million times over before asking.
Yes, invitations to guest on "podcasts" frequently require doing video now. So when inviting #podcasting guests, always be clear on expectations and TELL THEM.

And if you don't do video, tell the requestor up front because you may not be the guest they're seeking. #vcbuzz

— Gail Gardner (@GrowMap) August 17, 2021
If you have budget, sending out ads on FB or other ad networks makes sense, but transparently, I've always bootstrapped my shows. Word of mouth is a powerful thing. (Speaking of, always encourage your listeners to share). That CTA for them to share and like and review…
A4. Plenty of ways to promote (SEO & blogging, social, paid) but one of the most valuable is podcast collabs!

See a podcast that has a content alignment with yours, but think you could offer a new edge? Pitch for a guest spot and piggy-back off of a peer audience! #VCBuzz

— Cure Media (@curemedia) August 17, 2021
Q5 What are your favorite podcast hosting and marketing tools?
I am a big fan of @TransistorFM as I mentioned. @Zoom does the trick for recording. I use GarageBand for audio editing (though I know people like Audacity). I've used @veedstudio for creating those cool Audiograms with subtitles.
A5. I've been using streamyard lately, and it works effectively go a hangout on the air. #Vcbuzz

— Bill Slawski ⚓ (@bill_slawski) August 17, 2021
Yes! We use @streamyardapp for the Rankable #podcast for @iPullRankAgency and love it. I like how it allows you to live stream on LinkedIn, YouTube, Facebook etc.
Then I'll use a basic WP website with @elemntor to build out my show notes. I also embed the episode on the page with little buttons out to the various streaming networks.
That's when you see the sounds of the podcast with the cool visualized wavelengths: https://t.co/kEh3fkLVxZ There are a bunch of tools to create those #vcbuzz

— Garrett Sussman (@garrettsussman) August 17, 2021
Our previous podcast marketing chats: