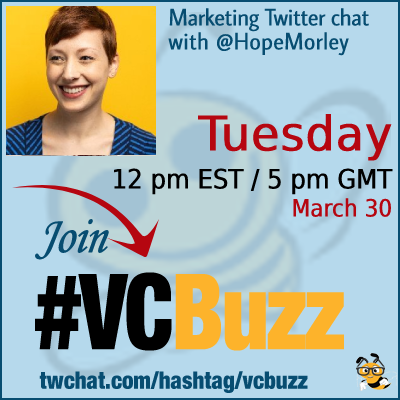 Video marketing is no longer an option. It's a must. Every business has to have a video marketing strategy.
As Maxwell Hertan of Megaphone Marketing rightfully put it,
If you're still not creating and sharing videos on the reg, this is your year!
But how is video marketing different for B2B niche?
Let' discuss!
***Add #VCBuzz chats to your calendar here.
***Please sign in here to follow the chat -> twchat.com/hashtag/vcbuzz
About @HopeMorley
@HopeMorley is COO at @Umault, a boutique video marketing agency that helps B2B businesses create captivating content, engage the right people, and drive sales.
Hope is co-host of "Death to the Corporate Video" podcast.
Questions we discussed
Q1 How did you become a digital marketer? Please share your career story!
I started my career as an editor and project manager in textbook publishing. I went from there to video production, now video marketing. The through line is always creating content for niche audiences.
I started as a project manager and learned on the job! But yes, it took a long time to be up to speed on all the lingo #vcbuzz

— Hope Morley (@hopemorley) March 30, 2021
Q2 How is video marketing different for B2B niche?
Two key ways: First, most B2B buyers do more extensive research than B2C. Second, B2B purchases are often finalized by committee. Video marketing needs to serve researchers at the early stages, then reassure the crowd later on.
A2 For me, #B2B videos are often for #SaaS companies. Those need to show me how the software works for me to know whether it is what I need. #vcbuzz https://t.co/qqxLiZWUPY

— Gail Gardner (@GrowMap) March 30, 2021
Yes! People love seeing tech products in action, esp. early in the research stage. Videos allow for a self-service option instead of taking up a salesperson's time.
A2. B2B video marketing provides answers to different questions than B2C video marketing. It should be mostly educational and less entertaining. #vcbuzz

— Teodora Ema Pirciu (@emapirciu) March 30, 2021
Personally, I'm not a fan of #B2B videos that go for entertainment value over practical information.

If I watch your video and still have no idea what you have to offer, I consider that video a waste of my time. #vcbuzz

— Gail Gardner (@GrowMap) March 30, 2021
I think you need both, and it's a difficult balance. If the video just restates what's on the sales sheet, I could read that instead.
When I was in B2B, videos were mostly for TOF audiences, then case studies, head shots and other type to reasure. There were lots of how-to and head shots #vcbuzz

— Montse Cano (@MontseCano) March 30, 2021
If a B2B brand is only going to invest in one professional video, I tend to recommend TOF. Better bang for the buck
A2: There should be some educational or product aspect to B2B marketing videos, so they serve a business purpose. Bonus points if they're entertaining too! #vcbuzz #videomarketing https://t.co/JPSVBWp0Nb

— Jaime Shine 🖋️ (@jaimeshine) March 30, 2021
You gotta get people to watch, and entertainment value helps!
Q3 How can videos help in the B2B sales funnel? Can it be helpful on each step of the funnel?
Absolutely. Video is essential throughout the funnel, and you need different videos for different steps. Early in the funnel, you want inspirational content. How will your product/service solve their problems?
A3. Videos can help in every stage of the buyer's journey as long as you don't use the same video. Decide what you want to communicate in each stage, and create a separate video for every goal. #vcbuzz

— Teodora Ema Pirciu (@emapirciu) March 30, 2021
Middle of the funnel is for product videos or walkthroughts. Late in the funnel you need to reassure buyers of their decision. That's the time for testimonials or case studies.
We call videos that try to span the entire funnel "mullet videos." You can't be business in the front and inspiring in the back. You need dedicated content for each step.
I get that. I find a lot of boring videos actually say less because they're trying to be everything to everyone. #vcbuzz

— Hope Morley (@hopemorley) March 30, 2021
Still too few are aware of Video schema markup and the difference that it can make. Those that "get it" are often the ones finding that they DO stand out. #vcbuzz

— Jeannie Hill (@essentialskill) March 30, 2021
And captions always always always! #vcbuzz

— Hope Morley (@hopemorley) March 30, 2021
I didn't mean videos should be boring. I just meant I'm not a fan of those artistic videos that say nothing.

Also, too high-level with no details is not helpful to me. Perhaps it is helpful to some. #vcbuzz https://t.co/q8HL0x9450

— Gail Gardner (@GrowMap) March 30, 2021
Yes, B2B video needs to bring the viewer value. Poetic spots with stock footage of robots and rockets without a clear message don't bring value.
A3. Informative video content is better at the beginning of the journey to purchase. "Salesy" videos or animated videos can help push your product to the next level by helping the consumer make a decision. #vcbuzz

— Jeannie Hill (@essentialskill) March 30, 2021
Q4 Are there good examples of B2B brands doing video marketing well?
IBM, Slack, and Zendesk do great work. I love what Salesforce does with UGC on social, esp. testimonials and user stories. Adobe is all-in on YouTube with excellent tutorials and support content. Hubspot Academy is top-notch.
I love this spot too! As a creative brand, it's almost essential Adobe makes great video content. Medium is the message #vcbuzz

— Hope Morley (@hopemorley) March 30, 2021
A4. @Perficient, @SEMrush, @RankRanger, and @seoClarity quickly come to mind as businesses doing an excellent job with video in our niche. #vcbuzz

— Jeannie Hill (@essentialskill) March 30, 2021
Q5 What are your favorite video marketing tools?
Is a strategy a tool? Get that first. Then VidIQ for additional YouTube analytics. Loom, BombBomb, or Vimeo for asynchronous video messaging. Vimeo Create or Canva for easy-to-make social media videos.
There's also this great online video editor that makes video creation a breeze.
Thanks for the tip. I've used @loom

#vcbuzz

— Montse Cano (@MontseCano) March 30, 2021
I like using online tools! So helpful when you are on the road or switching computers. I've even started using online Photoshop as of my latest laptop switch! #vcbuzz

— Ann Smarty (@seosmarty) March 30, 2021
Our previous video marketing chats: