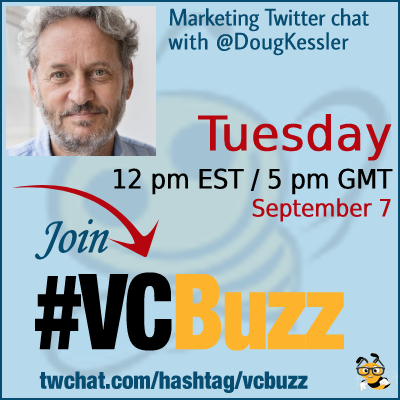 Content strategy is fundamental to any marketing effort in any niche including B2B.
But how is content strategy different for a B2B company? How to make it work?
Let's discuss!
***Add #VCBuzz chats to your calendar here.
***Please sign in here to follow the chat -> twchat.com/hashtag/vcbuzz
About Doug
Doug Kessler @dougkessler is creative director and co-founder of Velocity, B2B marketing agency to the stars.
His answer to why he's spent so many years doing B2B (and loving it) is summarized in a quick slideshare called The Search for Meaning in B2B.
Questions we are discussing now
Q1 How did you become a digital marketer? Please share your career story!
I started as an analog marketer (kind of a Mad Men thing) at Ogilvy New York (in 1983, FFS). Went into B2B like moth to flame. Founded Velocity with smart-but-grumpy Stan Woods in 2008. Never looked back (well, sometimes).
A1. I became a marketer from need. Was working at @RigginsConst 2008/09 crash. I started that account and off I went. #vcbuzz

— Bridget Willard (@BridgetMWillard) September 7, 2021
When digital hit, it was like standing with one foot on a dock and the other on a boat that was drifting out into an unknown sea. Reader, I jumped (in). SO glad I did. Now there's @velocitytweets to show for it.
In the early stages, digital B2B just meant email and websites. Then Search and Social. Then content marketing was a huge leap (we were lucky to be early into it). Then Marketing Automation… performance marketing… ABM…
A1
I had some video games we were developing and had to find an audience, PR, and a publisher ($) back in 1996#vcbuzz

— Andy Beard (@AndyBeard) September 7, 2021
It's been an amazing Collective Learning Curve for the entire discipline for a few decades now. And the pace of change just keeps accelerating.
What the HECK is coming next in digital B2B marketing? Maybe @acrestodino knows. Or @chiefmartec or @nstoneman or @dharmesh or @Robert_Rose. They might know… I do NOT know.
Q2 Why is content important for a B2B business? Which goals should B2B businesses set when starting a content strategy?
Hard to imagine what a content-free B2B brand would look like. I think of B2B marketing as customer service for people who aren't yet customers. Content is about using your expertise to help them succeed.
A2. Content serves as a validation point for B2B businesses as well as an internal sales library. Not to mention it helps with SEO efforts. #vcbuzz

— Bridget Willard (@BridgetMWillard) September 7, 2021
Content is also so important because, as @jonmiller says, you need to bring value every stage of the buying journey. Instead of asking for stuff at every step, you give stuff. That's got to be right.
A2. Content supports and fuels a B2B marketing strategy.
As for setting goals, it depends. Content marketing goals should be aligned with business goals. #VCBuzz

— Teodora Ema Pirciu (@EmaPirciu) September 7, 2021
As for starting: I'd always start with your business goals– your marketing goals come from these and your content goals come next. Like Russian dolls. If the biz goals are clear, things flow naturally from there.
A2. [2/2] As for goals – having Any will give you a head start as this is a commonly missed step. 🤦‍♀️

Hard metrics – traffic + lead generation and conversion⁰⁰ 📈

Soft metrics – brand awareness, thought leadership, market presence 🌟#VCBuzz

— Cure Media (@curemedia) September 7, 2021
Hard to imagine not having the goal of positioning your company as expert partners–and content is perfect for that. Other common ones: market education, traffic (via SEO and social), awareness…
A2: most B2B marketers will find their short-tail terms are *really* competitive. You need content to get noticed on long-tail terms, like common questions. And you'll need a lot of shots at any given prospect before you make a dent. way before they're ready to decide.#vcbuzz

— Don Dingee (@don_dingee) September 7, 2021
Tons of content out there doesn't look like it was made for any clear goal–except maybe to please a stakeholder or fill in the gap in a Buying Journey/Persona matric.
A2 The #1 reason content is critical in #B2B marketing is that your potential customers prefer to do their own research.

You better have content they can find or you may not be on their short list for when they do reach out to buy. #vcbuzz https://t.co/cPXlWsu8xX

— Gail Gardner (@GrowMap) September 7, 2021
Would be cool to hire a content person and just brief them to Help our Prospects Succeed. Nothing else…
A2. A top way to amplify your expertise is by making your content more findable and easy for people to take action. Providing value-rich B2B content comes from a focus on helping others succeed. – @dougkessler #vcbuzz https://t.co/R1bTExD2X2

— Jeannie Hill (@essentialskill) September 7, 2021
Content' is such a funny word for it, isn't it? I mean what IS it? "That which fills a container". Weird.
A2: When you're establishing a content strategy for your business, include promotion and distribution too. Creating quality content that delivers value to your audience isn't enough in today's crowded landscape. Make a plan to connect, collaborate and be seen! #vcbuzz https://t.co/IBgsyKhKgT

— Jaime Shine 🖋️ (@jaimeshine) September 7, 2021
A2) +1 It is critical that customers find content easily which is going to persuade them at the different stages of their journey, and validated if at all possible. SEO is at hand for this #vcbuzz https://t.co/SyyWzJLOpd

— Montse Cano (@MontseCano) September 7, 2021
#VCBuzz A2.2
>>>
It's not just what the content "says", but how it says it, how it's presented, even how it's discovered (links can be recommendations, so association can go a long way!)

Content "represents" as well as what ever purpose it was primarily conceived for.

>>>

— Lyndon NA (Darth Autocrat) (@darth_na) September 7, 2021
A2. "…offer…content that actually helps, makes a brand statement & leads to tangible results across the customer life cycle. – @dougkessler

Stats: "Nearly all B2B buyers (89%) use online search during their buying journey".https://t.co/YrvCgHxt9Q #vcbuzz https://t.co/SZSlM8Fg0C pic.twitter.com/tfIyzuzb3N

— Jeannie Hill (@essentialskill) September 7, 2021
#VCBuzz A2.4

The content and it's purpose should align with the goals, and ideally suit the users/prospects/audiences goals/motivations.
The better the alignments (medium, format, style, stage etc.), the more performant that content is likely to be for that goal.

— Lyndon NA (Darth Autocrat) (@darth_na) September 7, 2021
A2

Content should be aimed at answering user's queries, not just in search, but also in navigation

Support is just as important as attracting customers and converting them#vcbuzz

— Andy Beard (@AndyBeard) September 7, 2021
Yes. B2B businesses that won't share important information publicly to force you to talk to sales are eliminating customers.

If the price is a secret:

A) You can't afford it

B) If you can afford it, they're charging you based on what they think you can or will pay #vcbuzz https://t.co/b4Hy7SO4rB

— Gail Gardner (@GrowMap) September 7, 2021
I was thinking specifically about platforms that would be the same for every buyer and should be based on the number of seats needed.

Yes, other B2B offers might not be easily quantified publicly where there are a lot of variables to be considered. #vcbuzz

— Gail Gardner (@GrowMap) September 7, 2021
Q3 How is B2B content marketing different from B2C content marketing?
Big buying teams means mapping messages and content to different roles–but these can't be siloed stories. They need to lock together into one cohesive case.
A3. Increasingly not!

As B2B brands remember that B buyers are still C humans, difference between strategies is narrowing.⁰⁰However 2 key diffs remain: your decision making process is longer w/ more voices, & your content must respond to different buying motivators.#VCBuzz

— Cure Media (@curemedia) September 7, 2021
Long buying cycles means content needs to do different jobs at different stages. Top-funnel content may not even mention your product. Bottom-funnel may be a deep-dive product demo.
A3. In B2B markeitng, you might need to convince a team of decision-makers, not just one or two people.

So, your content should address the pain points of several buyer personas.#vcbuzz

— Teodora Ema Pirciu (@EmaPirciu) September 7, 2021
B2B and B2C overlap. High-consideration categories like cars and mortgages act more like B2B than some software that one business person can buy on their credit card — or try for free.
A3: the thing with longer buying cycles is the prospect may not be ready for that particular piece of content when you publish it, but if they stumble across it months or years later it may tip the scale on their decision. Hard to say a piece of content "didn't work". #vcbuzz

— Don Dingee (@don_dingee) September 7, 2021
It's very difficult – not impossible, but very difficult – to push any B2B initiatives with immediacy. Patience is a virtue. Much easier to push and measure results quickly in B2C, if you're hitting the target.#vcbuzz

— Don Dingee (@don_dingee) September 7, 2021
Sometimes I envy B2C digital marketers in, like, travel or e-commerce. When they see intent, it's like minutes away from a purchase. So fast. Clicks are MONEY for them. For B2B a click may just be a buyer inching forward one tiny bit…
A3: actually it's really not too different. You still need to educate and convince humans who make the buying decision. In B2B you have a lot more different personas to cater for and each one's need can be different from@the other #vcbuzz

— Asangi (@asangi_j) September 7, 2021
We've had clients that had a B2B business as part of a much bigger B2C business. It's really interesting to see how the B2C culture shapes B2B decisions. Can be really hard to change that DNA.
A3 In many ways, B2C could actually learn about content from B2B. For example, they can both benefit from using video more often.

B2B provides video to show how to use a complex platform.

B2C should utilize video more often to show consumers how to use their products. #vcbuzz https://t.co/d44zViKBKb

— Gail Gardner (@GrowMap) September 7, 2021
I do like stealing some tricks from B2C marketers. They get the power of emotion so much more than most B2B brands.
#VCBuzz A3.2
>>> Continued:
* Different channels
* Greater expectations
* Motivators tend to be more concrete than abstract (logic rather than emotion)
* Longer decision times (fewer impulse purchases)
* Often looking at repeat purchases/relationships
And likely others 😀

>>>

— Lyndon NA (Darth Autocrat) (@darth_na) September 7, 2021
I'd love for B2B brands to do content thatsimply celebrates a core belief–nothing more. Just that one thing.
A4. [2/2] And if your content Is good enough and your prospects Do go looking for you – make sure you're not abandoning any dead ends.⁰⁰

Always leave the next CTA where they can find it.⁰⁰#VCBuzz

— Cure Media (@curemedia) September 7, 2021
#VCBuzz A3.4

If you make a mistake or two in B2C, it's seldom a major issue – in B2B, due to the nature of things, it can be more problematic/costly (thus why things like ORM are more important for B2B than B2C)

— Lyndon NA (Darth Autocrat) (@darth_na) September 7, 2021
A3. Audiences are more sauve b/c of linked data & knowledge graphs. Former information retrieval & question answering systems are replaced w/ better pre-trained natural language models. Effective B2B marketing adapts to evolving consumer needs. https://t.co/a4OdEpQEon #vcbuzz https://t.co/B28bbgfekg pic.twitter.com/13x0pPH4Zw

— Jeannie Hill (@essentialskill) September 7, 2021
#VCBuzz

This is really nuanced

I have never written "Business Formal" or "Business English"

I just write naturally informative with lots of references "naturally semantic"

But for SEO content is now becoming more information-dense with a high emphasis on semantic SEO

A3

— Andy Beard (@AndyBeard) September 7, 2021
Q4 What's your favorite top-of-the-funnel content tactic that works particularly well in B2B?
I love big, emotional rants against some obstacle that's preventing your prospects' success. Delivered in some kind of digital experience. We did one called A Stakeholder Through the Heart. Really fun to do.
#VCBuzz A4.2

This can range from being present in communities or Q&A sites, through to publishing in industry print/e-zine publications, or having educational content on the main site.

But the key is to not pitch.
ToF/Awareness etc. content is not a revenue goal

>>>

— Lyndon NA (Darth Autocrat) (@darth_na) September 7, 2021
When slideshare was a thing, I loved it as a linear storytelling medium. BIg TOFU rants like Crap and The Search for Meaning in B2B did really well for us.
A4 A #B2B video that shows me exactly what is inside what you're selling.

Please don't waste my time with some creative nonsense video that provides no actual insights. #vcbuzz https://t.co/6tNoGed6kL

— Gail Gardner (@GrowMap) September 7, 2021
More recently, we did a String (our own version of slideshare on steroids) for Hubspot on Conversational Marketing that I'm still proud of.
I'd love to see more digital-first content for top-of-funnnel. Stuff that's made for the screen, not the printed page. The Gutenberg era started 550 years ago… But we're still making PDFs and white papers and articles…
A4

In 2010-2012 I helped create an awesome embedded video player with built-in lead gen and shopping cart.

I would have loved to see it work on Twitter & Facebook but couldn't get whitelisted#vcbuzz

— Andy Beard (@AndyBeard) September 7, 2021
You know who's doing amazing digital-first content? The New York Times. I'm in awe of the way the NYTimes learned digital and then leapfrogged everyone else–especially the so-called digital natives like Buzzfeed and HuffPo…
I also love Education as marketing content, at all stages of the buying journey. Proper, chunky courseware that aims to teach the stuff that matters most. As our friends at @beyond say, the best B2B brands are the best teachers.
A4: Quizzes and interactive content can grab your audience's attention, help grow your audience and deliver insight to you as long as they're relevant. People like to share their opinions and preferences! #vcbuzz https://t.co/ps4h3sEH0e

— Jaime Shine 🖋️ (@jaimeshine) September 7, 2021
Leaders in B2B customer education: @hubspotacademy@trailhead@FBBusiness (Facebook Blueprint)…
Q5 What are your favorite B2B content marketing tools?
Fave Content mktg tools? Pencil, paper and mind map… Then G-docs… Slack… WordPress… Google Analytics… then back to pencil, paper and mind-map.
A5 my content marketing tools: @Ahrefs, @vcbuzz, @textoptimizer #vcbuzz

— Ann Smarty (@seosmarty) September 7, 2021
For SEO, I really like @answerthepublic. So simple. https://answerthepublic.com
A5. Too self-congratulatory to say a laptop and a large coffee?🤔 Asking for a friend.😐

(Slightly more) serious answer:

1️⃣Something to write with (e.g. @googledrive)
2️⃣Something to distribute (e.g. @buffer or @HubSpot)
3️⃣Something to analyse (e.g. @googleanalytics)#VCBuzz

— Cure Media (@curemedia) September 7, 2021
I tried Grammarly but didn't get on with it… Kept arguing…
🤣 The grammar apps are really fun when you're doing dialogue. You spend about as much time correcting their corrections as you do writing. #vcbuzz

— Dana Lemaster Author (@LemasterAuthor) September 7, 2021
For huge content marketing programs that need some kind og governance and quality control, @acrolinx is pretty amazing. An enterprise thing though.
A5: I prefer Hemingway for editing help – it doesn't track keystrokes. #vcbuzz

— Don Dingee (@don_dingee) September 7, 2021
A5 The #contentmarketing related tool I use most consistently is @BuzzSumo.

I really need to catch up with all the additions they've made or write some content about them. #vcbuzz https://t.co/wocj2zRXdd

— Gail Gardner (@GrowMap) September 7, 2021
Anyone using @SparkToro for audience research? A super-powerful tool I haven't mastered yet. But I do see bigvalue in it. Offers a free version too…
A5: not exactly tools, but in my niche two things I don't stress about: acronyms, and readability. Simplifying jargon is good, but some acronyms you have to live with (like, USB, or FPGA). And words like "internationalization" blow up readability. Deal with it. #vcbuzz

— Don Dingee (@don_dingee) September 7, 2021
@PathFactory is a cool content activation platform. Instead of pushing people to a single piece of content, you get them on a track, with each piece leading to the next. (Disclosure: we re-named them a few years back)…
#VCBuzz A5.

Search engines
The phone
Spreadsheets
Backlink analysis tools (such as Ahrefs/Semrush) to check competitors
and access to at least 1 person from sales and from support/services.

— Lyndon NA (Darth Autocrat) (@darth_na) September 7, 2021
A5 I had a long break so I spend a lot of time going down rabbit holes whilst looking for a new role

Recently it was exploring @SemanticMW
Now I am delving into headless CMS such as @storyblok #vcbuzz

— Andy Beard (@AndyBeard) September 7, 2021
Our previous B2B content marketing chats: