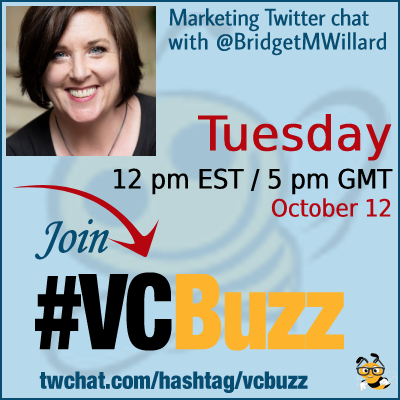 Today everyone can become a writer. It takes a lot of time learning, practicing and improving your skill but it is doable.
But how can content marketers benefit from fiction? What can they learn from fiction authors and how can fiction improve your content marketing strategy?
***Add #VCBuzz chats to your calendar here.
***Please sign in here to follow the chat -> twchat.com/hashtag/vcbuzz
About @BridgetMWillard
@BridgetMWillard is a teacher who focuses on building relationships. Bridget's services include in-house training, marketing strategy, copywriting, and social media account management.
Bridget is author of several marketing books. Her plugin "Launch With Words" is a value-add for developers to help those clients use their websites — publishing blog posts monthly.
Questions we discussed
Q1 How did you become a digital marketer? Please share your career story!
I started writing about projects and starting social media for @RigginsConst in 2009 when everything died in construction.
Q2 What is fiction in content marketing? What are some examples of story-telling in branded content marketing strategies?
An example of fiction in content marketing is using a storyline but giving travel tips. @warrenlnaida wrote this for my client. There is a whole series: Paris, Berlin, London…
Using a story to create interest around a real place.

a lahttps://t.co/gw0j5TbF9R

The places in Berlin are real. Bella and Wayne are not.

(h/t to my writer @WarrenLNaida )#VCBuzz

— Bridget Willard (@BridgetMWillard) October 12, 2021
Q3 Does all content marketing have to be nonfiction?
I used to believe that content marketing for business had to be nonfiction. But look at all of the storylines in advertising. They're not real. There is no "Jake" from State Farm.
Good point! Brands have created fictional spokespeople or even mascots to great effect. They help the brands tell their story and make emotional connections with their communities. #vcbuzz

— Jaime Shine 🖋️ (@jaimeshine) October 12, 2021
Or Captain Mayhem. Or the people learning not to be their parents for Progressive.
I haven't either, @jessetroy I suspect #smallbusiness doesn't use fiction as much as corporate brands would because they use themselves and their customers. #vcbuzz

But there are a lot of fake "testimonials" and "comments" on sites online. I hope people realize that.

— Gail Gardner (@GrowMap) October 12, 2021
Even the Secret Message from the Annie radio program in The Christmas Story was "Drink More Ovaltine." (or whatever. The secret decoder ring was for an ad. Little Orphan Annie is fiction.
Creating content for your business or brand? Fictional spokespeople or even mascots can help you tell your story and make emotional connections with your community. #vcbuzz #contentmarketing https://t.co/tdpbIleZbl

— Jaime Shine 🖋️ (@jaimeshine) October 12, 2021
Q4 What can content marketers learn from fiction writers?
They can learn to draw people in and care about the brand. They can learn better writing skills. I've been prioritizing reading lately to improve my own writing.
Well, @WarrenLNaida and I are writing a novel together about "Bella" and "Wayne." Then they just sort of were stowaways on the travel articles.

Not sure about the novel but they are at least Twitter famous.https://t.co/YhYXLBExnp#VCBuzz

— Bridget Willard (@BridgetMWillard) October 12, 2021
I suspect many writers and brands avoid humor because of the potential for negative reactions.

It is especially tricky because what may be funny one place could be really terrible in another culture.

And none of us knows about all cultures. It would be impossible. #vcbuzz https://t.co/kUjXQZ8d6H

— Gail Gardner (@GrowMap) October 12, 2021
A4: Story telling concepts. #vcbuzz

— Hiren vaghela (@hirendream) October 12, 2021
Q5 What are your favorite content marketing tools?
My favorite tools for content marketing?
A5 The content marketing tool I use the most is @BuzzSumo.

I search by keyword phrase or topic and see what content was the most popular.

Some copy titles, but I go with a unique title and content better than what shows up there. #vcbuzz https://t.co/He5zau4qju

— Gail Gardner (@GrowMap) October 12, 2021
Our previous content marketing chats: