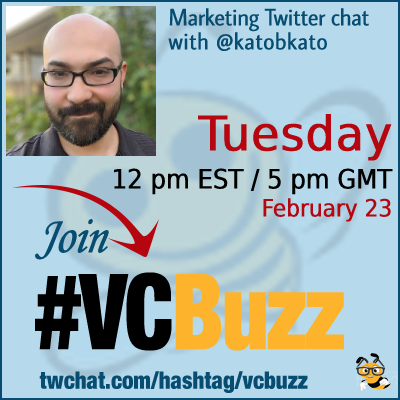 Search engine optimization has evolved beyond keyword matching.
Google has developed its own knowledge graph, i.e. understanding of the world, objects and concepts and how they are interconnected.
Whether your site fits into that graph or not determined if it is findable on Google.
How to use entity-based SEO to get into Google's understanding of the universe?
Let's discuss!
***Add #VCBuzz chats to your calendar here.
***Please sign in here to follow the chat -> twchat.com/hashtag/vcbuzz
About Brian Kato @katobkato
Brian Kato @katobkato is SEO and digital marketing professional who has worked with countless businesses in order to improve their search engine rankings and overall marketing strategy.
Brian is a big fan of taking a multi-media approach as well as guerrilla marketing tactics.
Questions we are going to discus
Q1 How did you become a digital marketer? Please share your career story!
I started my digital marketing career as a website developer. In many ways, I feel this has helped me understand code as a language. Shortly after I got into digital marketing, I started doing reputation management.
From there, I started working as a project manager for a local agency. As is the case with smaller agencies, I wore many hats and became the head of SEO, oversaw SEM, and worked with the owner on many strategic objectives. In 5 years, MRR grew by 4587.5%
Obviously, wearing several hats can be a challenge. I quickly learned to automate, delegate, or eliminate tasks. This resulted in me developing processes to "juice" content – leveraging multiple mediums for a single piece of content.
In 2019, I left the agency and started my own consultancy – FusionVine – This move has been one of the best decisions I've made in my career. I have a small team that has been instrumental in my current success.
We moved from a company that focused on high-end websites to favoring SEO and SEM. MRR is always nice!
Q2 What is entity-based SEO and why care?
Google has moved from the "web on strings" to the "web on things" in 2012. The "web of things,"or semantic web favors relationships, called nodes. Strengthening these nodes can have an impact on your visibility and positioning.
Simply stated… it's the way Google has been moving for several years. The inclusion of featured snippets, PAA, and knowledge graph has changed the way search is presented. I'd even go as far to say it's changed how people search.
Considering Google's ability to understand and rank passages makes the semantic web even more interesting. This means that having strong nodal relationships will be more important than ever.
Q3 How to optimize for "entities"?
While keywords are important, focus on how your entity relates to the larger picture. Language plays a big part in this. An interesting test worth trying is adjusting the order of your words (or tuples) in Googles NLP demo. Order definitely matters.
If you're a local business, claiming your GMB is one of the best ways to start solidifying your entity.Make sure to claim your citations and list the major ones as "sameas" within your site's structured data.
Another "must" when solidifying your entity is proper schema markup. Don't just add the basic schema from a plugin; take the time to map out the node relationships on your site (I like using @xmind for this)
Q4 With entity-based SEO, how has SEO overall changed? Which tactics have gone outdated?
One key concept with entity-based SEO is that keywords are important, but not the MOST important thing to bear in mind. Keywords alone can carry ambiguity when search engines are trying to understand context.
For example, consider the word "Cars." I could be talking about an automobile, the Disney/Pixar movie, or even the 80's rock band. Which one is it? This is where eliminating ambiguity and defining an entity can help.
I wouldn't say that any tactics are necessarily "outdated" however, they need to be adapted and applied to the idea of thematic relationships. If anything, anticipate questions users may have when exploring a topic and meet that need.
Q5 What are your favorite digital marketing tools?
A5. Ooh… that's a tough one. I have to say, I enjoy playing with software almost as much as marketing. Here are some of my favorites (not just entity tools):
✔️ @clickup
✔️ @xmind
✔️ @evernote
✔️ @integromat
✔️ @SEMrush
✔️ @seopowersuite
✔️ @InLinks
A5. More tools worth checking out:
✔️ @netpeaksoftware
✔️ @SocialAnimal_io
✔️ @gohighlevel
✔️ @_cloudcampaign
✔️ @fraseHQ
Our previous "SEO and entities" chats: