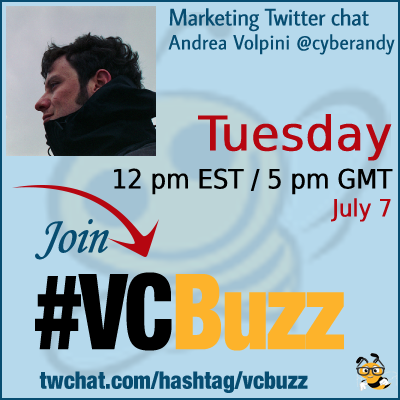 Google SEO has changed dramatically over the years. We started by adding keywords to meta tags two short decades ago, and today SEO looks nothing like that.
Knowledge Graph and knowledge graph optimization has taken a central role in the SEO landscape. These days we are not simple matching documents to Google's queries, we place our content inside Google's picture of the world, i.e. the Knowledge Graph.
How to optimize for new, smarter Google and how Knowledge Graph can boost our SEO efforts. Let's discuss!
***Add #VCBuzz chats to your calendar here.
***Please sign in here to follow the chat -> twchat.com/hashtag/vcbuzz
About @cyberandy
Andrea Volpini @cyberandy is founder and CEO of WordLift and co-founder of @insideout10.
Andrea is a visionary entrepreneur, now focusing on semantic web and artificial intelligence.
Questions we discussed
Q1 How did you become a digital marketer? Please share your career story!
I bought my 1st domain in '95, started a company in '98 that developed a CMS, end up enabling streaming services in the Middle East and began working with semantic tech. Digital marketing has always been there but things really changed in 2017 when WordLift was born.
A1. Ultimately, I became a digital marketer when a High School career coach reviewed my grades and skills and pointed me in this direction. I quickly realized that the logic flows for me and I truly enjoy it. #VCbuzz

— Jeannie Hill (@essentialskill) July 7, 2020
Q2 What is knowledge graph and what does it have to do with SEO?
Knowledge Graphs are built by subject-matter experts, data interlinking, and machine learning algorithms.
Knowledge Graphs encode information and are one of the best communication tools that we – as humans – have to transfer knowledge to machines.
A2 Try asking Google "who is the CEO of WordLift?", Google's big brain will answer this question by fetching entity data from its knowledge graph. #vcbuzz pic.twitter.com/hYPMkOrzgN

— Andrea Volpini (@cyberandy) July 7, 2020
So the question becomes, how does Google's AI work here? How can I help the search engine provide the right answer?
A2. The Knowledge Graph empowers SEO's to increase brand visibility and improve SEO overall through entities. Since it stores real-world data, it helps major search engines to understand the meaning behind search queries, which means more relevant results for searchers. #vcbuzz

— Jeannie Hill (@essentialskill) July 7, 2020
If we make one step behind, how decisions are made by an AI (ML/DL models)? What are the primitives behind an intelligent system? Semantic rich data is one of these primitives that help robots understand the world we leave in
A2 A knowledge graph is a collection of related entities, classifications for those entities, and attributes for the entities, connected by relationships (knowledge), focusing on one or more topics. #vcbuzz

— Bill Slawski ⚓ (@bill_slawski) July 7, 2020
#vcbuzz we have been using since 2015 NLP and semantic technologies (Linked Data) to structure unstructured content using entities that machines can understand

— Andrea Volpini (@cyberandy) July 7, 2020
I started optimizing pages for entities back in 2005, and it was a very effective SEO approach back then: https://t.co/UESZNdoHyw #VCBuzz

— Bill Slawski ⚓ (@bill_slawski) July 7, 2020
A2. The Knowledge Graph is a comprehensive library database that stores information in a graphical format – it is used to generate a graphical representation of the relationships between any of its data points to visually match search intent & give trusted information. #vcbuzz

— Jeannie Hill (@essentialskill) July 7, 2020
Q3 What are the steps for Knowledge Graph optimization?
Google will resort to the open web and to openly available datasets for knowledge graph refinements, knowledge completion and general error detection. Our role is to provide precise facts in key/value pairs to Google as an alternative to the HTML-based content.
A3 Here we have a figure appeared in a patent by Google called Storing semi-structured data where we can see the role of structured data in queries like "Who is the CEO of WordLift?" #vcbuzz (patent originally discovered by @bill_slawski 🙌) pic.twitter.com/f5unpJGIgp

— Andrea Volpini (@cyberandy) July 7, 2020
A3 I usually refer to knowledge graph optimization as knowledge graph reconciliation. Make sure you include entities, context information & relevant triples about them on your pages. #vcbuzz

— Bill Slawski ⚓ (@bill_slawski) July 7, 2020
absolutely true #vcbuzz 👇 pic.twitter.com/uGpQqjc9Vc

— Andrea Volpini (@cyberandy) July 7, 2020
Google has also been extracting entities and assigning confidence scores for relations between entities, between entities & attributes, & entities & classifications. Those association scores are interesting: https://t.co/hejCdHc1iu #VCBuzz

— Bill Slawski ⚓ (@bill_slawski) July 7, 2020
Correctness is so hard for scaled KG. I always think about the fact that there are 200 Will Smiths on Wikipedia alone, these scores help ensure the correctness of statements
Q4 How can @WordLiftit help in knowledge graph optimization?
Here is an example from our friend @jasonbarnard (with the help of WorldLifiit) has received a direct citation in the Knowledge Graph Panel for…my entity as WordLift connects entities our website becomes an accredited source of truth for that entity.
And @wordlift have created a beast !!!!!@cyberandy – I 'caught' that citation in the #knowldegpanel
from Kalicube that Wordlift got me 🙂 pic.twitter.com/hvaZH6PRWs

— 𝄢 Jason Barnard (@jasonmbarnard) July 3, 2020
Q5 What other semantic research and other tools can help in the process?
It's crucial to create and publish high-quality web-scale knowledge, in this sense WordLift interacts a lot with @wikidata that has a terrific set of tools to query and curate entities.
Here is an example of a query that you can run on Wikidata to find the WordLift identifier (P:6363) of people (Q5) whose occupation (wdt:P106) is Digital Marketer (Q89432399)
This helps us understand what is a Knowledge Graph and how we can interact with it ~ as @bill_slawski was saying entity reconciliation is the ultimate [data] marketing tool to ensure the correctness of the data you care about.
Our previous semantic SEO and Knowledge Graph optimization chats: