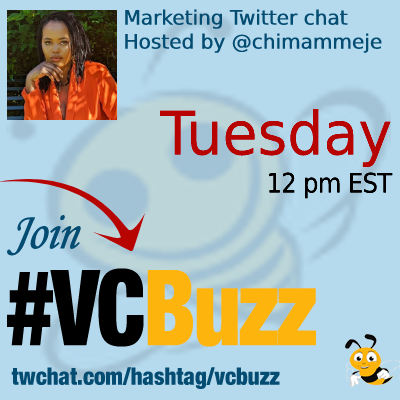 Creating an effective content strategy is key to online business visibility.
But there's no cookie-cutter approach here. B2B content tactics are very different from B2C content tactics, and every niche and business models are unique as well.
How to create an effective SaaS content marketing strategy? Let's discuss!
***Add #VCBuzz chats to your calendar here.
***Please sign in here to follow the chat -> twchat.com/hashtag/vcbuzz
About @chimammeje
Chima Mmeje @chimammeje is SEO content strategist and writer for SaaS companies and founder of @TheFCDC, Freelance Coalition For Developing Countries.
Check out Chima's SEO Content Writing Services.
Questions we discussed
Q1 How did you become a digital marketer? Please share your career story!
I got into digital marketing by accident. I was looking for remote work one Sunday evening when I saw a job ad for an agency hiring remote copywriters. I applied and got the job.
I worked with the agency as a generalist copywriter for 18 months before going freelance and niching down in SEO copy during the pandemic
Q2 How is SaaS content strategy different from ecommerce content strategy?
Let me start by saying that I don't like eCommerce. I don't touch it or go near it. I think eCommerce is layered and complex in terms of how you look at keywords, create product pages, optimize pages and build a content strategy.
Everything seems to be sales driven with e-commerce with little thought to post-purchase or education and that's because most of the industry is fast-moving with some seasonal keywords.
#VCBuzz A2.2

Competition Volume.
Typically speaking, unless you are dealing with custom items,
the competition for products can be huge,
potentially including manufacturers, wholesalers, outlets etc.
SaaS seldom have such breadth of competition.

>>>

— Lyndon NA (Darth Autocrat) (@darth_na) October 4, 2022
It's also crazy competitive with tons of pages required to rank for product keywords I feel more clarity with SaaS. There's usually a clear route on what needs to be done to establish authority quickly, even in a saturated market space.
We're optimizing for all stages of the buyer's journey with a focus on education as part of building a long-term relationship rather than an immediate sale.
#VCBuzz A2.4

Funnel/Stage focus/coverage.
In the majority of cases, e-commerce will focus heavily on the Product.
But good e-com setups cover earlier stages/higher up the funnel too (esp. for niche/targeted sales/limited stock types).

>>>>

— Lyndon NA (Darth Autocrat) (@darth_na) October 4, 2022
Q3 Which SaaS brands can be good examples of a content strategy done well?
HubSpot is an example of what happens when you enter early and corner the market. I love how they diversify with videos, courses, pdfs, report, case studies, long-form content. You corner the market so completely, everyone is playing catchup and 2nd place forever.
Canva is an example of aggressive growth and what you can achieve when you have a large content team. Their content moat is powered by topic clusters and links…goodness, so many backlinks! One of the most impressive I've ever seen.
#VCBuzz A3.

Looking at our own sector shows several good ones.@Semrush is everywhere, all the time, with humour as well as info etc.

— Lyndon NA (Darth Autocrat) (@darth_na) October 4, 2022
MarketMuse and Clearscope for prioritizing education through webinars. They offered value-based webinars with amazing guests who teach you something. It's educational, but tied to their value prop which is a win-win.
Q4 How to launch a content marketing strategy for a SaaS startup?
The first step is not keyword research. Nope, it's ideation Identify the overarching word you want to be known for when people think of your brand. Then, find a keyword with the most search volume for the word. Everything you do will flow from this keyword.
#VCBuzz A4.

The same way you would for just about any business and/or startup.
Start with the Brand and the Target market,
identify goals (initial ones such as Awareness/Perception, early float rev. figures etc.),
see what's in the market, what people know/feel/think.

>>>

— Lyndon NA (Darth Autocrat) (@darth_na) October 4, 2022
Next, understand who is searching for that keyword. What do they know? What are the knowledge gaps? What tools are they using? What are the common complaints and praises? A buyer persona guides keyword research, VOC, and foundational content.
A4. What does your audience need help with, and how can we make it easy for them to get this help?

You need in-depth knowledge of your audience and your product to get there.

But that is where you start. #vcbuzz

— Teodora Ema Pirciu (@EmaPirciu) October 4, 2022
Do competitor research to identify low-volume and highly profitable keywords. The big mistake I see a lot of brands make is having high ambition in the early days. NO.
#VCBuzz A4.3

… focus may be on comparisons (USP/benefits/positioning etc.),
or on education/association,
or straight for the closes with function terms.
(Basically Market-Led to start with – you can switch to Sales-Led and then Product-Led with maturity/stability)

— Lyndon NA (Darth Autocrat) (@darth_na) October 4, 2022
Prioritize commercial keywords and topics that allow you to show authority Start small Adopt a cluster approach and group subsections correctly to ensure you're not writing more than you need (save money and avoid keyword cannibalization).
Creating topic clusters definitely improve your chance of ranking in the top 10. By creating quality content for low difficulty & medium volume keywords, you can quickly rank in the first page for your cluster posts. That establishes you as an expert on that topic. #vcbuzz https://t.co/KyCaWdgI5W

— Poulomi Basu (@poulomi_basu) October 4, 2022
Write semantically rich content that fulfills search intent. It's a great way to rank for many keywords and improve the reading experience. Continuously find opportunities to rank quickly and build authority Then, Optimize Distribute Build links Measure.
#VCBuzz A4.5

It's not about the "thing" or what it "does",
it's about the service-user, and what benefits they get,
and how it stacks against the other services.

You'll also often find that there's the B2B vs B2C shift too (a lot of ecom is B/D2C, where as SaaS is more 2B)

— Lyndon NA (Darth Autocrat) (@darth_na) October 4, 2022
Q5 What are your favorite content marketing tools?
I just published an article on this question.
But if I had to get specific Frase for the comprehensive list of topics Keywords Everywhere for quick research Semrush for large projects MarketMuse for content briefs.
#VCBuzz A5.

Google (for general research)
Quora/Reddit/Forums/Review sites for market research
Spreadsheets
Docs
Meet/Skype (lots of communications with clients/prospective consumers)

— Lyndon NA (Darth Autocrat) (@darth_na) October 4, 2022
Our previous SaaS content marketing chats: