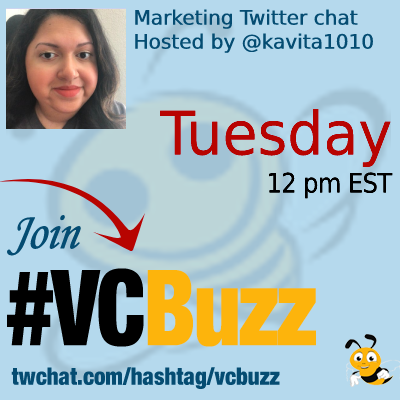 Creating a strong community around your brand has lots of benefits.
From turning your customers into brand advocates to sending stronger trust signals to Google – community management is something every business should invest in.
Yet, it takes time and dedication.
How to create and manage your own micro-community of loyal brand ambassadors? Let's discuss!
***Add #VCBuzz chats to your calendar here.
***Please sign in here to follow the chat -> twchat.com/hashtag/vcbuzz
About @kavita1010
Kavita Chintapalli @kavita1010 is a social media manager at The Social Element, where she leads a team of social media specialists in engagement, copywriting, and community-building for a leading FMCG company.
She also creates Instagram Reels for Sayfty (@SayftyCom) to raise awareness about gender-based violence.
Questions we discussed
Q1 How did you become a digital marketer? Please share your career story!
n 2012, I took a digital marketing course at @RutgersBSchool as part of the MBA program and that was really my 💡 moment – social media can be a job!
Once I decided to jump in and make a career out of it, I realized I needed to be more active on platforms like Twitter (note: this was 2012!). So, I started participating in Twitter chats! Chats like #vcbuzz are amazing opportunities to learn & network.
After I graduated, I took a social media internship at a startup and that turned into my first full-time role, running over 100 social media accounts and editing over 100 blogs!
I'm currently working for an agency & lead a team of social media specialists in community engagement for a popular FMCG client. I also create IG Reels for @SayftyCom, raising awareness about gender-based violence.
Q2 Why is it important for brands to engage with their communities?
People reach out to brands for a reason: 👉🏼 They have a complaint or concern that needs addressing 👉🏼 They want to have a fun conversation 👉🏼 They want to share their experience with friends.
Whatever their reason, people are trying to elicit a response from the brand and it's our job figure out the right approach to engage and interact with the community while keeping within our brand's tone of voice (TOV).
Community engagement can be tricky. You have to: ✅ Decide whether to respond or not, ✅ Figure out what to say, ✅ Stay within the brand's TOV and guidelines
Absolutely! You need to find the audience and figure out what they care about, their problems, etc. #vcbuzz

— Kavita Chintapalli (@kavita1010) July 26, 2022
Q3 How should brands handle crises or trending topics on social media?
The absolute worst thing a brand can do is ignore a crisis, followed by deleting/hiding negative comments about the crisis. We can see you! You can't pretend it isn't happening.
In a crisis, brands should talk to all the relevant parties (C-suite, PR, legal, etc.) to find out what happened and figure out a strategy. They should engage with the community, answering their questions honestly and with as much transparency as possible.
For trending topics: 1️⃣ Research – the trending hashtag may mean something different than what you think! 2️⃣ Evaluate – does it fit with your brand's TOV, strategy, etc.? 3️⃣ Create – post content!
I think this is great advice! Our company runs crisis simulations for clients and it's a great exercise to see how various stakeholders react in real-time to a crisis. #vcbuzz https://t.co/95Hdnlr8L9

— Kavita Chintapalli (@kavita1010) July 26, 2022
Q4 What role does tone of voice play in how brands interact with their communities?
Tone of voice plays a HUGE role in how brands interact. The TOV essentially dictates how you engage with the community. Is the brand serious, playful, clever, etc.?
#vcbuzz given the no. of choices available, customer service is one of the most important aspects of a brand. Because with everything else happening online, often they are the most direct interaction you have with a brand. That's where you can make a customer a loyalist/advocate

— Poulomi Basu (@poulomi_basu) July 26, 2022
In my last role, I managed 7 brands and familiarizing myself with the different TOVs and feeling comfortable switching between the brands took a while. I think it's the hardest part of community engagement.
I often go to Twitter first with service issues. I find it ends up taking much less of my time and things get resolved faster.

When the issue gets resolved I thank the brand in the thread.

But resolution doesn't always occur, and the thread stays open. #vcbuzz

— Tod Cordill (@todcordill) July 26, 2022
Q5 How can social media professionals stay inspired and creative as they work on community engagement?
This is a constant struggle, to be honest! There's only so many ways to talk about customer service issues, for example. But, it's helpful to get inspired by coworkers and friends, music, art, and whatever you're passionate about.
It's really helpful to step away from the keyboard/phone. Take breaks and go for a walk, cook, etc. Whatever chills you out. People on social can be mean and we have to remember that there's a human being behind the brand reading all this vitriol.
It's also a good idea to participate in Twitter chats like #vcbuzz! And read blogs from sites like @buffer and @socialmedia2day.
And you have to walk the walk:
Be active, personally, on social media apps like TikTok, Twitter, etc.
See what people are talking about on these apps.
Have fun and experiment with creating content!
Q6 Share your favorite social media handles! Who's doing community engagement right?
Going to be cliche and say @Wendys 😂. Others I love include @MerriamWebster and @fentybeauty, and of course the Mondelez brands I work with.
Our community management chats: