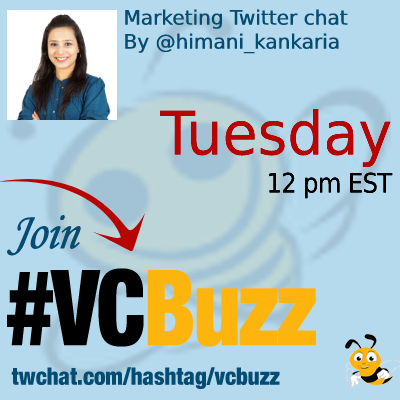 Content creation is a very complex process that includes thorough research, writing, editing, formatting, and more.
Do you have the whole process streamlined or are you still wondering if you are doing it right?
Let's discuss common content creation mistakes that may impact your ROI!
***Add #VCBuzz chats to your calendar here.
***Please sign in here to follow the chat -> twchat.com/hashtag/vcbuzz
About @himani_kankaria
@himani_kankaria is founder of @missivedigital, an organic marketing agency that focuses on enhancing the brand positioning of the businesses to maximize ROI and brand loyalty through organic marketing channels. She specializes in strategizing, creating, and optimizing content for users and SERP features like Featured Snippets.
Being in this industry for the past 12+ years, she has helped SaaS and Technology businesses multiply their organic presence and conversions through organic marketing channels.
Connect to Himani on Linkedin!
Questions we discussed
Q1 How did you become a digital marketer? Please share your career story!
It was 2010 when I did a small SEO course from a local SEO agency cum institute, and I got a placement at the same agency before I could complete the course based on my performance during the course period.
Within 6 months of my SEO career, I was awarded the letter of appreciation and an SEO Team Lead position having a team of two SEOs in the off-page category. I trained them, and one of them is doing really well today.
Straight to 2012-13 when Google Panda and Penguin updates came, and the entire SEO industry got affected. We realized how important the original content is, and that's how I started trying my hands on content creation.
2015-16 were the years when I started optimizing my content before publishing them and BOOM! The first content I wrote and optimized achieved FEATURED SNIPPETS in 1 week.
That's when I became content-driven SEO, who would strategize, create, and optimize content for users as well as search engines.
Today, after working for 12+ years in SEO and content, I run a content-driven SEO agency for SaaS, B2B, IT and eCommerce companies, @missivedigital.
Q2 What are the top content creation mistakes?
I wrote an article on 21 content creation mistakes on @sejournal, and below are a few most important ones:
Not understanding who is going to read the content and why they're going to read it.
Missing out on having a detailed brief on how the content needs to be written – the outline, approach, introduction, conclusion, etc.
Not considering how to be better than our competing blogs
Missing out on targeting topics from the sales & product teams
Not reviewing/editing/proofreading the content received from the writers
Thinking of cheap ways of creating content at scale – such as scraping the content and using #ChatGPT or AI and not having an editor to review/proofread
Q3 When auditing a business' content creation strategy, how do you prioritize issues that you come across?
I identify the issues in the #contentwriting strategy in the priority: "WHY" of the content creation strategy Traffic, leads, visibility, links – why do you want to write content on this topic? If there's no information on the purpose, I want to work on it first.
Next issue that I would prioritize is Key Performance Indicators (KPIs) for content creation Impressions, CTR, positions – I want to see whether the writer or the marketing/SEO team can measure the content performance.
Another issue is the list of keywords added, as the target keywords are money and not blog ones. If you've been given the money keywords to create the blog content, you're not going to make sure that the content ranks for their relevant and respective blog keywords.
Q4 Which content creation mistakes are the hardest to fix?
Here are the content creation mistakes that are the hardest to fix:
Not putting any UNIQUE points compared to the competing blogs 2. If you've copied the wrong stuff that your competitors have written 3. If you've not edited the content created using #ChatGPT. Content creation that is copied from the competing blogs but you cannot find in the Copyscape 5. Content that is written just for the purpose of writing and not providing value to the readers
Q5 What are your favorite content creation and marketing tools?
Content Creation tools that I usually rely on:
@googledrive – Collaboration
@semrush – Keywords
@ahrefs – content gaps
@BuzzSumo – trending topics
@surfer_seo – topic clusters
@heyjasperai – AI-based content blocks
@Grammarly – Grammar checks
More content creation tools here:
@GoogleTrends – Trending topics
@HemingwayApp – Content clarity & readability
@CoSchedule Headline Analyzer
@keywordinsights – Intent identification
A few more tools that help in content creation:
Google Search – for almost everything
People Also Ask – SERP Features – @alsoasked by @thetafferboy
@canva – designs
@googlesearchc – Search Data
@googleanalytics – Data Analytics And more
Our previous content creation chats: