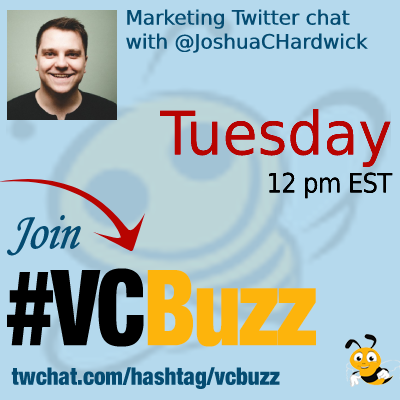 Content management for a big brand is a challenging task.
You need to research your customers' needs, align your content to your product positioning strategy and promote that content as well.
And it is even more difficult when you are dealing with B2B content because you need to keep in mind all different decision makers that you have to sell your product to.
Let's discuss managing content for a SaaS brand!
***Add #VCBuzz chats to your calendar here.
***Please sign in here to follow the chat -> twchat.com/hashtag/vcbuzz
About @JoshuaCHardwick
@JoshuaCHardwick is head of Content @ahrefs blog.
Joshua is addicted to all things SEO
Questions we discussed
Q1 How did you become a digital marketer? Please share your career story!
I learned at 16 that you could "make money online" by writing articles. I started doing it and wondered why people were paying me for this. One of my clients ran an SEO agency so I asked him. This is when I first learned about SEO from there I read the Moz blog and kept asking my client SEO questions on Skype. I started a couple sites, worked (very) briefly with @dannyashton at @neomammalian, and eventually realised the area of SEO I liked was content creation + link building…
So, I started creating linkbait for people and doing outreach for it. To market myself, I decided to write a huge list of link building tactics and publish it online for free. It was 60K words long.
clickbait is when a title promises too much and the article doesn't really deliver.

— Joshua Hardwick (@JoshuaCHardwick) October 25, 2022
I did outreach for this piece, then @timsoulo from Ahrefs asked if I wanted to write for the Ahrefs blog. I agreed. Did it for 2 years freelance, then asked if I could join the company full time. That was in 2018. I'm still here 🙂
Q2 You have joined an established blog. Are there any changes to the content strategy you implemented when joining?
Nothing major 🙂 Our content strategy was sound before I joined. So I've mainly focused on continuing that, systemising the process, and maintaining/improving our content quality.
A2. There is always scope for improvement if you can analyze going into depth with the right kind of data and with a solid strategy.#vcbuzz

— Amal Ghosh (@AmalGhosh3) October 25, 2022
#VCBuzz A2.

Typically – yes.
In most cases, the structure of content is focused on "keywords", rather than on Goals.

They also tend to lack automated assistance (things like internal link suggestions etc.).

The focus is often on prospects,
rather than inc. Peers etc.

— Lyndon NA (Darth Autocrat) (@darth_na) October 25, 2022
#VCBuzz A2.3

I try to get them to promote it more, further, for longer,
and repeat promote it later.
Then adapt and push to other mediums/platforms.
Then look at whether pushing content to other channels is viable.

— Lyndon NA (Darth Autocrat) (@darth_na) October 25, 2022
Q3 How do you work on your content editorial? What's your routine and tricks?
I think our process is similar to everyone's: idea → outline → draft → review → publish But there are a few "tricks" to making it run smoothly. 1) Great processes/SOPs 2) Peer reviews 3) Talented team (Let me go into a bit more detail…)
A3.2 We have SOPs for every part of our process:

– writing
– uploading
– illustrations
– & more

Things wouldn't run nearly as smoothly without these.

We also have content guidelines for all writers to follow. Here's an excerpt:
#vcbuzz pic.twitter.com/81HgqrXQHB

— Joshua Hardwick (@JoshuaCHardwick) October 25, 2022
Every post we publish is reviewed by at least one other person. This helps us catch inaccuracies and mistakes and maintain quality standards. Here's a real-life example of @patrickstox spotting an inaccuracy in one my articles:

As for having a talented team, that's the hard part and something I definitely can't take credit for. 🙂 Many of the amazing people I work with joined the company before me 🙂
#VCBuzz A3.

Ideally, get someone with knowledge/ability of both writing and the topic to review.
This may be a dedicated person,
or shared out amongst the team (internal peer review).
Nothing should get pushed with (blatant) errors,
(inaccuracies are worse than typos IMO!)

— Lyndon NA (Darth Autocrat) (@darth_na) October 25, 2022
#VCBuzz A3.3

Looking at the style guide (if there is one!),
and checking if it needs updating/changing etc.

If possible, push changes so that software has improved spelling/grammar capabilities (that incorporate the SG etc.).

All help reduce friction and get things moving.

— Lyndon NA (Darth Autocrat) (@darth_na) October 25, 2022
Q4 What are the biggest challenges when dealing with content for a SaaS brand and how to overcome them?
Hiring great content creators is always hard because although there are many great writers and SEO practitioners, it seems quite rare to find someone who is great at both! 🙂 I recently wrote up exactly how we do things here.
A4. Some content marketing challenges for SaaS brands:

♦️data management
♦️agility
♦️security
♦️storage
♦️costs
♦️sticking to core KPIs#vcbuzz

— Jeannie Hill (@essentialskill) October 25, 2022
Scaling content while maintaining quality has also been a challenge. I spoke about this @brightonseo in April. Here are my slides.
If you attended the event and missed it, there's also a replay of my talk online
#VCBuzz A4.2

Getting access to those with technical knowledge to help writers (if they lack it).

Updating older content, or getting it redirected,
when the tool/system changes, and makes n% of content incorrect/redundant.
(I hate that!)

— Lyndon NA (Darth Autocrat) (@darth_na) October 25, 2022
Q5 What are your favorite content marketing tools?
I think that's all you really need tbh 🙂
A5 @textoptimizer is my go-to tool for content ideas and research #vcbuzz

— Ann Smarty (@seosmarty) October 25, 2022
Our previous content marketing chats: