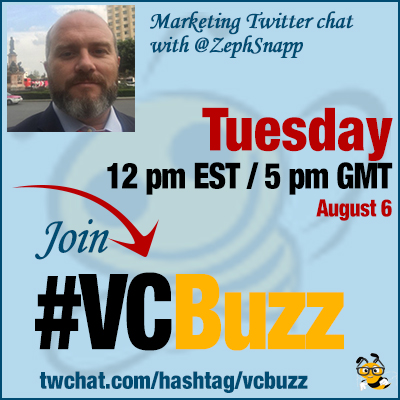 Unlike what many people think, international marketing is not just for global businesses.
If you own a US-only business, multi-lingual marketing can increase your reach immensely, especially if you target Spanish which is by far the most widespread language in the country (after English).
Are you reaching out to this audience effectively enough? Let's discuss
***Add #VCBuzz chats to your calendar here.
***Please sign in here to follow the chat -> twchat.com/hashtag/vcbuzz
About @ZephSnapp
Zeph Snapp is CEO of Altura Interactive @alturaint. As a bilingual, bi-cultural marketer, Zeph has given talks at great industry events like Mozcon, SearchFest and State of Search.
Connect to Zeph on Linkedin
Questions we discussed
Q1 How did you become a digital marketer? Please share your career story!
I think this could completely be its own discussion, as there are so many interesting SEO origin stories! I was working for a company that needed SEO, and was tasked with picking a provider. We found @rhea and @ajkohn.
When I saw the recommendations, implementing them was super interesting, and I wondered if it was being done in Spanish. When I found very little (in 2010), it motivated me to dig in further.
Opportunity: Try finding a list of Hispanic blogs / sites — that's a hole some content marketer should be filling so we can find them! #vcbuzz

— Gail Gardner (@GrowMap) August 6, 2019
Honestly? We have it, we just don't like to publish things like that, as they are part of our competitive advantage 🙂
Q2 How to target both English and Spanish within one site? Is it better to manage two sites?
Well, this depends a great deal on your business (I know, it depends is such a cop-out!), but for most businesses, an ES subfolder and a language drop-down menu will suffice.
A2 International SEO is probably the toughest SEO question! So many questions and no straightforward answers! #vcbuzz

— Ann Smarty (@seosmarty) August 6, 2019
If you have physical locations (like Dominos Pizza, for example), then you will want to buy ccTLD's to differentiate offerings by country.
1- Especially if you have a virtual product, or one where the customer journey takes place online, those are situations where having one site is better. @manifestcon: @ZephSnapp In which cases maintaining a single site is preferable? #vcbuzz

— Zeph Snapp (@ZephSnapp) August 6, 2019
Also, keep in mind that if you have different sites you are dividing your authority, instead of leveraging the authority that you have built up in English.
Also, some users like to toggle between English and Spanish to validate the consistency of the provided information.
Q3 How are Spanish SERPs in the US different from the English SERPs in the US? How to optimize for both?
Well, there are significant differences. The first is that Spanish queries are going to trigger fewer map packs/ position zero results because Google still has some trouble with disambiguation.
Also, since 95% of the internet is in English, sometimes Google is going to give you English language results for a Spanish language query. Not to mention the difference in competition. There are highly competitive terms that are still basically up for grabs!
Q4 Apart from translating your content, what should be done to target Hispanic market more effectively?
If you are targeting US-based Hispanics, they will probably have additional questions that the rest of the market doesn't think about, so just translations will not be enough. You will need additional content.
There is also more uncertainty regarding eligibility for certain things based on their immigration status. If it is relevant to your product or service, make sure to stipulate what applies to them.
Even so, you will end up getting more calls than straight web-based conversions, as they will need more support. Be prepared. Hispanics tend to be more brand loyal than other customers, so if your first touch isn't seamless, you can lose them forever.
I hesitate to make generalizations but do your research. For keywords, in forums, private Facebook groups, run surveys etc. Do as much research as your budget allows. We have a saying in Spanish, "lo barato sale caro"… going cheap is expensive.
Keep in mind that the Hispanic audience is dominated by people who trace their bloodlines to Mexico (over 80%) but depending on your geographical location, that will not be true, and you will need to adapt your messaging.
Wouldn't there be a challenge in writing for the U.S. Hispanic market given that they don't actually speak or write Castilian Spanish? Do you have to target separate parts of the Hispanic market? #vcbuzz

— Gail Gardner (@GrowMap) August 6, 2019
Well, it would be if you are a copywriter from Spain! We focus a great deal on writing content that is as neutral as possible when writing for a national (or international) audience. But sometimes choices have to be made. I compare it to someone from the Bronx talking to a Texan. Whether they are speaking the same language is debatable, but they do understand each other (mostly).
Yes, but even outside of Spain, couldn't there be a lot of variance between Spanish in deep South America and the "Spanish" spoken by multi-generational Hispanic-American families? @ZephSnapp #vcbuzz

— Gail Gardner (@GrowMap) August 6, 2019
Yes, it can change a lot. That is why you have to carefully define your audience and make informed decisions. We do this via a detailed "Style Guide" that helps us define the rules of engagement. This is a living document is continually improved.
Don't dismiss how large this audience is. There is a saying in Texas from San Antonio south: "You don't need to be bilingual down here; you don't really need to know English". #vcbuzz

— Gail Gardner (@GrowMap) August 6, 2019
@ZephSnapp how do you research your target non-English audience to discover aspects like that? #vcbuzz

— Hire Bloggers (@hireblogger) August 6, 2019
This is very difficult to do if you don't speak the language. This is why people hire us. They need our expertise to teach them all the things they don't know.
Yes, the Spanish in Argentina or Cuba is very different from Spanish from Spain. #VCBuzz

— Janette Speyer (@JanetteSpeyer) August 6, 2019
Q5 What are your favorite digital marketing tools?
The tool we use that I think doesn't get enough love is Clearscope, which helps us improve the optimization of content written (they also support EN). If you are interested in learning more, hit up @bernardjhuang (we are a client, but that is our only affiliation)
A5 – what is a good free keyword (questions) tool. I sometimes use Uber Suggest. What do YOU use and rec? #vcbuzz

— Missy Diaz (@ChicagoGeekGal) August 6, 2019
A5 Mine: @Serpstat and @Ahrefs (both have powerful international data bases) #vcbuzz

— Ann Smarty (@seosmarty) August 6, 2019
Our previous International marketing chats: