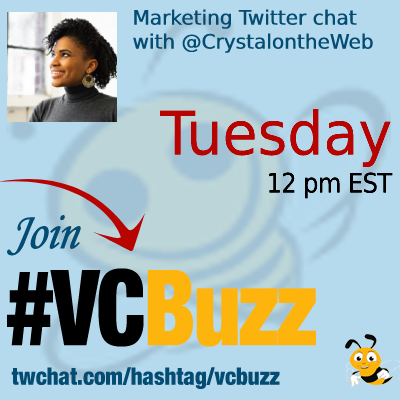 Any organization has expertise and talents that are never surfaced or reflected in its content marketing strategy.
And yet fresh talent can boost any marketing strategy and make any content better.
***Add #VCBuzz chats to your calendar here.
***Please sign in here to follow the chat -> twchat.com/hashtag/vcbuzz
About @CrystalontheWeb
Crystal Carter @CrystalontheWeb is the Head of SEO Communications at Wix.
She is an SEO & Digital Marketing professional with over 15 years experience working with SEO and Marketing clients around the world like Disney, McDonalds, Tomy, and more.
Questions we discussed
Q1 How did you become a digital marketer? Please share your career story!
I have been online since the days of dial-up. In college, I saw the impact that digital could have on communities for messaging and marketing. I've worked in marketing and digital my whole career.
I've worked freelance, agency and in-house; big companies and small companies. I find that bringing ALL your experience to each project – personal or professional – makes the difference and helps keep users at the center of everything you do.
A1. I find this is particularly important when you´re more senior. I am not sure this is highlighted enough when many employers encourage more individual contributor stuff #vcbuzz

— Montse Cano (@MontseCano) September 27, 2022
Though I've studied general marketing, the thing that I love most about SEO how trackable it is – clicks, conversion, etc – give you immediate feedback. And I love finding tech solutions that have a big impact on a site and the business overall.
Q2 How to identify internal expertise and talent?
Internal experts can sometimes be introverted but you know these folks because they have answers, depth of knowledge & experience in your niche. Look at who is writing reports, creating documents, leading training & asking questions on behalf of customers.
A2: Identifying internal expertise & talent:
♦️ Casting calls vet writers quickly and painlessly
♦️ Search/view writer profiles – author schema helps
♦️ Ask co-workers/peers/networking/social groups#vcbuzz

— Jeannie Hill (@essentialskill) September 27, 2022
Rember that your most valuable internal experts might not be the most vocal or very active online. That's ok, they are probably busy being clever. BUT colleagues & clients can give you insights on who it's worth contacting.
Top tip – If you have Slack Premium you can search for relevant terms, topics, channels, and documents to find potential candidates and even quotes.
A2
The BEST way I've found to identify a client's internal expertise and talent is ACTUALLY speaking with people directly within the organization.

In doing so, you'll get a "feel" of whose on-board and experience to help.#VCBuzz

— Debi Norton (@BRAVOMedia1) September 27, 2022
Building trust is so important! Particularly if you are new to the team. They need to know you'll support them with the process! Great advice!
A2. Talk to people, generally. Find out who did that brilliant job you´ve just heard of. Find out about their motivations. This can only be done over time #vcbuzz

— Montse Cano (@MontseCano) September 27, 2022
This! There is usually someone who can explain concepts well to people who don't already know the topic.

Those are your best "experts" to tap. Use their insights in your #content! #vcbuzz https://t.co/Jw9Lqilz3J

— Gail Gardner (@GrowMap) September 27, 2022
Q3 How can experts help? Not all of them are writers or are willing to write or have time to write
"Expertise" is the "E" in E-A-T, a concept that informs their approach to Core Updates.* Google is very much invested in curating content that shows high levels of expertise** so getting this input is valuable.
However, if you want Expert content you will need to engage with experts to create copy, blogs, videos, podcasts, & other assets for your website and digital presence. What if they don't have time? They probably won't, so be flexible, patient and alert.
A3
People within the organization – know the organization.

Hone in on the people that are in-front of their customers i.e., biz dev, sales – these folks know the day-to-day issues that come up for the biz and can help you address them with their experience.#VCBuzz

— Debi Norton (@BRAVOMedia1) September 27, 2022
Be flexible about how you acquire content. Can you: Book an interview, record and make transcribed answers into a post? Repurpose an existing long-form email, document or presentation for the web? Send a Q&A, and shape the content from their answers?
A3: Talk to them! Connect with subject matter experts to glean their insight, and create the content yourself in the best format(s) for publication. That's where your expertise as a marketer comes in! #vcbuzz #contentmarketing https://t.co/7i49wA074s

— Jaime Shine 💬 Marketer | Writer (@jaimeshine) September 27, 2022
Be patient with lead times and conscious of seasonality. Experts who work in accounting won't be available at tax time for instance. Work to build relationships with potential contributors so they're confident sharing their work with you.
A3: How experts help:
♦️ They may give qualified leads
♦️ Giving job posting/interview tips
♦️ May add your listing on their site#vcbuzz

— Jeannie Hill (@essentialskill) September 27, 2022
Be alert. Look out for internal assets that could potentially be used for public-facing content. Annual reports, research, pitch decks, internal newsletters, and even slack conversations, can serve as the basis for expert content. Repurposing these to save time.
A3 How about creating an internal podcast, and then generate a transcript of the conversation? #vcbuzz

— Martin Lindeskog🗽🌐💎🫖🍵🧉🙃 (@LyceumPeripatos) September 27, 2022
Q4 Should a company invest into public experts and how to prevent them from leaving once they become well-known?
A4. Companies should invest in promoting public-facing experts because it helps the brand
🤝 reach across a range of networks
💪 builds trust in your team and
🏫 add relevant entities and associations to the site with bio's & team profile pages. 1/3 #vcbuzz pic.twitter.com/mQrkry5Ayv

— Crystal Carter (she/her) (@CrystalontheWeb) September 27, 2022
For those worried about retention remember: Promoting quality talent on your team is a great way to *attract* quality talent to your team. Public facing experts to raise the profile of your entire business. Create opportunities to enable growth.
A4. If they´re public experts, then they´re well-known already! Every company should look after their employees #vcbuzz

— Montse Cano (@MontseCano) September 27, 2022
Further, many of the backlinks, content, and assets will remain associated with your brand for years to come. Think about the Supremes and Diana Ross. The songs that she did with them are brilliant many years after she left the group! So let your team shine!
A4
Influencer marketing can definitely help when done well

If you have them advocating for your business-it can be a success. They can:
– Boost engagement
– Add creditability
– Help build the brand
– Get engagement with a larger audience

Pay them well and they'll stay #VCbuzz

— Debi Norton (@BRAVOMedia1) September 27, 2022
A4: Ideally along the way – whether you invest a lot or not – experts become brand evangelists and you stay friends later. Thus the investment will pay off even after the official cooperation stops. #vcbuzz

— Tadeusz Szewczyk (Tad Chef) (@onreact) September 27, 2022
And in the process your team gains a collection of knowledge that you can build on!
A4. If you lack internal writers, public niche freelancers can fit the need.

– Pay them what they are worth to keep them
– Give guidelines but let them have range
– Proven expertise is valuable (healthcare is tough)#vcbuzz

— Jeannie Hill (@essentialskill) September 27, 2022
Exactly, I worked with @semrush only for three months years ago and I evangelized them before and after that ardently. They just rock. #vcbuzz

— Tadeusz Szewczyk (Tad Chef) (@onreact) September 27, 2022
Q5 What are your favorite content marketing tools?
My fave content marketing tools are very straightforward:
@semrush for topic research
@canva for making visuals & diagrams
@Wix Blog for posting & SEO optimizations
@grammarly for….grammar
Google docs for writing, dictating, format, adding links & building tables
A5
Content Marketing Tools
G-Analytics
G-Search Console
Grammarly
AnswerThePublic#VCBuzz

— Debi Norton (@BRAVOMedia1) September 27, 2022
A5 –

Easily @semrush for keyword research – especially love the questions feature on the keyword magic tool.

Google itself is a great tool as you can dive into what competitors are doing, into people also ask, analyse intent, the SERPs are a goldmine. #vcbuzz

— Sophie Brannon (@SophieBrannon) September 27, 2022
Our previous content marketing chats: