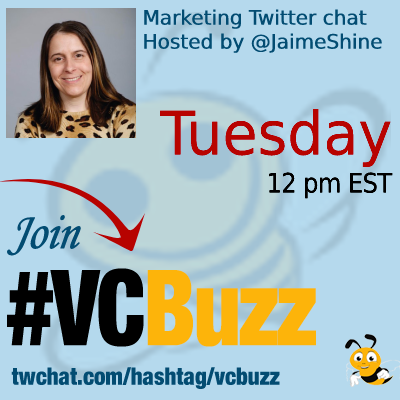 Creating an effective content strategy is fundamental to any marketing plan.
But it is usually about creating new content.
Yet, your existing content may very well be even more important than creating new content because existing pages already have unique data, including rankings and on-page engagement.
It is much more effective to use your own data than relying on third-party numbers that any of your competitors have an equal access to.
How to create content updating strategy?
Let's discuss!
***Add #VCBuzz chats to your calendar here.
***Please sign in here to follow the chat -> twchat.com/hashtag/vcbuzz
About Jaime Shine @jaimeshine
Jaime Shine @jaimeshine is marketer, writer and social media strategist for hire.
Jaime is owner of Clearly Conveyed Communications helping brands communicate with their target audience(s)
Questions we discussed
Q1 How did you become a digital marketer? Please share your career story!
I love to write. While most kids were playing, I was publishing magazines or newspapers with feature articles, ads, sports box scores and all. From promotions director to advertising roles to branding projects, I've always been interested in marketing.
Those interests led me to pursue a degree in Advertising, with a heavy emphasis on all kinds of writing. I spent nine years in various marketing roles in Corporate America, including more digital projects as the space commanded more attention.
I noticed that the small business owners I supported daily were looking for affordable marketing services beyond what our company offered. They knew they needed help in these areas but couldn't afford to hire large marketing agencies.
In 2012, Clearly Conveyed Communications (CCC) was born. While I had worked in digital, this is when I started focusing on social media, content creation, writing for online projects and more. It's been a crazy ride, but I wouldn't trade a minute of it.
Q2 Why is updating old content so important and why do so many brands fail to do that?
Creating quality content is challenging and time-consuming, so you want to extract as much value out of it as you can. Your older content is a gold mine of benefits, which you've already spent time, energy and resources on, so don't forget about it.
A2: Updating old content is important because not only might some of the information now be outdated, but it is a fabulous opportunity to freshen it up, and repurpose it for your marketing channels. #vcbuzz

— Sarah Clarke (@sclarkeOville) March 15, 2022
Updating your older content delivers a better user experience, so visitors find value on your site or blog, stay longer and show interest in your products and services. This includes visitors referred by backlinks, which will help boost your site's SEO.
Updating older content and fixing broken links will also strengthen your site's SEO by welcoming search engine crawlers and helping them index your site, boosting your rankings. Dead links stop search engine crawlers in their tracks.
@vcbuzz A2: It helps you to extend the life and effectiveness of existing content, without attempting to reinvent the wheel. 🙂 #vcbuzz

— Courtney Rogers (@CourtneyMRogers) March 15, 2022
Our society tends to focus on what's new, which is why brands often fail to update older content. Once content is published and initially distributed, it's put on a back shelf and forgotten about. Don't do this and lose so many benefits!
A2. Freshness & Relevancy are two major areas that will have a great impact if you keep updating the content over the time keeping in mind the search intent.#vcbuzz

— Amal Ghosh (@AmalGhosh3) March 15, 2022
Updating older content will also give you fresh ideas for new content! Approach a topic you previously blogged about from a different perspective, or explore a previous topic more in-depth by creating a series.
#VCBuzz A2.2

A) Because "digital" is sooooo "different"
*sigh*

B) Because "new" always seems to capture interest
same issue for generating new leads vs utilising existing consumers

C) Stupidity/Ignorance
Harsh – but true 🙁

— Lyndon NA (Darth Autocrat) (@darth_na) March 15, 2022
A2) Why It's Important

Older content can be…
– lower quality or thin
– out of date or inaccurate
– misaligned with search intent
– off brand
– generally underperforming
– hurting your entire website SEO#vcbuzz

— Jonas Sickler (@JonasSickler) March 15, 2022
Q3 How to identify content that needs updating? How to get better organized with content updates to turn it into an on-going process?
Use a tool like @DeadLinkChecker to find broken links that may be damaging your rankings and usability. There's a free tool, Multi Check (for multiple websites) and Auto Check (which runs on a regular basis and emails you reports).
A3: On a blog, having a clear, consistent taxonomy of categories/tags for posts and pages can help you identify previous content on a topic when new information is available. #vcbuzz https://t.co/tq9EtY5PsM

— Courtney Rogers (@CourtneyMRogers) March 15, 2022
Also, visit your website regularly! Before you create new content, look at older content you've already published on the same topic. Check popular posts to see if they need updated or can be enhanced with fresh information. Check pages before sharing!
#VCBuzz A3.

By tracking it's performance.
This should include both business and SEO goals/metrics, such as conversions/leads, traffic and position.

Setting alerts to spot when things drop 10%/25%/50% etc. can help.
Prioritising by "value" is important.

>>>

— Lyndon NA (Darth Autocrat) (@darth_na) March 15, 2022
It is also useful to use Search Console to find pages that are losing traffic #vcbuzz https://t.co/pYqZyf7ker

— Anna Fox (@manifestcon) March 15, 2022
Moving forward, include your older content in your content strategy. Dedicate time and resources to updating older content, refreshing your blog/site and cleaning up broken links on a regular basis. Make it an equal priority with creating new content!
A3: I've been using SEO software to update old content .This shows me which blogs need items fixed for search. I take the opportunity to update everything while I"m in there working on SEO. #vcbuzz p.s. right now using both @neilpatel and @semrush software and love them both

— Sarah Clarke (@sclarkeOville) March 15, 2022
#VCBuzz A3.3

Knowing which ones are worthwhile is often trickier,
as there is seldom any specific data included in the SEO data,
you have to get the client to provide that info,
and append it (in separate sheets, or tools etc.).

When you see a money-page dropping, patch it.

— Lyndon NA (Darth Autocrat) (@darth_na) March 15, 2022
A3. Compare the performance of the underperforming contents with your top performing contents. Check how much you were able to satisfy user needs, how much it met client requirements, check competitors page. These are a few data you consider before updating#vcbuzz

— Amal Ghosh (@AmalGhosh3) March 15, 2022
A3) Then, continue to audit your website content again every 12 – 24 months to see what changed.

Work refreshes and larger rewrites into your content calendar.

— Jonas Sickler (@JonasSickler) March 15, 2022
Q4 How to update content? What are the key elements of a good content update?
First, check for broken links, missing videos, corrupt images or loading issues. Are your images optimized or are they slowing down the page from loading? Have you used images without permission? Get permission, or replace them with appropriate ones.
A4 I am working on updating my old content (blog posts for me). I make sure the graphics are updated, the text is updated and current, and all of the tags, meta descriptions, SEO headings etc are current and updated. This also gives me fresh content to share on socials. #vcbuzz

— Sarah Clarke (@sclarkeOville) March 15, 2022
Next, look at the copy. Is the headline drawing traffic, or can it be improved? Reread the article and captions. Is the content still relevant or does it need to be refreshed? Add any new information that will bring the content up-to-date.
#VCBuzz A4.

Carefully.

In some cases, it's simply a matter of updating a bit of data.
In other cases, it means replacing chunks, or appending additional content.

But each/every change you make requires G to reparse/re-examine the content,
and may cause issues…

>>>

— Lyndon NA (Darth Autocrat) (@darth_na) March 15, 2022
Make sure your content is readable (and skimmable) with appropriate visuals, short paragraphs and different sections, or headings. White space and proper formatting are your friends on screen. Add relevant videos, GIFs, polls or other media!
@vcbuzz A4 (4/4): Key elements of a good content update:
🔧 Fix broken links and missing videos, files
📸 Optimize images, check sources/permissions
✍️ Update copy: headline, article, captions
📲 Check formatting and readability
📹 Add videos, GIFs, polls and other media #vcbuzz

— Jaime Shine 🖋️ (@jaimeshine) March 15, 2022
#VCBUzz A4.3

After that, monitor the changes to see how G responds.
In most cases, things should improve, for the intended terms.
But sometimes, G misunderstands, or the changes have skewed how the page is seen,
and you may rank for less relevant terms etc.
(Undo, wait! :D)

— Lyndon NA (Darth Autocrat) (@darth_na) March 15, 2022
A4) Use behavioral analysis software to see which sections users focus on or ignore.

Update CTAs

Update or add internal links#vcbuzz

— Jonas Sickler (@JonasSickler) March 15, 2022
Q5 What are your favorite writing and SEO tools?
My favorite writing and SEO tools are Headline Studio and Email Subject Line Tester by @CoSchedule, Microsoft Word, @evernote, @wordpressdotcom and @DeadLinkChecker.
A5: I like @ubersuggest_seo and @semrush for SEO tools, as well as the Google Keyword Planner. For writing tools I have started using Jarvis AI for some inspiration and assistance. #vcbuzz

— Sarah Clarke (@sclarkeOville) March 15, 2022
A5 Search Console is my ultimate SEO tool! Shows which pages lost traffic and for which search queries #vcbuzz

— Anna Fox (@manifestcon) March 15, 2022
#VCBuzz A5.

* Hammer
* Chisel
* Rock
😀

Okay, maybe not quite that old fashioned…
but I still like to type in Notepad (no editing frills to distract).
Grammarly is more than handy.
Utilising a decent brief is wonderful too!

— Lyndon NA (Darth Autocrat) (@darth_na) March 15, 2022
Our previous content marketing chats: