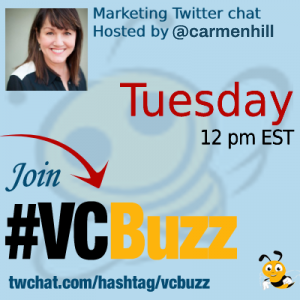 Creating a content strategy takes a lot of time and effort. But more importantly, it needs a clear goal.
What do you need your content for?
Content is one of the most effective ways to drive long-term content growth.
Here's how to create a content strategy that grows your brand:
***Add #VCBuzz chats to your calendar here.
***Please sign in here to follow the chat -> twchat.com/hashtag/vcbuzz
About @carmenhill
@carmenhill is a strategic storyteller and content mixologist with an affinity for open browser tabs, post-it notes & AP Style.
Carmen is founder of Chill Content that helps busy marketers connect the dots between business goals and customer needs—and bring order to content chaos.
Questions we discussed
Q1 How did you become a digital marketer? Please share your career story!
I fell into marketing by accident. After starting my career as a TV journalist and then spending ~10 years as a full-time parent, I was freelancing and landed at a #B2B marketing agency.
The craft of reporting, writing and producing great content transferred easily to #digitalmarketing. You have to put your audience first. Think about your content through their eyes and earn their attention, trust and loyalty.
Whether you're talking about cloud computing or the chance of rain, your job is to tell clear, compelling stories that educate, entertain or inspire your audience.
Q2 What does a good content strategy include and how to start building one?
A good content strategy is like a job description for your content. It documents your purpose, goals, requirements & metrics. Here's a simple way to think about it:
A: Audience
B: Business
C: Content + Context
D: Data + Documentation
Start with your audience. Who is your content for? What do they care about? What do they need? What questions do they have? Where, how and to whom do they go for information?
A2. A good content strategy includes:
📚 Themes and topics
📽 Multiple types of content
💫 Marketing campaign ideas
🔈 Marketing channels for content promotion
🔍 SEO elements
📏 Goals and KPIs
📋 Tactical activity plan #vcbuzz

— Teodora Ema Pirciu (@EmaPirciu) November 22, 2022
Business. What are your goals? What does success look like? Who are the people and what are the processes and technology you have to work with?
Content + Context. Where do your audience needs and business goals intersect? What can you create that targets that intersection? How, when and where will your audience see and engage with your content?
Data. How will you track, measure and optimize to achieve success?
Please elaborate on tracking, measuring and optimizing because that is where most writers have the most room to grow. #vcbuzz https://t.co/rUYuiw2uqZ

— Gail Gardner (@GrowMap) November 22, 2022
his is definitely one of the biggest challenges, especially since writers and other content creators don't always have access to the data. Ideally, you can partner with the analyst or web manager for insights. Also: hold that thought, as I know we're going to be chatting further about tracking & measurement in an upcoming question!
A2: In addition to content creation, your content strategy should also include plans for content distribution, repurposing and updating your existing content. Maximize the value of your content! #vcbuzz https://t.co/sSBK0v9UMk

— Jaime Shine 💬 Marketer | Writer (@jaimeshine) November 22, 2022
So true, Poulomi. The content cycle is never-ending! Check the performance of your existing content to see what needs updated, whether that's part of a regular content audit or checking older content when you create new content on the same subject (or share it). (1/2) #vcbuzz

— Jaime Shine 💬 Marketer | Writer (@jaimeshine) November 22, 2022
Q3 How can content drive band growth?
When done well, content is one of the most important ways that your brand "shows up" and and shows off both your brand value and your brand VALUES. Strong content drives brand growth by building a strong reputation.
As I mentioned before, your content should earn attention, trust and loyalty. And that's not just relevant for top-of-funnel, brand awareness marketing. That touches every aspect of the buyer/customer journey, before, during & after a sale.
I recommend reading @jaybaer's book Talk Triggers for some great examples and practical tips for using your content to drive brand. And read @mbloomstein's book Trustworthy for a deeper understanding about why it's so important.
Q4 How to measure the results? How can one measure and report on brand growth?
First, I'll caveat my answers to this question by saying that measurement is definitely not my forte. And there are some aspects of brand that are squishy and subjective—so a little tricky to measure and report on. That said … Here are a few simple ways to measure the impact of our content on brand growth:
Subscribers to your blog and newsletter
Organic search traffic via branded queries
Social content shares & mentions
Media coverage & mentions (especially unsolicited)
As an experiment it would be cool to test the impact of content engagement on brand growth. For example, your hypothesis might be that deeper engagement—more downloads, longer video or page views, clickthroughs on interactive content, etc.—results in brand growth.
If you're interested in digging deeper on this topic, I recommend following @cspenn and @crestodina.
Would you consider more returning website visitors vs new visitors also as a sign of more engagement? #vcbuzz

— Poulomi Basu (@poulomi_basu) November 22, 2022
This is where measurement and tracking is so important. For example: Which content and tactics have the biggest impact on revenue? Double down on that. Returning visitors would indicate that someone is already engaged to some extent. For new visitors, look at what they do while they're on your site—and what they do next.
Q5 What are your favorite content marketing tools?
As a consultant, I don't always have access to the sexiest tools, so I'll break this into two categories: the tools I regularly use and rely on & the ones I *wish* I could use or play around with…
My go-to toolbox includes Google docs & sheets, @otter_ai for transcription, @coschedule's Headline Studio, Keynote and PowerPoint, @mirohq for whiteboarding, flowcharts, etc., Adobe Creative Suite, @Trello, @tweetdeck for social listening.
I have used (and love!) @DivvyHQ. I've subscribed to @buzzsumo & lots of people love it (but I don't have enough opportunity to make the most of it). I have free versions of @Semrush, @sparktoro and @airtable and hope to get better at using them.
Original research is one huge opportunity for creating content that drives brand growth. Frame your research around a hypothesis that is relevant to your brand. You can build an entire content strategy around that. It's an investment that delivers big ROI!
Our previous content marketing chats: