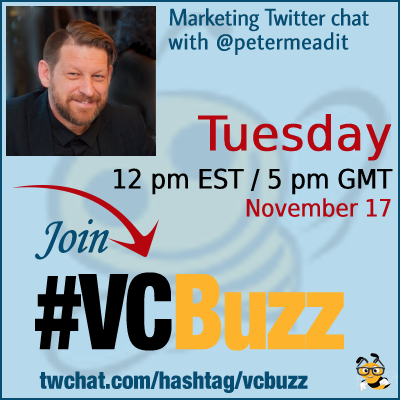 WordPress has made incredibly easy for anyone to set up a professional website.
But apart from set-up and content, there's one more important part to the puzzle: Findability.
Your site needs to be easy to find using Google and that's where Wordress SEO comes into play.
***Add #VCBuzz chats to your calendar here.
***Please sign in here to follow the chat -> twchat.com/hashtag/vcbuzz
About Peter Mead @petermeadit
Peter Mead @petermeadit is a highly experienced award-winning WordPress SEO Consultant.
Peter has been involved in the SEO community for many years and has become known to some as The Godfather.
Peter was awarded a Special Recognition Award by @SEMrush in 2019 at the annual Search Marketing Awards held at the Sydney Opera House.
@vcbuzz Yeah I was so suprised to get the @semrush award, it even has Godfather inscribed on award, I could not believe it! #vcbuzz

— Peter Mead (@petermeadit) November 17, 2020
Questions we discussed
Q1 How did you become a digital marketer? Please share your career story!
The story of my career into digital marketing began in the 90s when I got interested in the internet as a project, and in particular @timberners_lee, I started making websites on Windows with notepad, and also on Red Hat Linux with Vim etc.
Got interested in search engines, Yahoo!, Magellan, Lycos, Infoseek, and Excite. Also loved Dogpile and Web Wombat… haha. Then, like everyone else was blown away by Google when it started showing fast results with a simple interface.
Good times! I used Lycos and Excite a few times and obviously Yahoo!

I don't recall ever hearing about Web Wombat–what a great name.#vcbuzz

— Boyd Norwood – nozzle.io (@boydnorwood) November 17, 2020
Was also learning, studying what we used to call Information Technology. Of course IT means something else now, but by the early 2000s I was getting into databases, and programing languages for browsers, Netscape, and Internet Explorer.
A1. #vcbuzz When I became an independent author, it only seemed to make sense to become a digital marketer as well. So much of what you do with promotion involves social media-you can do a more effective job if you understand it.

— Dana Lemaster (@DanaLemaster) November 17, 2020
Getting into languages, building Java web applet, Shockwave flash, then moving onto .NET with C#, and eventually settling into the whole LAMP stack with PHP, HTLM, JavaScript, and MySQL, which lead me into @WordPress in 2004.
I thought of it as the Internet Project, and how people find things, that's been a consistent thread I guess. Always did consulting here and there. At what point I started thinking of myself as an SEO probably when I quit my day job started fulltime consulting in 2011.
A1. I started my journey in late 2010. I was introduced to SEO by a friend of mine while we were looking to find our first job to begin our professional career.

Since then it has been a great learning experience about search. 🙂#vcbuzz

— Praveen Sharma (@MusingPraveen) November 17, 2020
Current roles now include: Senior SEO Consultant for @StudioHawk co-organizer Melbourne SEO meetup @SEOMeetups, @SEMrush Australian Marketing Academy Webinar host for #ASMA
Q2 First things first: Can WordPress SEO be handled by a blogger or should they always hire a professional? Why?
Yes WordPress SEO can be handled by a blogger if they are willing to go on a learning curve of trial and error and make mistakes. We also know some mistakes are pretty costly in SEO, such as penalties by unwitting growth tactics. Many great SEOs learn this hard way.
The blogger might also decide to engage a professional SEO if they would prefer to keep blogging, while the Technical SEO issues get sorted… What's your thoughts?
A2. The mindset of looking at it as "WordPress SEO" itself is flawed. SEO is SEO — you need local, international, on-page, off-page, on-serp, ecommerce, wordpress, whatever prefix of SEO you can possibly do. #vcbuzz https://t.co/nvQLyeK07w

— Rohan Ayyar (@searchrook) November 17, 2020
A2 It can be handled by a blogger. Anyone can learn how to do at least the basics. But if the blogger wants to focus on their core strength of writing and engaging with their audience, then it might be good to farm out to a professional.#vcbuzz

— Boyd Norwood – nozzle.io (@boydnorwood) November 17, 2020
A2 We have seen SEO novices royally hose their SEO by relying solely on plugins. #vcbuzz

— Jon-Mikel Bailey (@JonMikelBailey) November 17, 2020
Yes, uninformed and thinking plugins will SEO their site… they need to take some learning.
If you are in no hurry and have time to learn, I'd say do it yourself. Content-based sites (blogs) don't need insane SEO skills #vcbuzz

— Ann Smarty (@seosmarty) November 17, 2020
Agree, spending time learning, and making mistakes. You don't forget mistakes… I never forget Penguin, haha!
A2 Finding a worthy SEO service may be as hard as learning SEO… Too much self-claimed experts in the industry who have no idea #vcbuzz

— Ann Smarty (@seosmarty) November 17, 2020
A2. I'd agree with @petermeadit here. I've had several bloggers try. A lot depends on their level of skills, and patience to persist. Most are startled to learn how much is involved (constant updates) to really excel. #vcbuzz https://t.co/kZkOrIrfHW

— Jeannie Hill (@essentialskill) November 17, 2020
A2. #vcbuzz Not all bloggers are comfortable dealing with SEO. Some would prefer to keep their focus on writing. These are both valid reasons to hire a professional, but they'll still have to interact with that professional to be sure posts are having the desired effect.

— Dana Lemaster (@DanaLemaster) November 17, 2020
Q3 What are the most common SEO issues a WordPress blog usually has?
Most common WordPress SEO issues are often similar to other sites, but some specific to WordPress include:
Permalinks and URLs structure not sorted.
Poor quality and unreliable web hosting.
Issues with poor Themes, and Plugins.
A3. Common #SEO issues beginners face on WordPress

🔥 Slow sites – Render Blocking Resources
🔥 Crawlability &Indexation
🔥 Canonical tags
🔥 Redirects
🔥 Managing updates#vcbuzz https://t.co/iPUu7xogp8

— Jeannie Hill (@essentialskill) November 17, 2020
More detailed issues include:
Problems with visual editors adding too much cruft, bloated HTML, numerous js files, and css.
Theme issues with JQuery particularly with WP version 5.5
Conflicting plugins, javascript rendering issues etc.
A3 #vcbuzz A fundamental issue is lack of keyword research, topic research, and blogging strategy. There is no connect between SEO and content. #contentmarketing #WordPressSEO https://t.co/z0azD4AEdD

— Rohan Ayyar (@searchrook) November 17, 2020
Why use a third-party tool like elementor, given the WordPress update to blocks? #vcbuzz

— Don Sturgill (@DonSturgill) November 17, 2020
Yes I'm a fan of Gutenberg editor now, @jasonmbarnard convinced me during the adoption of the new editor. Blocks are great!
Q4 For older blogs, how can a blogger audit SEO issues that need to be fixed?
Auditing WordPress SEO issues, is best done using tools to start with is @SEMrush, connect your Google Search Console and Google Analytics accounts. Run a crawl with @screamingfrog and use @sitebulb for deeper checks.
Audit using Visual Checks – How does it look in Google SERPs? Brand name search, site:http://examplesite.com to see how the pages are indexing. Featured snippets, titles, metas, Google for competitors for their main terms. Check GMB, citations, & testimonials.
Audit using Google Search Console – for any penalty, broken links, indexing, penalties, sitemap etc. Disavow file, other issues.
Audit using Google Analytics – traffic any traffic anomalies, organic traffic, direct, bounce rate, main metrics, bad referrers, tracking code setup.
Audit using Screaming frog – Crawl with js 5 second timeout enabled, and text only, keywords and brands in titles, meta descriptions, rendering, crawling, redirects, canonicalization and dig into issues.
Audit using @SEMrush – Check the project history, audit report, crawl history, keywords etc. domain overview, and for important issues.
Audit for Page Speed – GTMetrix, page speed insights, lighthouse, webpage test.
Audit your On-Page – Site structure flat less than 3 clicks, and good content clusters, Structured data, Internal and outbound linking, Footer issues, site navigation.
Audit basic EAT – is this a YMYL site -site:http://examplesite.com "entity name", clear signals of who the organization or individual is(schema) . testimonials. author clearly displayed? Good about us page? Links to qualifications etc.
Audit your Backlinks – SEMrush, Ahrefs, for patterns, look for toxic markers, too many anchor texts. Check Disavow file in Google Search Console.
Audit your Content – use @SEMrush Content Analyzer. Is text clear and concise, main topics, concepts, ideas explained well. Is there a hero content, 10x or skyscraper post? Is there dead wood, useless pages to remove? good use of imagery and video?
Q5 What are your favorite SEO tools?
No surprise top fav tool is @SEMrush since its early days of just checking competitor traffic, it's now got integration with with other platforms, and many tools, including new integration with @Yoast
Other top SEO tools are @Majestic, @Ahrefs, @Sitebulb, @Screamingfrog, @InLinks… Plus the standard ones: Google Search console, Google Analytics, Google Data Studio, Bing Webmaster Tools.
WordPress specific tools such as @Yoast, #Gutenberg, WP Asset Clean Up, Google Tag Manager for WordPress.
Our previous SEO chats: