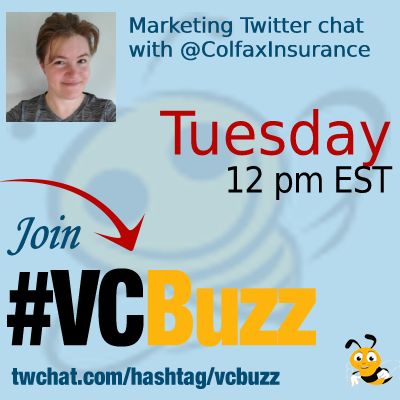 All major social media platforms have been adding features to keep up with ever-changing trends and customer expectations. These features included micro videos, live streaming, stories and more.
Twitter's newer feature is called Twitter Spaces and it has been quite a success unlike some other Twitter's initiatives.
What are Twitter spaces and how to utilize them in marketing? Let's discuss!
***Add #VCBuzz chats to your calendar here.
***Please sign in here to follow the chat -> twchat.com/hashtag/vcbuzz
About Alyx @ColfaxInsurance
Alyx Appel is a partner in Charlie Appel Agency and a social media enthusiast.
She frequents multiple Twitter chats and joined a few Twitter Spaces as well.
Questions we discussed
Q1 How did you become a digital marketer? Please share your career story!
I actually stumbled on this job by accident! I put in an application expecting to be a front desk receptionist, which is how I did start, but after a few months Charlie asked if I would be interested in becoming a licensed insurance agent.
I noticed that we didn't have a presence on any social media other than Facebook, and that our audience was mainly friends or family and I dove into the task of building an audience on other platforms.
While trying to build a Twitter audience, I discovered Chats and fell in love and the rest is history!
Q2 What are Twitter Spaces and how do they work?
Twitter Spaces are an audio based function where a host can lead a discussion on a topic with a wide audience.
The host can grant access to members of the audience to talk about the topic, they can share tweets directly to the Space, and audience members can interact with the speaker via emojis and requesting to speak.
I actually never got the chance to try clubhouse. I have an Android and it was exclusively IOS for a while, and then you had to be invited With Spaces, it's all inside Twitter and didn't require an invite, so it was a no brainer for me to go with that instead.
I unfortunately never got to try Clubhouse, because by the time they made it available to Android Spaces was active and all the people I wanted to talk with and all he topics I was interested in had a Space I could join
Q3 How to find cool Twitter spaces to join in any niche?
Start by looking to see if people you already follow and enjoy content from have Spaces! One of my favorites to hop in on is the #TwitterSmarter 'after chat' that @MadalynSklar hosts
You can also browse the different Spaces active right now and jump in on any of them as they're going
Q4 How to use Twitter Spaces to build some brand recognizably and make connections?
Spaces is another function to engage with your audience. People love being able to put a voice to a face, and Spaces is a great feature to be able to do that.
I've seen a lot of success with Spaces that extend on an existing Chat since it gives the audience a little more time and flexibility to really dive into the topic without a character limit.
By being a regular member of a few Spaces you can also build your recognizability and set yourself as an expert or knowledgeable person with helpful information to share, which can drive traffic to your profile and other endeavors.
Q5 What are your favorite Twitter marketing tools?
The free ones 😆
My personal favorites are Chats, to grow an audience and become recognizable as a knowledgeable individual in my field, and Spaces, to continue conversations and build relationships/a network while discussing a relevant topic to the brand
Our previous audio marketing chats: