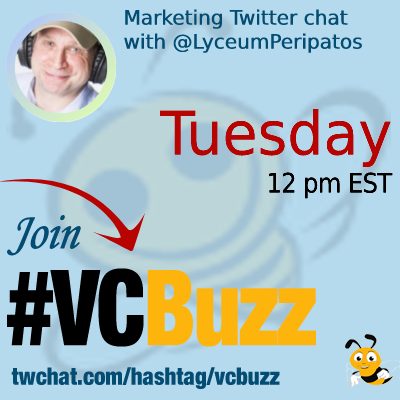 Podcasting has been around for many years but still too many marketers don't know how to use podcasts as an additional marketing channel.
How to make your podcast a success?
Let's discuss!
***Add #VCBuzz chats to your calendar here.
***Please sign in here to follow the chat -> twchat.com/hashtag/vcbuzz
About @LyceumPeripatos
Martin Lindeskog @LyceumPeripatos is a blogger, an "indie biz" (independent business) philosopher, a moderator, a social media evangelist, a speaker, a podcaster, and a tea enthusiast.
Subscribe to Martin's podcast and buy his book "Tea Book Sketches: Ideas And Notions About The Second Most Popular Beverage In The World"
Questions we discussed
Q1 How did you become a digital marketer? Please share your career story!
I started blogging in 2002. I wanted to share my views on what was going on in the world, e.g., the so-called war on terror, after 911 attack (never forget this day). I found fellow bloggers interested in fundamental ideas, and supporters of freedom of expression.
I also got in contact with small business owners and individuals defending the free market. I came across Anita Campbell's site, Small Business Trends. And there you could say that my career as a digital marketer started. I have written blog posts for American Express Open Forum, thanks to Anita, and I am one of the moderators at BizSugar. Today's topic is podcasting and I have compiled lists of small business podcasts for Small Business Trends, and I have had an Ask Me Anything session on podcasting for BizSugar Mastermind. (Editor's note: I am struggling with the vcbuzz dashboard on twchat. lol)
Q2 What are the main steps to start a successful podcast? Why did you decide to start yours?
The first question is to ask: What is a successful podcast? I have inspired and helped individuals, businesses, and organizations, to start podcasts that have become successful in their own way.
The main steps: Have an idea for your podcast. Write down topics for your podcast. Start recording! 😉 If you want to know more steps, you could talk with a podcast coach, or a new media advisor, like yours truly!
A2: Start your podcast by repurposing your existing written content into audio and answering your audience's FAQs! This strategy can also help you clarify your topic and how you approach it. @SueAnnBubacz shares so much insight in her article: https://t.co/Vct3qBv1eB #vcbuzz https://t.co/Or5xDyIFHd

— Jaime Shine 💬 Marketer | Writer (@jaimeshine) September 20, 2022
I decided to start a podcast as a logical next step for my. Blogging. I wanted to share my views on new media, business philosophy, and the good life.
Q3 Which podcasting mistakes are there to avoid?
To start a podcast without passion and purpose. To stop podcasting. To think in a short range way. To compare yourself with the A-podcasters and listen to the mainstream media.
With that said, you should make mistake and fall forward. If I would know everything that entails podcasting, in 2006, maybe I would not started. It's easy to get "paralyzed" about shiny gadget (e.g., tech. Gear), advertising and sponsorships at the gecko; to look at your unique download numbers and get frustrated about the progress.
Q4 What are the best tricks to promote a podcast?
Depending on your listeners, topic, and where your audience is on the web and offline. My new best trick is to look into the feedback loop and the value for value model, described by the folks behind the podcasting 2.0 initiative.
Start using new podcast applications where you could use clips, sending digital telegrams with a feedback note to fellow podcasters.
A4. This is sound advice vs "tricks"
– Be sure to have good equipment. An excellent picture and being able to hear you well are both key
– Be transparent. If you don't have the answer, say so and come back with you.
– Stick to the topic; meet participant's expectations#vcbuzz

— Jeannie Hill (@essentialskill) September 20, 2022
Other ways: audiograms, Instagram photos, tweets with podcasting hashtags. Think guerrilla marketing… Maybe giveaways to listeners, e.g., stickers. You could reach out to fellow podcasters and ask if it could be suitable to be a guest.
Do cross-promotion between podcasters. Engage in online communities, e.g., PodCraft. Attend conferences. Promote your podcast on Fountain app. Create an account on Podchaser. @podchaser@fountain_app
Q5 What are your favorite podcasting tools?
New podcast apps like Fountain, Castomatic, CurioCaster, PodcastGuru, and Podfriend.
A5 Favorite tool for long distance recording: Ringr

Tool for editing and post-production: Alituhttps://t.co/RFk7d289fG for transcripts. #vcbuzz

— Martin Lindeskog🗽🌐💎🫖🍵🧉🙃 (@LyceumPeripatos) September 20, 2022
I will test out a new audiogram tool in the near future.
Our previous podcasting chats: