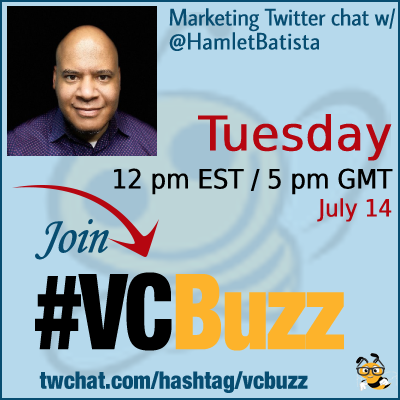 I like saying that SEO is not a rocket science and anyone can understand and implement the most essential fundamentals of it.
Yet, with search engines becoming more and more demanding, we see biggest brands win time again.
And this issue reveals itself in everything. Amazon doesn't have to use Schema to have rich snippets and eBay doesn't have to go above and beyond to have several listings per SERPs.
Yet, can we still win against biggest brands?
It's important that the #SEO community serving small to medium businesses braves the waves of being challenged by big brand historical winners. #VCbuzz

— Jeannie Hill (@essentialskill) July 14, 2020
Yes we can! Let's see how!
***Add #VCBuzz chats to your calendar here.
***Please sign in here to follow the chat -> twchat.com/hashtag/vcbuzz
About @HamletBatista
@HamletBatista is CEO and founder of RankSense, an agile SEO platform for online retailers and manufacturers.
Hamlet started doing SEO as a successful affiliate marketer back in 2002. These days he holds U.S. patents on innovative SEO technologies, , and believes great SEO results should not take 6 months.
Questions we discussed
Q1 How did you become a digital marketer? Please share your career story!
I became an Engineer in the Dominican Republic and my first marketer role was affiliate marketing back in 2002. I was able to make a fortune promoting my own sites.

I moved to the US in 2010 to join a startup company and later set out on my own to start an SEO consulting company, and finally RankSense. Our software business in 2015.
Q2 Some time ago you wrote an article "SEO: How to Win against Giant Competitors,"… do you still believe it is possible? If so, how?
Absolutely. Large companies have to pursue huge, obvious opportunities.

Few of them have the patience to slowly experiment and explore customer pain points that seem too small at first
A2. Indeed, @hamletbatista. I agree; best not to look for fast, shiny bullets. And many who work for an agency or inhouse have such tightly mandated tasks and workflow that they long to, but may not get to experiment and explore customer pain points. #vcbuzz

— Jeannie Hill (@essentialskill) July 14, 2020
The ideas in the article are still applicable:

Take a big market and carve out an audience that you are intimately familiar with, but that it is not getting a first-class experience. It is easy to see that when it affects you or someone you know closely.
Provide that superior experience to such group of people
Leverage them as brand ambassadors
A2) my opinion, to win against big brands you need to identify a persona chunk, create content that suits the needs then apply content marketing and best SEO practice. You will see the high result. Have beaten a brand on high intent kw #vcbuzz

— Salman Saleem (@salmanlashkari) July 14, 2020
A2 7/ "People are more likely to want to work with recognizable brands or people/sites they can trust. Google and other major search engines try to figure that out to properly rank sites." https://t.co/5ZwmfHpum8 #vcbuzz

— Hamlet Batista (@hamletbatista) July 14, 2020
Q3 What is the easiest, fastest way to generate some organic visibility?
The easiest and fastest way is to generate some sort of controversy or pull a publicity stunt.

But, I personally don't take that approach or recommend it.

It is not sustainable
It can damage your reputation in the long run.
I've seen great success with publishing interesting data-driven studies, but those are probably not easy when you don't have the programming skills.

A3 Personally, I'd say by claiming all your local listings and social media accounts because they can outrank most sites.

Put your most important keywords, hashtag and URL there. #vcbuzz https://t.co/29XKbDmdbK

— Gail Gardner (@GrowMap) July 14, 2020
Instead of looking for a massive short term win, focus on small, but consistent wins every month. You won't see the impact for the first several months, but 6-12 months later the reputation you builts starts compounding.  I've seen my online visibility increase +10x in a year using this approach.
A3. IMHO the easiest and fastest way to generate some Local organic visibility would be using #GoogleMyBiz

No cost, up immediately, no fuss, easy & you can build a website for free. just sayin. #VCBuzz

— Debi Norton (@BRAVOMedia1) July 14, 2020
Yes. It is perfect for local businesses, but not every business has a physical location (or multiple)
A3. Learn how to outsmart your competing giants with a slingshot

Or

♦️ Be the best resource to niche users
♦️ Build trust everywhere
♦️ Continually conduct market research
♦️ Leverage as much schema markup as possible
♦️ Build your knowledge graph #VCbuzz https://t.co/W7Vv4SqrzY

— Jeannie Hill (@essentialskill) July 14, 2020
Q4 Do we have to invest in backlinks these days? How to beat big budgets when it comes to advertising and link building?
I have a different opinion than most SEOs when it comes to link building, authority scores, etc.

Let me use an analogy to explain my perspective.

When you go to school you are supposed to learn, acquire skills. Your skills are the real thing.

However, schools assess your skills development by using grades. But the grades are only proxies for the skills, not the real thing.

Many students focus exclusively on getting the best grades. In the short term, it seems like a good plan. But if they didn't really acquire the skills, they will fail in the real world.

Links, like grades, are only proxies for real expertise and authority
A4. A naturally placed backlink can offer a nice boost. First it requires: relationships, great content, meeting a real need, staying present in the game, and being more agile than many giants can be. #VCbuzz

— Jeannie Hill (@essentialskill) July 14, 2020
Instead of chasing links and tweeter followers, I focus on sharing real and unique expertise in visible places. I've 10x my visibility in a year with this approach.
I  can barely keep up with the attention this is driving for me personally and my business.
A4 Any #smallbiz could ATTRACT backlinks if they focus on what #writers & #journalists want:

* current statistics
* original research
* custom graphics with permission to reprint freely

See How to Attract Organic Links and Mentions with #Content https://t.co/MgCoBVIPA8 #vcbuzz https://t.co/qJ8IoCOanW

— Gail Gardner (@GrowMap) July 14, 2020
People, search engines want real experience. Plain and simple.
That is how you even get to guest blog at a search engine's site 🙂
If I was just chasing links, I'd not been even close to being in the place I've been. Again, in about a year of consistently sharing real expertise.
Again. Links are very valuable but remember they are proxies. Try to aim higher than just links and focus on your online reputation.
a4 High-quality backlinks are very valuable and add to the whole E.A.T. thing.

WRITING / Blogging, Content creation that is put out from the website first then posted thru all avenues that make sense for the business. I.e. social media, GMB, Linkedin, etc#VCBuzz

— Debi Norton (@BRAVOMedia1) July 14, 2020
Q5 What are your favorite digital marketing tools?
I don't spend a lot of time using marketing tools these days. I spend a lot of my time prototyping ideas and talking to our customers about their challenges.

My favorite tools are probably Google Colaboratory, Mac Notes, and Twitter.
A5 I'm a little lax with using digital marketing tools right now. But the one thing I always use consistently is #vcbuzz to share both my new content and other's.

Another tool worth mentioning any time we talk #content is @BuzzSumo – so useful for ideation, trends, focus. https://t.co/jBkBcbhXzE

— Gail Gardner (@GrowMap) July 14, 2020
A5. We use #SEOtools to inform/support our strategies and often uncover surprises. But mostly, we stay communicating with your clients/customers.@googlesearch console@ahrefs @screamingfrog @____lighthouse @moz@semrush @RankRanger
and many others #VCbuzz

— Jeannie Hill (@essentialskill) July 14, 2020
Great options. I forgot to mention that I've been doing a lot of exciting research using @____lighthouse#SEO and #webperf
Also, check @BingWMC new set of SEO tools. Very impressive what you can get for free, including #SEO scanning, questions research, etc.
Our previous SEO chats: