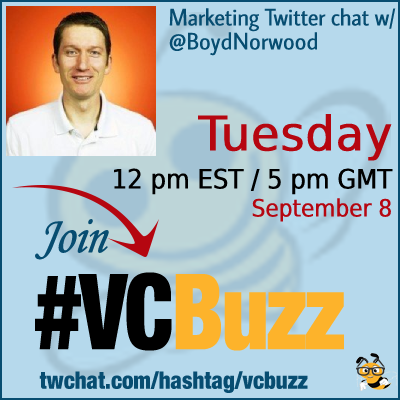 As Google's algorithm is becoming smarter and search engine result pages are getting richer and more complicated, monitoring your Google's positions is now a much more challenging task than just a few years ago.
Finding a solid rank monitoring solution is key to analyzing your search rankings and evaluating your SEO efforts.
***Add #VCBuzz chats to your calendar here.
***Please sign in here to follow the chat -> twchat.com/hashtag/vcbuzz
About @BoydNorwood
@BoydNorwood is VP Marketing at @nozzleio, an enterprise keyword rank tracker SEO tool.
@BoydNorwood has worked on the SEO for hundreds of sites over the last 15 years. He has built a few dozen personal sites including a couple ecommerce sites, several mini affiliate sites, and a blog.
Connect to Boyd on Linked
Questions we discussed
Q1 How did you become a digital marketer? Please share your career story!
In 2003, my brother called to tell me he made $80 over the weekend by placing an ad in a college newspaper with an affiliate link in it. I was hooked but after a while, I decided there had to be a better way to drive traffic.
I began reading everything I could on SEO, PPC, etc. I purchased the original Stomping The Search Engines course and many others. I sought out a job at an SEO agency to learn while getting paid. I built a few sites and blogs to practice my new found skills.
This all led me & my brother to start our own agency, which led to being recruited by @seocom, where I worked w/ many great people who taught me a lot for almost 10 yrs, including those who would eventually found @nozzleio, where I work today.
Q2 So… is SEO dead and when will it die?
I've always been annoyed when I hear people stating that SEO is dead. Obviously as long as there are search engines, then there will be a need for SEO. So I decided to build a site that has a sophisticated algorithm to answer the question.
If you have a great idea for a meme or graphic related to this topic, I'd love for you to submit one here.
Q3 How can SERP data be used to determine keyword priorities and guide your content strategy?
By compiling a list of all the questions found in all the PAA boxes for every SERP in each keyword category group, you'll have a great list of questions that you need to answer on your website.
It's also a good idea to compile all the related searches from the bottom of all SERPs relevant to your industry to help you find more keywords to include in your content. Of course, only if it makes sense to a human reader.
Also, Nozzle can generate a report telling you which entities appeared the most in knowledge panels across all SERPs you're tracking to help you know which entities to mention in your content.
For keyword priorities, the most obvious is to find all the keywords where your site ranks on page 2 or at bottom of page 1 on Google. This gives you a list of keywords where you can achieve quick wins in boosting organic traffic once you move them up and gain more visibility.
Find all SERPs that contain featured snippets across your keyword set and prioritize this list of keywords to work on to take over these spots.
If you pull a list of all the keywords where a video carousel shows up, this gives you a list of keywords to start with to optimize your videos for.
A3g: Furthermore, if you filter down to all video carousels that contain one of your videos currently in horizontal position 4-10, then this sets the priority to work on these videos to push them to the first 3 horizontal positions. #vcbuzz pic.twitter.com/yOryA8NZXm

— Boyd Norwood – nozzle.io (@boydnorwood) September 8, 2020
You should also do the same for image packs, top stories carousels, etc. depending on what's important to your business.
If you want, Nozzle will generate a free report for you in Google Data Studio showing you all the PAA questions across 200 SERPs. https://t.co/dHsu8a1JHt #vcbuzz

— Boyd Norwood – nozzle.io (@boydnorwood) September 8, 2020
Q4 What does @Nozzleio do that other rank trackers fail to?
Customized scheduling. You can track each keyword set on its own customized schedule whether it be daily, weekly, monthly, hourly, every other day, twice a week, three times a month, etc. Whichever schedule excites you the most.
You can track unlimited keywords and competitors. We pull in data for the whole SERP of 100 results. If you find a new competitor, add them & it'll be like you were monitoring them from the start.
We store all your data in BigQuery. You can easily send your data to your favorite BI tool via BigQuery or API (Data Studio, Tableau, DOMO, PowerBI, etc.) Your data is stored forever, including the html and screenshots of the SERPs.
A4d: We measure pixels from the top of the SERP & the height and width of each result which gives us the pixel coverage. From this data, you can see how much real estate you get versus competitors in terms of SERP % and Above the Fold %. #vcbuzz pic.twitter.com/c4wWul2rtt

— Boyd Norwood – nozzle.io (@boydnorwood) September 8, 2020
We pull several hundred data points from the SERPs. Sitelinks, knowledge panel data, PAA questions, schema markup, etc. This way you can sort by any of these features to find which of your keywords contain certain serp results to guide your strategy.
A4. So true! It quickly becomes key to identify the best opportunities among the many filters one can use to craft the best strategy. RT @boydnorwood #vcbuzz https://t.co/2wT7vyYKIB

— Jeannie Hill (@essentialskill) September 8, 2020
Q5 What are your other favorite digital marketing tools?
Some tools I like and use often: @ahrefs and @moz. I use both @Loom and @CloudApp to create quick videos and screen capture images. I use @hotjar for behavior analytics.
A5: I do love @semrush quite a bit — extraordinary versatile & constantly improving. @Moz is consistently great. @Adalysis is worth every. Damn. Penny. @supermetrics & @tableau are dynamite for reporting. Along with @zapier. #vcbuzz

— Sam (@DigitalSamIAm) September 8, 2020
Our previous rank monitoring chats: