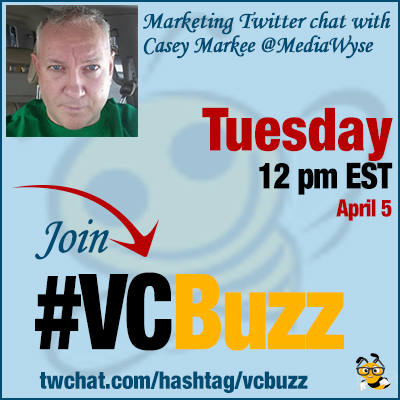 Google remains the source of by far the best traffic a content provider can only dream of: It's highly targeted and, when everything goes well, very reliable.
But how to get your content ranked higher in Google? This is what we are going to talk about today!
***Add #VCBuzz chats to your calendar here.
***Please sign in here to follow the chat -> twchat.com/hashtag/vcbuzz
About Casey Markee
Casey Markee is a digital marketing professional running San Diego-based SEO consultancy Media Wyse.
Casey is a speaker at prominent marketing conferences including #Pubcon and #StateofSearch.
Besides being a co-author on the Unfair Advantage Guide to Winning the Search Engine Wars (the longest continuously updated SEO book on the Internet) Casey has over 400+ digital marketing articles to his credit.
Questions we discussed
Q1 How did you become a digital marketing consultant? What's your career story?
My career story starts with the ?: What do you do after getting into law school then hating every minute of it? Came out to SoCal from IA to attend law school in 1997. I always thought I'd be an attorney. Did one year and hated it.
But I did leave school with a wife @AttorneyTEM so I "probably" got the better end of the deal.
Instead, I took a job at an outdoor gear startup doing this new thing called Internet Marketing.
Remember goto.com and Lycos? Soon after we sold that startup and I started my own consultancy in 2000.
I then hooked up with @PlanetOcean in 2004 & have been training SEO teams and consultants ever since.
SoCal sounds like a dream! where are you from originally? @MediaWyse #vcbuzz

— Jessy Troy (@jessytroy) April 5, 2016
A "failed" law background. I did one year and transferred to an MBA program. My wife was much smarter than me… Outdoor Gear Retailer…not really "Tech Journalist." Though I do speak on #IoT and #Beacons more recently.
@MediaWyse well, that combination could be about your wife and you ? #vcbuzz

— Ann Smarty (@seosmarty) April 5, 2016
Let's just say I was supposed to be a "Kept Man" by now. It hasn't happened.
400+ on MULTIPLE topics. It's easier than you think.
My wife is a whole lot smarter than me, Casey. I hear ya. #vcbuzz

— Don Sturgill (@DonSturgill) April 5, 2016
#HappyWifeHappyLife best thing I ever learned. She graduated Top of Class from Law School. I cheated off her…a lot.
Q2 For a non-techie content writer, what would be your best actionable tips to pick the right keywords? Favorite tools and tricks?
Favorite tool for keyword research these days is answerthepublic.com (ATP). It's bad-ass. It's like a Google Suggest on steroids.
ATP allows you to put in a root keyword/phrase and then find every question internet users might have on a topic.
For example, look at this result for "twitter chat".
@MediaWyse Thank U for that ATP gem Casey !! #vcbuzz

— Phil Turner (@The5Currencies) April 5, 2016
Glad it's helpful Phil. It's a great, great tool.
Google wants to rank competitively COMPLETE pieces of content. If I was writing up an article on "twitter chats" this is GOLD!
@MediaWyse do you know of any tutorials on how to use the answerthepublic tool in the most effective way possible? #vcbuzz

— ❀ ᕮᖇᕮᑎ ᗰᑕkᗩY ❀ (@ErenMckay) April 5, 2016
Actually, it's very intuitive. But if you go to the site, they have a "how to use the tool" guide. Just scroll down.
There are over 2 million+ blog posts published every day. Most suck. ATP will make your posts better. Guaranteed.
@MediaWyse so you'd include all these questions into your article? #vcbuzz

— Jessy Troy (@jessytroy) April 5, 2016
You can do both. Make one super-exhaustive long-form piece. Or a whole series of posts. Lots of options.
Q3 What's the most up-to-date keyword optimization method you recommend to copy writers?
This is a good place to remind u to check-out the NEW Google Quality Rater Guidelines here.
The Quality Rater Guidelines have great information on what Google is looking for in "content." It's value can't be understated.
Optimize for "user intent." What does that mean? Read on….
It means not writing for just what a user types into Google but what they are actually looking for. User intent falls into three categories: Do something, Know something, or Go somewhere.
And many times, multiple intents are tied to the same query. #userintent You must seek to ask and answer questions of your content but understand what users are WANTING in your content.
Example: bed bugs. No one is going to be searching for "how to capture bed bugs".
Instead, They are going to be searching for "How to get RID of bed bugs." Your content needs to focus on THAT user intent.
Find the user intent in your content. Then write to that audience. It's NOT that hard. Writers are just lazy.
Q4 You advise against the dates in the URLs? Why? Are there any other web page elements where we might consider remove dates from?
I do, strongly. Dates in URLs do nothing but "date" your content. Dates in URLs are the "devil"! It's a proven fact that, psychologically, users don't highly value content that is out-of-date.
Example: the recipe niche. Many users search for and visit a recipe and notice that it was published years ago.
@vcbuzz I totally agree to removing dates unless it's a news site. Most users will judge it to be outdated information when it's not #vcbuzz

— ❀ ᕮᖇᕮᑎ ᗰᑕkᗩY ❀ (@ErenMckay) April 5, 2016
Then then form an unconscious bias regarding the timeliness and accuracy of that recipe. I see it everyday in Food Blog audits.
Also clear SEO benefits for NO dates in urls: shorter URLs, easier to share, when u update the content the URL doesn't change.
But the most important benefit may be that Google just recently said "they prefer shorter URLs" to show in search. #fact
@MediaWyse would you have some kind of research on the date topic? Some SEOs have argued w/ me on this #vcbuzz

— ❀ ᕮᖇᕮᑎ ᗰᑕkᗩY ❀ (@ErenMckay) April 5, 2016
Google it. There are plenty. And again, Google likes "shorter" URLs.
@MediaWyse @ErenMckay Dates in URLs were once a requirement for Google News if I recall correctly (?) #vcbuzz

— Ann Smarty (@seosmarty) April 5, 2016
It's also worth noting that Google has removed the entire section on "dates in URLS" in the NEW Google Quality Guidelines. It used to be discussed under Website Maintenance. It's now gone. How's that for "some" proof? lol.
As for other web page elements to remove dates from, resumes is a good one. You don't need them anymore.
Yup that's why I said "used to". Point is, many blogs switched to dates because of that ? @MediaWyse @iqseo @ErenMckay No longer. #vcbuzz

— Ann Smarty (@seosmarty) April 5, 2016
Be functional on resumes, don't emphasize dates. Especially if you are mid-career (over 40 for your young-ins). lol.
@MediaWyse dates on articles? Remove those too? #vcbuzz

— Jessy Troy (@jessytroy) April 5, 2016
Dates on the page can be fine. But the URLs, absolutely not. I'd prefer a "recently updated" date on Articles.
Q5 What would be your recommended must-have SEO (research, analytics, diagnostics) tools for content writers?
For keyword research: answerthepublic.com Google Related Searches ubersuggest.io
For competitive analytics (find hot content): buzzsumo.com popurls.com theweblist.net
For diagnostic analysis (how is your content?) urlprofiler.com (perform a content audit) – I use this tool EVERY DAY!
Also for diagnostic analysis (how is your content?) AlchemyLanguage API.
A5: Epic Beat is a good alternative to BuzzSumo too https://t.co/vRMoXc2dDn – and it's free #vcbuzz

— Andy Drinkwater (@iqseo) April 5, 2016
Uclassify is included in URL Profiler. It's also MUCH easier to use it at the API level.
One last tool for diagnostic content analysis: claritygrader.com – grades the "words" on the page. Free and Paid options.
Reminder about the "updated" Quality Guidelines released last 48hrs. @jennstar has a great write-up.
Reminder about "tools" they can only do so much. The best tool still won't turn bad writing good.
How import are comments left after the article? Do comment help the SEO of the article? #vcbuzz

— 24 Hour Translation (@24hrtranslation) April 5, 2016
@MediaWyse @24hrtranslation I used to see new comments "bumped up" a URL a couple of positions in G… Still the case? #vcbuzz

— Jessy Troy (@jessytroy) April 5, 2016
If you are logged into Google Plus AND those are Google Plus comments…maybe. But no, that is seldom the case anymore. Google still uses "freshness boosts" & comments & social shares will initiate those. But it has to be in HUGE numbers.
@MediaWyse do you try to work in co-occurrence word when writing copy? #vcbuzz

— ❀ ᕮᖇᕮᑎ ᗰᑕkᗩY ❀ (@ErenMckay) April 5, 2016
I've fired journalists who wrote for major newspapers from projects because their style didn't translate to web copy.
@MediaWyse so true. I've had to train clients how to write for the web because their content simply wasn't comprehensible. #vcbuzz

— ❀ ᕮᖇᕮᑎ ᗰᑕkᗩY ❀ (@ErenMckay) April 5, 2016
Google is ranking content that many times contains NO REPETITIONS of the target keyword. None. So yes.
Comments can help with some elements of SEO because people will return and discuss. Probably more of an indirect help #vcbuzz

— Andy Drinkwater (@iqseo) April 5, 2016
Our previous search engine optimization chats: