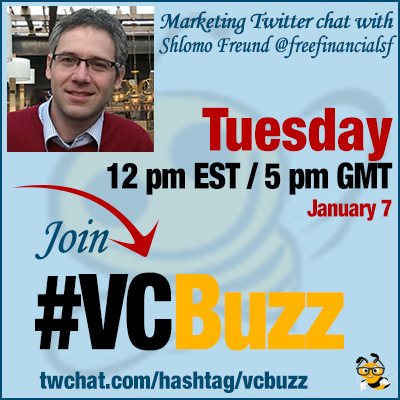 The Internet has empowered lots of people giving them opportunities to build personal brands and careers from home or while traveling.
It also made it too easy to work all the time without ever making a break.
But how to be both successful and happy?
This is what we are discussing here: living a flexible lifestyle to achieve financial freedom while enjoying yourself.
***Add #VCBuzz chats to your calendar here.
***Please sign in here to follow the chat -> twchat.com/hashtag/vcbuzz
About Shlomo Freund @freefinancialsf
Shlomo Freund @freefinancialsf is an entrepreneur who likes to create his own destiny and future.
For the last 14 years, Shlomo has been working on reaching financial freedom., and now helping expats and entrepreneurs doing the same thing.
Read Shlomo's blog Free Financial Self
Questions we discussed
Q1 How did you become an entrepreneur? Please share your career story!
I'm an entrepreneur for more than 15 years. There wasn't a decision point for me to become now. This is just the way I am. Whenever I had a day job, I almost always had a side hustle or something I was working on. Like every entrepreneur, I had many failures.
A year after I got married I moved to China with my wife. We wanted to see how it is to live in China. I learned a bit of basic Chinese beforehand and we had nothing holding us back from going to this adventure and trying something new.
We lived there for 3 years. During that time, I had a day job and I kept working on other ventures I was interested in. The last one that still exists is @appinchina. Where we help foreign apps distribute and operate in the Chinese market.
It's now a mature company run by a partner. 2 years ago I decided to open @freefinancialsf. I had the time and wanted to do something which was a real passion of mine since Childhood. I was interested in money.
I remember checking daily the ILS/USD conversion rate and then decide if to convert my couple of dollars to Shekels (ILS) or vice versa with my parents. When I grew up I started to be interested in the stock market and build my financial knowledge. Over time, I had questions and discussions from family and friends about different financial topics. So, as I mentioned around two years ago, was the right time turning a passion into a business.
I help people eliminate money as a source of stress and gain confidence and clarity in their future finances and I love what I do.
Q2 What is flexible lifestyle and why is it important?
We have a 4-year-old daughter which we #homeschool. Since both me and my wife work remotely we go on what we call workations. We basically travel and work at the same time in a different country.
We had workations in Thailand, Italy, Sri Lanka, and Portugal and want to keep going with this lifestyle that we like. We try to be as frugal as possible when we travel and also at home in Israel. We are also very flexible the way we live in our house in Israel.
We live in a yurt. It's small and minimalistic. It's important for us not to have too many things as stuff is a burden for us. We try to get things from the community and we also give back. It's sustainable and saves money. We buy 2nd hand if need be.
We always rent out our place when we are on workation, this is how these travels are affordable. Here is an example.
Even when we are in Israel , we sometimes rent it out on Airbnb or directly to someone from the community and we stay with family and friends. We are very adjustable the way we live. I feel that whatever comes, our family will be ready for it.
So, flexible lifestyle for me, is being adjustable. I'm aware that not everybody can do it the same way that we do it, and it also doesn't mean it's the lifestyle someone wants for themselves.
However, I still support that a person should think how to make their life more toward the way they REALLY want and pursue their happiness. Even if it's not perfect yet.
How you I know if entrepreneurship is for me? How did you discover you should be building businesses full time versus having a job? @FreeFinancialSF @seosmarty @rohanchaubey4 #vcbuzz

— Shubham (@ShubhamGrowth) January 7, 2020
Good question. It's all about trying. I used to have a job and a venture at the same time when I different things. I can't be someone I"m not . So do others. Dont' start full time. At some point there will be a tipping point you'd say to your self it's worth doing it full time.
homeschooling is an interesting topic for me! are you going to keep her at home? #vcbuzz

— Anna Fox (@manifestcon) January 7, 2020
I get this question a lot. So, I can only say I hope so. I see how good it is, though it's hard. Would we have energy to do that for all her school years? Would she want to stay at home? I' don't know. I have my direction I hope to keep. But lets see.
Q3 Where do we start? And how to move forward? How to live a flexible lifestyle when you have to balance your family and career?
There are things that you can do in a few areas of your life. The most important thing is know where you are going and what's important for you. the two common things as Time ('family') and Money('career').
Where time constrain is prevailing over the necessity for making money for most people. I have a roadmap that I'm taking my clients through. It's fairly simple and has 4 components.
Upgrade your financial knowledge.
Design your future lifestyle
Control your numbers.
Plan your life. You need to follow this roadmap to be able to reach your goals. You can also take each component by itself and make progress in it independently except of the 4th component.
This 4th one requires the info and data from the previous ones. As example, looking at 'Upgrading your financial knowledge'. When you understand how compound interest works, you suddenly realize how powerful it is. Over time is money on steroids.
For 'Design your future lifestyle' you really need to think where you are heading longterm. If you wish to rewrite in Thailand at some point in life then your path is different than a person wish to live in Manhattan their whole life.
Each one of these decisions has its ramifications. When you want to 'Control your numbers' you need to understand how to calculate your net worth, track your finances and see what you do with the excess money.
I have a tool for helping you see how much you are worth. I'll share it at the resources at the end.
Shlomo, love all your answers!

Let me ask you a quick question: what's your number one tip for having a work-life balance especially for parents? @FreeFinancialSF @seosmarty @RohanChaubey4 #vcbuzz

— MirthGirl (@Mirth_girl19) January 7, 2020
I'd try to get to work from home as much as possible. That's saving a lot of time (and money on gas) you can spend with your loved one or your hobbies. So, start dripping this to your boss. After all , time is the only resource we can't buy.
Q4 You've been sharing your monthly net worth reports. Could you tell us a little bit more on these? Why are you so impressively transparent and what is the goal behind those?
I know my business is not a fit to everyone, but to those who 'connect' to what I do. And that's OKAY. Some people ask me about my credentials as an advisor/mentor/coacher (choose the word you like).
The updates are my credentials. You can see my lifestyle, knowledge and life philosophy right there. I don't have a finance degree (But engineering) or a special fancy coaching certificate. I am what I am and it fits a certain kind of people.
Also, from these updates, I want to show people that it's possible to build the life that you want for yourself and inspire them. I did it for myself, in a long process. From the updates people also hear and learn of different kinds of investments and tools that I do/use.
Such as #Crowdinvesting. I want to teach people and open the window for them exploring these opportunities. I started doing these reports about 18 months ago. With these I'm also holding myself accountable. I can see what worked, what didn't.
I assume it is also a good motivation. You force yourself to follow your path knowing you are going to share your progress! #vcbuzz

— Anna Fox (@manifestcon) January 7, 2020
It also enables me to show what my expertise and knowledge is attracting the right clients for me
Q5 What are your favorite books and resources on living a flexible lifestyle for us to learn more?
So, as I mentioned one of the first steps you can do is understand where you are in life vs. your goals. One tool to do that is calculating how much you are worth. I developed such a tool and glad to share it here.
In addition a book that made a tremendous difference for people is the book "Your Money or Your Life". It's basically help people understand when they have enough. And may I add in this context.
Making money for the sake of making it, is wrong thing to do. It should be aligned with your life goals. Making a plan for yourself helps you making the right decisions. Here is the book link.
I can also recommend looking at the #fire movement. It's very strong in the US, where you have #ChooseFI podcast and facebook group. FIRE stands for Financial Independence, Retire early.
In Europe you have Financial Independence podcast Europe (@fieurope) and @firehub_eu where you can find a lot of other resources about #FIRE
Our previous entrepreneurship chats: