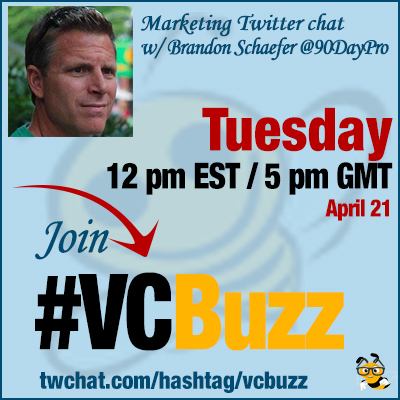 The Internet has given us the power to dream big, depend on yourself and build our own communities and platforms. We've got so many opportunities that the sky is the only limit: We almost have no borders and limits.
Are you pursuing all of those opportunities? Let's find out today with our mentor Brandon Schaefer @90DayPro
***Please sign in here to follow the chat -> twchat.com/hashtag/vcbuzz
***Important: Join this event on Google Plus to be notified of upcoming chats (It's easier with daytime savings and different time zones!)
About Brandon
Brandon Schaefer is founder of 90DayEntrepreneur helping entrepreneurs and businesses accelerate their growth.
Be sure to add Brandon to Google Plus circle!
Questions we discussed
Q1 How did you become a blogger? What was your very first blog?
I started blogging to release my thoughts and emotions to the world… I didn't know what It's lead to in the start… I had a ton of great information in my head and I needed to get it out… so I started writing and sharing it… It was called the R8DEX and I basically rated and reviewed what worked vs. what didn't work with websites.
A2 My first blog was a crappy blogspot celebrity blog. Easy to set up, TONS to learn in terms of how that works. Best lessons! #vcbuzz

— Ann Smarty (@seosmarty) April 21, 2015
I started TimeMoneyProblem .com http://t.co/PubcG210HL to spread idea of 5 currencies-Time, Knowledge, Reputation, Contacts, Money #vcbuzz

— Phil Turner (@EP_pturner) April 21, 2015
My first blog was a great success… not because I made a lot of money, but because it taught me so much. I think everyone can benefit from blogging… it's like keeping a public diary. I write because it helps me… To be able to help people learn, is one of the most fulfilling things for me.
A1 I started blogging because I was employed to edit a blog… Sorry no exciting story here ? #vcbuzz

— Anna Fox (@manifestcon) April 21, 2015
@90DayPro It ws a combination of wanting to get a bit of recognition n also learn more. Blogging helped me learn lots along the way #vcbuzz

— Zen Ameer (@Zen_Ameer) April 21, 2015
Q2 If someone wants to start a business online, where to start?
Start at the finish line ie: where you ultimately want to end up… then work your way backwards to the starting line. That may be a little deep… but starting a business starts in your head and heart… you need to have vision. You can also find a mentor in your market segment and learn from them… or a Chamber of Commerce close to your home.
Brandon, writing is a predominant component of my learning process. Researching is another. Blogging combines both. #vcbuzz

— Ron Sela (@ronsela) April 21, 2015
Starting a business online is easy… being successful at it… not so easy… lot's of crazy broken promises on the web.
A2 probably depends on WHY you start a blog… In many cases, it's just the curiosity, so just start with SOMETHING lol #vcbuzz

— Anna Fox (@manifestcon) April 21, 2015
The biggest recommendation I give to people starting an online business… have a crystal clear call to action.
Business & entrepreneurism need to be compulsory subjects alongside arithmetic and English in schools #vcbuzz

— Phil Turner (@EP_pturner) April 21, 2015
Q3 You are doing a lot of content marketing… What's your favorite content marketing tip? How can a business succeed by providing & promoting content?
Have a purpose in why you're sharing content… solve a problem for someone, or help them out in some way…
A3 Oh I know mine! Use @MyBlogU! #vcbuzz

— Ann Smarty (@seosmarty) April 21, 2015
Be consistent with your branding messages, and be consistent with your posting schedule… and don't give up.
A3 Producing and curating content helps to build brand authority #vcbuzz

— Deborah (@socialwebcafe) April 21, 2015
Set your expectations properly with time frames… don't expect too much… in too short of a time. Have fun with your content that you share… and don't be afraid to show your personal side… just by you.
People naturally love people… use that to your advantage when you're sharing your content… and always be genuine.
DEFINITELY – share your own story! It makes your content unique – Just did blog post – Blogging is like Paddling a Dragonboat #vcbuzz

— Phil Turner (@EP_pturner) April 21, 2015
Q4 How does your coaching work? How can future and current businesses get in touch with you and what should they expect?
It's all done on a highly personalized one-on-one level. Basically, the person really needs to be a go-getter.
I work with entrepreneurs that see the value of investing in themselves… you have to have your head on right. Everyone has something special within themselves… I just help people discover what that is… Helping people out is not rocket science for me… it's just what I naturally do best… so I just do it. The best way to get in touch with me is by sending me a quick message online… @90DayPro
When you work with me… you're going to discover what makes you happy, and what makes you sad. Once you know what makes you happy… we focus on those areas and grow your business around them… pretty simple stuff.
A4. Coaching and mentoring are like a gold bracelet: if your business benefits from them, everyone will admire the results. ? #vcbuzz

— Roxana Nasoi (@roxanasoi) April 21, 2015
Sometimes people think there business is about business… but it's really about something near and dear to there heart.
I love what I do – Never gonna retire #vcbuzz

— Phil Turner (@EP_pturner) April 21, 2015
Q5 What is your best productivity tip? How to keep yourself productive (and find time to relax!) when you have your own business to manage?
Have a plan… "Failing to plan, is planning to fail." Find the tools that work best for you… and utilize them to the max.
You'd be surprised… but I'm the most relaxed right now doing this… this is what I do best…  I'm relaxed most when I know I'm helping people.
My tools – Excel, ScreenPresso, Trello, Evernote, MBU, VCB #vcbuzz

— Phil Turner (@EP_pturner) April 21, 2015
I know you're going to find this tool real boring… but it's the TextEdit tool on my MacBook Air that I carry… LOL.
Those are like Air already! ? RT @seosmarty: MBU, VCB #enoughsaid RT @roxanasoi: @Trello #enoughsaid #vcbuzz

— Roxana Nasoi (@roxanasoi) April 21, 2015
My tools: @MyBlogU, @VCBuzz (that's why I am here lol), also Hootsuite, G calendar… #vcbuzz

— Anna Fox (@manifestcon) April 21, 2015
One of my favorite tools is #MyBlogU for doing roundup posts… it's one of the most effective for me. For me… it's all about setting up the foundations properly for people and businesses. People that have solid foundations… will have long term success… it's that simple.
More chats about building your online business: