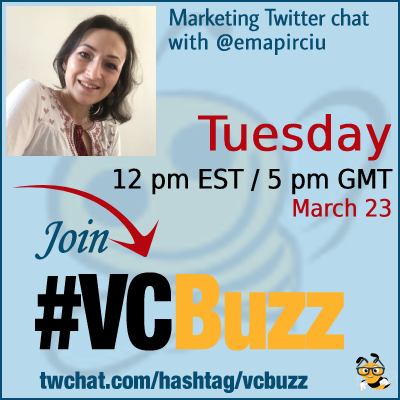 Google is routinely coming up with new fun tools and features.
One of the latest ones is called Web Stories.
What are Web Stories and how we can benefit from them?
Let's discuss!
***Add #VCBuzz chats to your calendar here.
***Please sign in here to follow the chat -> twchat.com/hashtag/vcbuzz
About Teodora Ema Pirciu
Teodora Ema Pirciu @emapirciu is Content marketer at Impressa Solutions
Teodora @emapirciu is also administrator at Business Ideas Made Clear group on Facebook.
Questions we are going to discuss
Q1 How did you become a digital marketer? Please share your career story!
I started as a freelance writer. During some writing projects, I had the opportunity to learn about digital marketing.
I realized it was what I wanted to do. So, I expanded my services. It's been more than five years now, and I'm still learning.
Q2 What are Google's Web Stories and how do they work?
Google's Web Stories are a form of visual content similar to Instagram stories or Fleets.
The advantage is that you don't lose the story after 24 hours. Once you publish it, you can access it whenever you want, so it can keep bringing traffic day after day.
It takes a while to understand how they work and to familiarize yourself with the tech details. Luckily, both the WP plugin and the third-party web stories editors are super easy to use
Q3 How can businesses benefit from Web Stories?
Web Stories are great if you want to add diversity to your website. Plus, they can increase traffic and help with SEO if you follow best practices.
From what I've seen, for now, mastering Web Stories is nothing like social media stories. You must have the technical knowledge to make the stories work to your benefit. You can start with going through Google's guidelines.
This article can also be helpful if you want to learn more about Web Stories.
We should also mention the need to push the AMP solution. Web Stories are all about AMP: if you want them to work, you must comply with Google's guidelines.
Q4 Are there any examples or case studies for us to understand the concept better?
I wish I had a successful personal story to share here, but I still have to optimize my stories before I have some cool numbers to share.
Here's how others integrate Google stories into their content marketing strategy.
Q5 What are your favorite digital marketing tools?
Just to remain close to the topic, I've recently discovered Canva Stories.
It's an app you can use to create beautiful stories for your social media channels. I'm not tech-savvy, so it's the perfect tool for me.
Our previous content marketing chats: