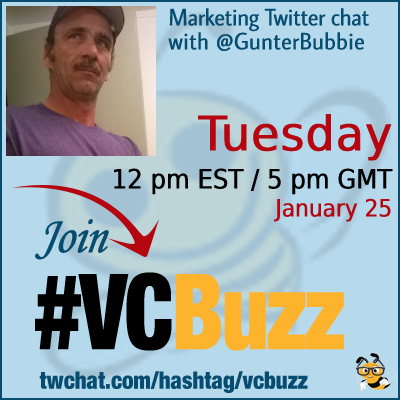 Viral Content Bee is a powerful social media marketing platform.
Yet, not too many people (even most active users) are aware of all its powerful features.
Obviously, there's something for everyone at Viral Content Bee, so let's discuss our favorite features and hidden gems inside the platform
***Add #VCBuzz chats to your calendar here.
***Please sign in here to follow the chat -> twchat.com/hashtag/vcbuzz
About @GunterBubbie
Bubbie @GunterBubbie is an independent writer, digital marketer and social media marketing expert with a passion to help others.
Bubbie is author of Affiliate Marketing for Beginners Handbook
Connect to Bubbie on Linkedin
Questions we discussed
Q1 How did you become a digital marketer? Please share your career story!
After being laid off from my construction job, I was watching my savings quickly dwindle. I still remember the email I received about how I could make money working from home as a Network Marketer. And, I decided to give online marketing a try.
I quickly learned it wasn't as easy as everyone portrayed. There was a MAJOR learning curve and I spent dozens of hours learning how to master online mar
Q2 Why do you like using Viral Content Bee for content promotion?
Most people only use Viral Content Bee to promote their blog content.  I LOVE Viral Content Bee because it is so easy to meet new people who share the same passions as I do.  One example of how to meet new people is the Interaction Tab….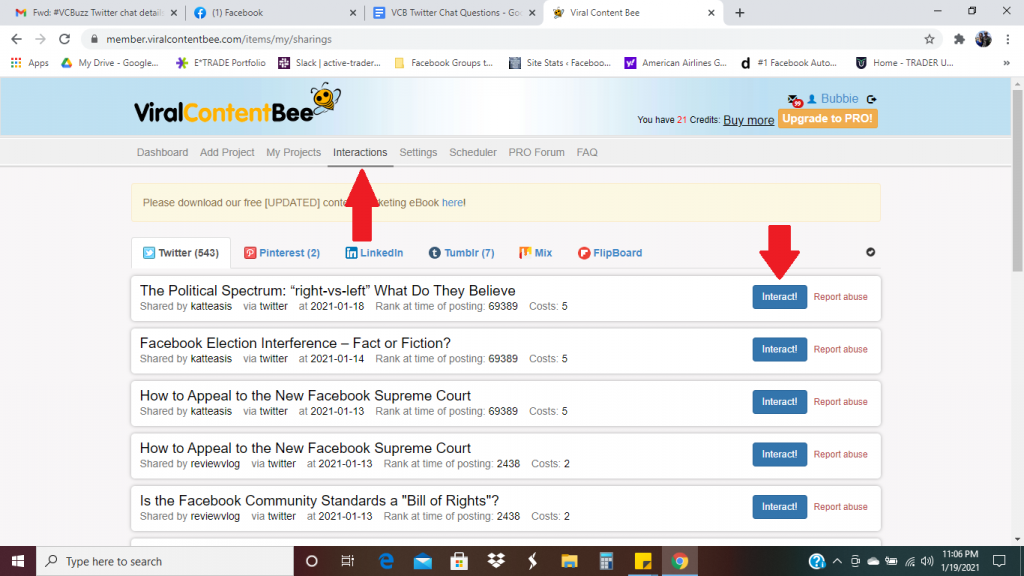 After clicking the Interaction tab, you are brought to the actual post on the profile of the person who shared it. Once you are on their profile, you can begin interacting with the person who shared your content.
A2 [review from our user] Increase Social Shares With Viral Content Bee via @talkbitz https://t.co/efy0MZLnzX #vcbuzz

— Ann Smarty (@seosmarty) January 26, 2021
Did you know you can use Viral Content Bee to interact with the people who share your content? Just click through and reply to them from their share. #vcbuzz https://t.co/TD3m6o7ZrF

— Gail Gardner (@GrowMap) January 26, 2021
You can add links to Buffer and the option will spread those tweets evenly based on your set posting frequency. Handy! #vcbuzz

— Ann Smarty (@seosmarty) January 26, 2021
Our challenge is to get actual visitors from social shares. It isn't like the early days when a tweet would get 35-40 visitors to your site.

We all have to focus on visiting sites and leaving comments whenever possible! #vcbuzz

— Gail Gardner (@GrowMap) January 26, 2021
Q3 What are some mistakes you notice people make with VCB? Why do you think there are rules in place here?
The biggest mistakes I have seen people make (and that I made in the beginning) was sharing EVERY post simply to get credits so that I could share my own post.
I quickly learned this was a no-no
When you share content from Viral Content Bee, you are sharing it to your friends and followers. Therefore, it MUST conform to THEIR interest. Remember, your following's interest is the most important aspect you must remember!
What are some mistakes y'all have made?
A3 Aggressive sharing, not spending enough time to interact with others, not reading what I share – guilty of all of those! #vcbuzz

— Anna Fox (@manifestcon) January 26, 2021
A3 Yup, oversharing is a big one. Use Buffer option to spread tweets out! And only share what you click / read! #vcbuzz https://t.co/RNRTD9YNFd

— Jessy Troy (@jessytroy) January 26, 2021
A3 One of the mistakes I see from the other side is that sometimes user get so upset that their project was rejected that they don't even bother to read the reason "why?" In many cases by rejecting we are actually trying to help. #vcbuzz

— Sana Knightly (@SanaKnightly) January 26, 2021
Q4 What are some "secret" features you were excited to discover?
Get ready for a bomb shell here! One evening I was writing a blog post on Viral Content Bee. And, I had a thought. The name of the site is Viral CONTENT Bee. And, I begin to think about that. The site is for CONTENT promotion. What about Youtube videos & Instagram? They are content too, right?. Why couldn't I share my Youtube videos or Instagram post as well?
So, as an experiment, I gave it a try and it worked. I received DOZENS of visitors to my Youtube Channel and Instagram Profile!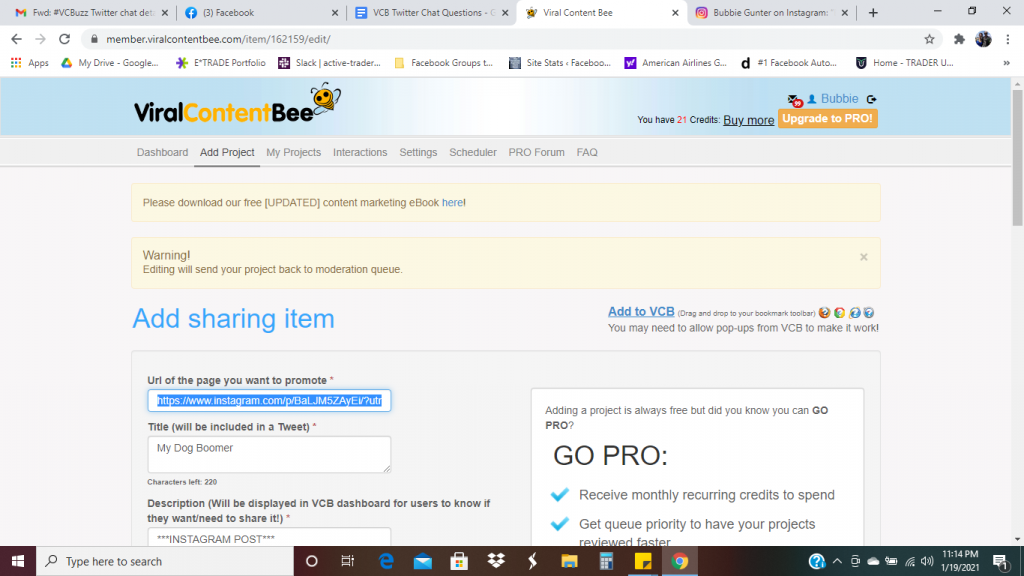 Yup, I promote my Yotube videos through #+@vcbuzz as well! Helps with views and signals => pushes videos in Youtube algorithm as well! #vcbuzz https://t.co/aO2dwyQ9Yl

— Ann Smarty (@seosmarty) January 26, 2021
A4 One feature I bet many of us aren't using to the fullest (or at all) is creating a Pinterest-sized image and uploading the URL for that to our projects on VCB. We could even retroactively go back and do that. #vcbuzz https://t.co/PNHqlftkrm

— Gail Gardner (@GrowMap) January 26, 2021
Q5 Apart from Viral Content Bee, what are your favorite digital marketing tools and/or channels?
The best way to grow engagement, increase followers, and save time I use commun.it I found it really helpful in the beginning because I had a Daily Worksheet to follow.
A5 LOVE @Agorapulse for social profile management and social listening #vcbuzz

— Ann Smarty (@seosmarty) January 26, 2021
Our previous VCB marketing chats and articles: