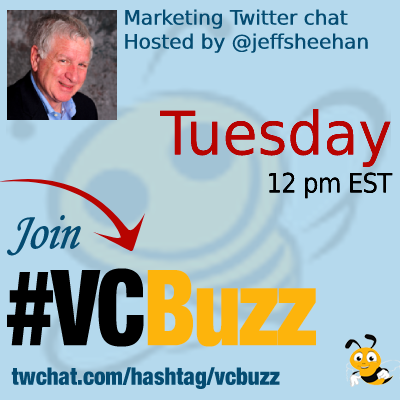 Hosting a podcast is a great way to become a thought leader and build your personal brand.
But how to become a featured guests at niche podcasts to get known?
Let's discuss
***Add #VCBuzz chats to your calendar here.
***Please sign in here to follow the chat -> twchat.com/hashtag/vcbuzz
About @jeffsheehan
Jeff Sheehan @jeffsheehan is a speaker, author, connector and digital marketing and a sales pro
Jeff helps professionals and companies drive revenues via social selling and thought leadership.
He acquired his depth of knowledge, skills, and accomplishments in customer engagement, working with various employers, solutions, industries, and clients.
Jeff is also an active guest at numerous marketing podcast.
Questions we discussed
Q1 How did you become a digital marketer? Please share your career story!
Career in digital marketing started in earnest in January 2010. I had been in marketing/sales in one form or another starting in 1977. At that time I was marketing and selling real estate just outside Boston.
Actually, my days in marketing probably started almost 10 years earlier when I was a paperboy. I had to market my route, attract new customers, etc.
During my career in high tech, I was responsible for marketing and selling to the likes of Intel, Apple, Dell, IBM, HP, AT&T, Cisco Systems, et al. This all came to an end in 2009 due to a company downsizing.
This all came to an end in 2009 due to a company downsizing. For a number of reasons, I decided to leave most of what I was doing in the tech industry.
Digital marketing was my next stop. Although I had an M.S. in Marketing and years of experience there were so many new things to learn. I moved into digital marketing in 2010, as I had been on LinkedIn since 2006 and saw a need for people to understand how to effectively use it I started teaching it, as well as Twitter to job seekers and businesses, I've continued to evolve and pivot.
One thing I love about this business is that there is something new to learn daily. Things have changed so dramatically and continue to change.
Q2 You've hosted lots of podcast episodes. That is a pretty tough task! How do you find or choose podcasts to become part of and why do you dedicate time to that?
Yes, I have hosted and co-hosted a number of podcasts. It was a lot of work, but very enjoyable I actually was involved in three.
Stopped production due to a number of reasons. The two that I was co-hosting the co-hosts decided to move in a different direction.
One I had in sales, I discontinued due to a lack of a sponsor and no tangible ROI. ROI is critical. It's great to have awareness, but at the end of the day you have to pay your mortgage!!
Moving forward, for my next podcast, I will ensure that the content is part of an ultimate tangible goal. i.e. a book or niche YouTube Channel. You need to be focused on the end game!!
Mistake I see people is not having a goal or objective for the podcast.
One thing I love about podcasting is that it provides you with the opportunity to interview so many interesting people. One of my favorites- @davidbradford, author of "Up Your Game". Fascinating individual!! Check him out and buy his book!!!
Q3 How to make your podcast engaging for people to listen to every episode in full?
Talking about the credibility of the guest from the get go. Do they have an impressive track record that others can learn from or just a Kardashian wanna-be??
How did they solve problems that others might be face with? Were they credible and worth listening to for sage advice?
Interesting guests, and great content. No time in this world for fluff!!
Liven it up with humor at certain points. It can't be too serious throughout.
Close with some sage advice and a call to action.
Make sure that it is focused. It has been estimated that there are over 5M podcasts. You need to pick a niche and do whatever you can to line up guests that support problem solving in it.
Make sure that the sound quality is excellent. Record a video of it, so that you can utilize the content on multiple channels. Have it transcribed, so that it can be similarly repurposed and that people have the opportunity to read the transcript.
Q4 How do you prepare for each podcast episode? How do you choose the topic? Do you do prior research, notes, etc.?
Determining a topic area that might be timely and of interest to the audience.
Review of the background of the guests and what they had done that was unique to use as a talking point.
A general briefing with the guest prior to the show. Advising them what questions might be asked.
Make sure the guest aligns with your values and those of the audience. You don't want to tarnish your brand.
Have a process flow and checklist for the entire process so that nothing is left to chance.
Have a contingency plan for the taping. Always be prepared in the event something goes wrong, as it invariably will!!
I thin k it's important to share before the podcast. You want to make sure that you build a solid relationship with the guest and make them look good. If you ask the guests a question that makes them look bad, it's difficult to repair the relationship. They're your guest and treat them accordingly as you would anyone visiting your home.
It's important that if you're a host of a podcast that the show focuses on the guest and not you. People don't want to hear the same old stuff one week after another about you. They want to learn new things.
I was on one podcast where the host made it all about them and I had little opportunity to talk. It was really frustrating.
As far as preparation is concerned, I suggest that you join @toastmasters if you're thinking about becoming a podcaster or actually one. It will "Up Your Game" and give you a network of people who might serve as great guests.
Q5 What are your favorite podcasting tools?
Anything to help be organized and run on auto-pilot. It's a lot of work if you're doing it yourself.
Have a system in place. Look into standardizing everything so that it can be scaled and used repeatedly. A networking colleague has developed the following.
My best recommendation is a podcast studio or someone managing the podcast process for you. It makes life so much easier.
If you're a B2B business with deep pockets, this is most definitely the way to go. It can be expensive but consider it as an investment.
Doing it on your own, good lighting (record a video of it), great microphone. Quiet surroundings.
A CONTINGENCY PLAN!! Not a tool, per se, but something invaluable that will save you a lot of time and money.
Ability to create a video. I'm still surprised at the number of podcasts that are not video taped. It's a missed opportunity in so many ways!!
A "funnel" tool with a podcast drip campaign. These have been the most valuable for me in being a guest. I know what has to be done and when.
I just love podcasts and being both a co-host and guest. It's a question of finding the time.
Our previous podcasting chats: