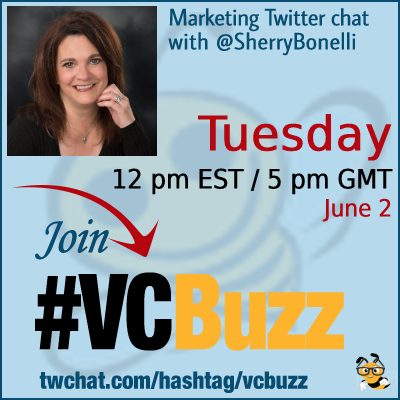 Google My Business is a must-use tool for any local business. Yet, with so many changes and updates to the platform, it is easy to get lost.
Let's discuss Google My Business platform and how to best utilize it in your marketing strategy.
***Add #VCBuzz chats to your calendar here.
***Please sign in here to follow the chat -> twchat.com/hashtag/vcbuzz
About @SherryBonelli
@SherryBonelli has been a digital marketer, specializing in Search Engine Optimization (SEO) and content marketing, since 1998. She is founder of Early Bird Digital Marketing.
Sherry is a recognized national presenter, speaking at industry events, webinars and podcasts, such as Traffic & Conversion Summit, SMX, SCORE, MozPod, SEMrush, The Edge of the Web, The Local Business Leaders Podcast and others. She also holds a Master of Internet Marketing.
Questions we discussed
Q1 How did you become a digital marketer? Please share your career story!
In 1998 I had my first baby and there was a baby product that I LOVED but had a hard time finding online and in stores. I knew that other moms probably had the same problem, so I decided to start a website to sell it. PayPal had JUST launched.
Fun Fact: My first ecommerce sale was an actual check that I got in the mail!
I gradually started adding other baby and pregnancy products – most of them mom-invented – to my ecommerce site. I knew that I had to learn SEO to get ahead online, so I read EVERYTHING I could on the topic and taught myself how to rank high for keywords and phrases.
I ran my site for about 10 years. I was on the TODAY Show, CNN, ABC News and other outlets. It was fun! I sold my site and then started my digital marketing agency, early bird digital marketing, and now help businesses with SEO, content, and other digital marketing.
It's been a crazy 20+ years
Q2 What is Google My Business and which businesses should use it?
Google My Business (aka GMB) is a FREE listing Google offers eligible business so they can promote their LOCAL business to local customers. To see if your business is eligible, see requirements here
GMB increases your chances of showing up towards the top of local search results and in the Google "Local 3-Pack." You can add info about your biz, like name, address, phone number, hours you're open, pictures, videos, Q&A, get customer reviews and more!
Google My Business listings are a great way to show off your business to searchers. Potential customers can get a lot of information JUST from your GMB profile. And in many cases, they don't even need to visit your website before they call or stop by your biz.
Local businesses that have a storefront, with a physical building, and customers come in to shop or do business should claim their GMB profile.
Businesses with "storefronts" can display their physical address on their GMB listing and their listing will also show up on Google Maps.
If you run your business out of your home or are a service business where customers/clients do NOT come to your place of business – YOU go to THEM, you need to set up your listing as a Service Area Business (SAB).
Service Area Businesses CANNOT show a physical address on your GMB profile and your listing will not show up on Google Maps (because nobody needs directions on how to get to your biz).
Examples of Service Area Businesses would be pest control companies, landscapers, plumbers, locksmiths, etc. Many of these service businesses run their businesses out of their homes or don't have a "store" where customers can walk in and do business with them.
Online-only businesses do NOT qualify for GMB listings & some other businesses don't qualify. (It gets kind of sticky in some scenarios to determine whether or not a business can claim a GMB listing.) Generally you must be a local business that sees local customers.
Yes. Many service businesses make the mistake of keeping their addresses displayed on their GMB listing.
Q3 What recent Google My Business updates should businesses be aware of? For instance, I know that COVID-19 has impacted certain GMB features/functionality, GMB support and edit review times, etc.
COVID-19 has messed a lot up. GMB support staff is smaller, so support response time is MUCH slower. They are prioritizing certain support tickets vs others. GMB edits (like business description and address changes) are taking longer for them to review and approve.
At the beginning of the pandemic Google paused some features, like reviews, Q&A, user photos, short names, and others. Review replies, user reviews, user photos, and Q&A are now available in all countries. Find info here.
The following services are STILL unavailable: Reviews, photos, and Q&A for businesses in a narrow set of medical categories, like hospitals and doctors' offices, Video uploads, Q&A via API, and the ability to claim new short names.
Google knows how tough it is for local businesses now, so they've added features because of COVID-19, like "Temporarily Closed," different options for restaurants, like "Dine-In", "Delivery," "Take-out…" and they're adding other features to make it easier for businesses to go more "virtual."
@sherrybonelli yes & this also counts up to orgs with thousands of locations, that can set up spreadsheet-supported GMB accounts. Also consultants are on the list of good ones to get listings. I once got GMB to place a red circle around the entire USA for mine 🙂 #vcbuzz

— Chris Boggs (@boggles) June 2, 2020
Google realizes that some storefronts HAVE to do some things "virtual" due to the COVID-19 virus — so they are trying to come up with features to help.
Usually you can reach GMB support through social media, but the only way to reach GMB support right now is via email.
I saw yesterday that GMB is allowing service businesses to schedule appointments and provide estimates online … but looks like that is rolling out, not universal. #vcbuzz

— Don Sturgill (@DonSturgill) June 2, 2020
Yes, Google has a tendency to roll things out to different categories and countries. Not sure how they determine who gets the "goodies" first 🙂
If you have questions or problems with GMB, you can go to the GMB help forum and Google My Business Product Experts like myself are there to help you.
Since things are kind of crazy right now with COVID, A LOT of people have questions. The Help Forum is really business.
Q3 comment I would suggest for "new" users is that if your biz had an account before and can't get the email, it can be tough to get back in quickly now. + users should be aware there was a "glitch" in the system last year that may still affect pre-existing accounts. #vcbuzz

— Chris Boggs (@boggles) June 2, 2020
Right now I'm recommending to my clients that they not make ANY changes to the main sections of their GMB listing — like name, address, phone number, website, etc. The edits have to be reviewed manually by Google and that is taking a LONG time.
"glitches" doesn't begin to describe it. The platform is constantly changes which means it can be highly unpredictable. #vcbuzz

— Daily SEO Tips (@DailySEO) June 2, 2020
I agree! The worst was the suspension sweep last fall! Many businesses had their listings wrongly suspeded.
Q4 What should you do so your Google My Business listing can help you rank higher in Google Local (and Google Local-Three-Pack)?
Under non-COVID-19 situations, the best thing to do is to fill out EVERYTHING Google has available for you to answer. Don't leave anything blank. Adding photos – NOT stock photos – can help increase engagement, click-throughs, walk-in customers and phone calls.
With the COVID-19 issues, GMB support has to review all changes manually so it's taking longer for those reviews/edits to get approved. So your changes may end up in "pending" status for a while (ufortunate.)
Reviews are NOW working! (Or should be.) Ask your customers to leave GMB reviews. However, do NOT bribe them with contests or free things – that violates Google's Terms of Service.
Does your listing disappear while changes are pending or does the original stay visible and just the changes end up pending for a long time? #vcbuzz https://t.co/o6ooRDHA4R

— Gail Gardner (@GrowMap) June 2, 2020
The listing will stay up, but the public will see the non-updated information. Hope that helps answer the question.
Make use of the Q&A feature and remember that ANYONE can ask a question of your business and ANYONE can answer a question – even if it's a wrong answer!
Google uses AI to look through your Reviews and Posts to see if there are any "answers" to questions that people ask. This shows how important reviews and posts can be — espeically if they have keywords in them. (But DO NOT keyword stuff anything — EVER!
Also, if you set up messaging on your GMB app, be sure you respond to messages you receive from potential customers promptly. Google can SEE how long it takes you to respond. If you don't respond fast, Google might question whether or not you are reliable.
Creating Posts can help you promote products and services. I personally have found that Offer posts get more engagement than regular posts. Google has COVID-19 posts available to businesses so that you can let customers know what you are doing in light of COVID-19.
Creating Posts can help you promote products and services. I personally have found that Offer posts get more engagement than regular posts. Google has COVID-19 posts available to businesses so that you can let customers know what you are doing in light of COVID-19.
COVID-19 posts stay up 14 days instead of the typical 7 days.
GOOD question #vcbuzz

— Ann Smarty (@seosmarty) June 2, 2020
I have not seen any research that shows that Q&A or posting helps with rankings. However, Google DOES look at engagement. So if you are producing content that engages searchers, that IS a factor that can help your rankings.
I have not seen any research that shows that Q&A or posting helps with rankings. However, Google DOES look at engagement. So if you are producing content that engages searchers, that IS a factor that can help your rankings.
Be sure to check your Info section frequently to make sure no changes were made to your listing.
Our local high school had their GMB website changed to a porn site thanks to a "suggested edit." The school didn't realize it for TWO days!
Not directly. But posts and Q&A can help increase your GMB listing engagement, and I believe that Google DOES look at engagement when it determines what businesses to display in what order in search results.
Q5 What are your favorite local marketing tools?
For SEO, I use SEMrush, WebCEO, @Moz, @BrightLocal, LSIgraph and @WhiteSpark Local Rank Tracker.
When doing social media, I like @SproutSocial, TweetDeck and HootSuite. Social Media Examiner has lots of great training – so does @MariSmith.
A5 I love @BrightLocal for monitoring local rankings and managing reviews. Great platform! #vcbuzz

— Ann Smarty (@seosmarty) June 2, 2020
Me, too! I've been using @brightlocal since they launched the product, I think. I bet if they looked through their customer list, I'm probably one of their first customers!
For reviewing content, I LOVE using the Hemingway App. It reviews the content for readability, grade level, sentence structure, etc. It's only about $19.99 dollars. TOTALLY worth it to help you write Search Engine Friendly and Human Friendly content!
One of the BEST ways to learn about GMB, is to take a look at the questions posted on the GMB help forum and the answers — especially the recommended answers. You will learn a lot by doing that.
The reason why I use several different SEO tools is because I've found that they offen show different results and measure issues differently. It helps "balance" out my client SEO work.
Just remember that there are SO many nuances to the rules of GMB. And that suspensions can be a big problem if you violate GMB's Terms of Services. Make sure if your listing gets suspended that you FIX your listing before you file for reinstatement.
And keep a lookout for MORE GMB changes to come in the near future. Google is trying to help businesses AND searchers find the best info possible.
yup! I like conbining data when I can! #vcbuzz

— Ann Smarty (@seosmarty) June 2, 2020
Yes, that's totally the way I do it too. I find that tools that measure and track the exact same thing can have vastly different results or opinions!
One thing to also consider VERY carefully is the categories you select for your business. Select the main category that BEST fits your business. And if there's one to two more that closely fit, select one to two more categories.
You can only select 3 in total? #vcbuzz

— Jessy Troy (@jessytroy) June 2, 2020
You CAN select more categories, but I only recommend two to three at most. Otherwise you're trying to be too many things to too many people. You want to pick FOCUSSED categories REALLY relevant to your business.
Our previous local marketing chats: