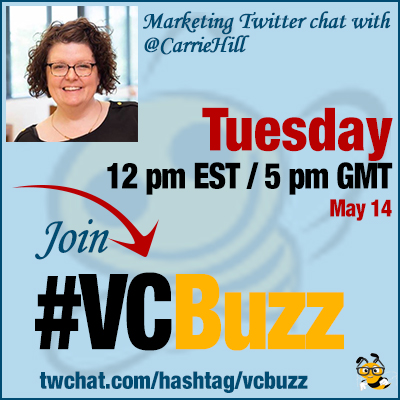 Local marketing is by far the most effective way to promote your local business. Without being found online, your local business may never be found these days.
And maintaining a solid performance on local platforms (like Google Local, Yelp and Facebook) is pretty straightforward, what about local content marketing? Is it worth investing to? Can it help your bottom line? Let's discuss!
***Add #VCBuzz chats to your calendar here.
***Please sign in here to follow the chat -> twchat.com/hashtag/vcbuzz
About @CarrieHill
@CarrieHill has been digging into SEO since 2006. She is co-founder of Ignitor Digital
Carrie's current passion is Local Search – specifically Zero Click Search (Google's cannibalization of information for display in search results)
Carrie is the contributor to @sengineland and @sewatch
Questions we discussed
Q1 How did you become a digital marketer? Please share your career story!
In 2006 I was working nights for the local community college in their computer lab & my youngest kiddo was finally old enough for daycare.
I started applying for NOT night jobs in our small town and one happened to be at an online marketing agency that served B&B/Hotel/Vacation rental niche. I had no marketing training or experience. So I was SUPER entry level.  They hired me and I spent every day doing directory submissions. Luckily my mentor & now-business-partner @MaryBowling, noticed me slowly dying of boredom in the corner and we started pushing the edges of that agency's comfort zone in SEO.
The directory submission thing was mind-numbing for my A-type "always on" brain. Employers, don't make your employees do this repetitive garbage.  We got ourselves noticed, and started speaking at conferences – SES, SMX, Pubcon, etc. I fought the good fight there for about 8 years, moving into management of an ~11 person team until it was time to move on.
Worked freelance for a bit and then Mary and I reconnected at Pubcon and started tossing around an idea. Mary had left our previous agency a few years before me. We started Ignitor Digital in June 2013 and I started focusing on local search.
We specialize in customized Local SEO audits & SMB clients. We've worked with enterprise companies with multiple locations to small coffee shops and florists in the US, Canada, Europe and even Australia.  Mary and I are also involved with @LocalUniv – we teach Local Marketing tactics from beginner to advanced around the country
Q2 How can content marketing support local marketing? Do local marketing even need to invest into content?
Content drives most of what draws a potential customer to a site. Google won't rank anything organically, via local pack, & you could even argue PPC (via QS), if they don't understand what it is you do and where you do it.
If a business wants to rank outside their close proximity, ie in suburbs & neighboring towns/regions, the only way to do that is to write content about the work you do in those locations.
Include testimonials from customers, mention the towns, neighborhoods & regional colloquialisms and optimize those pages. Good titles, internal linking, using keywords on the page – let every page tell the user what you do and where you do it.
@CarrieHill Do you think G is the slightest bit interested virtual office/UPS addresses? 50% of listings, virtual w/ no employees within 1,000's of miles! #vcbuzz

— 24 Hour Translation (@24hrtranslation) May 14, 2019
I think its against their TOS and if you employ the practice its risky. I always advise against it, but they're pretty slow to enforce. Once they DO enforce it's a pain.
A2: Businesses need strong websites and social media presences today, even local ones. Content fuels those marketing vehicles, and can lead to offline marketing opportunities (i.e. speaking engagements, sponsorships, partnerships w/other local businesses). #vcbuzz https://t.co/tsvD6gOKIM

— Jaime Shine ?️ (@jaimeshine) May 14, 2019
Google My Business requires an address where the business can receive mail to confirm. True? #vcbuzz

— Don Sturgill (@DonSturgill) May 14, 2019
Yes, true. Not all GMB needs to be verified by post card, but it must be an address that gets mail – PO Boxes are not eligible
Q3 Are there any local businesses that are doing a particularly good job at content marketing?
Sixt car rental (@sixtusa) does a great job – they're in a ton of countries and for each rental office location/town they talk about traffic, driving tips for that area, things to see while you're there, etc.
Barbara Oliver Jewelry in Buffalo NY is pretty amazing. This is a client of @mblumenthal and is a poster child for great local business optimization. Not just content, but all the pieces – Brand Building, Reviews, Content, Links, etc.
So there are a lot – but there are a lot that are lazy with content and "daisy wheel" city names into the same content on multiple pages. I hate that tactic but good local content is hard to scale.
Q4 How to optimize content if you target a certain locality?
Honestly, It's a lot of common sense. Use the name of the town/neighborhoods in your content. Combine it with your target keywords in a way that reads well and makes sense to users.
A4: 46% of searches have local intent. 50% of people who conduct mobile searches for a local business will visit the store within one day. (https://t.co/y9DbpQdDZA). Make sure content is structured for readers on large and small screens. 2/8
#vcbuzz

— Carrie Hill ?️? (@CarrieHill) May 14, 2019
I always read things out loud and record it on my phone to play back. If it sounds seamless, and the grammar isn't awkward, its fine. I also have clients read things out loud to me on the phone.
If something is written oddly, reading out loud generally reveals that. Include a header image that is related to the location – preferably with employees of that location – at minimum the storefront/office facade. DON'T use stock photos.
Add testimonials and reviews to that page that focus on or mention the area you're targeting. Mark them up with semantic markup or utilize a review management platform like GatherUp that has plugins to help.
Structure your H1/H2 hierarchy correctly and include keywords pertaining to that section of content in those H1 elements. Pet Peeve – H-elements are NOT for designers to create pretty stuff using CSS – use them correctly!
If you have a brick and mortar office or storefront in that location, which helps a lot, make sure you include contact info and mark it up well. Include phone numbers and email as click to call/email elements.
Nifty Marketing researches and updated a Local Landing Page wireframe that is really handy for local search – check it out here.
RE: Q4 I once had a gazebo client centrally located between Dallas, Austin, and Houston. Unfortunately, they were too far from any of those cities to be visible in them. Any particular advice for a business with that challenge? @CarrieHill #vcbuzz

— Gail Gardner (@GrowMap) May 14, 2019
The map pack in that example will be hard. I'm guessing their physical address was not in any of those cities. You have to go for the organic rankings with amazing content and maybe have silos in your site w/ multiple pages on each city – plus links relevant to each.
A4. Use local context, relate to local news, trends and don't be afraid to explore presenting content using local language or slangs(other than English). This would be more relevant to my market area of course. ?. #vcbuzz

— Natasha Musa (@tashmusa) May 14, 2019
What are your thoughts on BBB citations? Is it worth it? #vcbuzz

— 24 Hour Translation (@24hrtranslation) May 14, 2019
I think BBB is flawed, but, highly authoritative for most locations, so get it if you can.
Q5 What are your favorite local marketing tools?
I use a lot as I tend to do more audits than anything else, and there's lots of crossover to traditional SEO. This is not a complete list, but these are the big ones. @LocalUniv Google Brand Score tool – which I helped build (full disclosure)
For rank tracking: @localfalcon (for spam reporting too) @whitespark @semrush @bright_local
From @Google: Lighthouse Report, Structured Data Testing Tool, rich snippets eligibility tool, Google Trends, Google Ads Keyword Planner, Search Console.
For Review management – @GatherUp and @Whitespark
For Technical SEO: @mobilemoxie tool set (seriously awesome) @dudeyjon's batchspeed tool (OMG, use it!), @ScreamingFrog @speedmonitorapp @siteliner @sitebulb
For Metrics: Google Analytics, Google MyBusiness Insights, @CallRail or @CallTrac, Google Data Studio.
A5 I'd like to include @BrightLocal – a very neat local management platform! #vcbuzz

— Ann Smarty (@seosmarty) May 14, 2019
I'm always looking for new tools – so if you have some I haven't shared – would love to hear about them!
What is the best tool for getting rankings by zip code? #vcbuzz

— 24 Hour Translation (@24hrtranslation) May 14, 2019
@MobileMoxie is great – or @LocalFalcon
A5: For tracking local competitors @AccuRanker should be the right tool to go. #vcbuzz

— Pitchbox App (@PitchboxApp) May 14, 2019
Hire someone to help! Boil down biz goals, ask them to build DS report and teach you how to use it! RT @KantJungRand: A5 Wish I could figure out how to use Google Data Studio :/ Without taking a 7 hr tutorial. I don't find it very user-friendly or intuitive #vcbuzz

— Carrie Hill ?️? (@CarrieHill) May 14, 2019
Our previous local marketing chats: