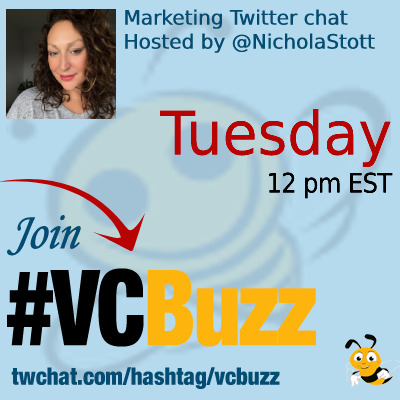 SEO is hard to scale, therefore it is especially hard for big corporations where everything needs to be scaled in order to fit in.
How to overcome this challenge and create a successful SEO strategy for a global brand?
Let's discuss!
***Add #VCBuzz chats to your calendar here.
***Please sign in here to follow the chat -> twchat.com/hashtag/vcbuzz
About @NicholaStott
@NicholaStott is the founder of Erudite, the SEO UX Agency, which has become one of the most respected technical and strategy-focused SEO agencies in the UK
@NicholaStott's professional recognition includes being named in the BIMA Hot 100 Digital People, as well as Drum Most Respected Agency Leader as voted by Peers in 2018.
Follow Nichola on Linked!
Questions we discussed
Q1 How did you become a digital marketer? Please share your career story!
I wanted to work in media and tech so took a job in ad sales for Electronics Times. I then moved to PRNewswire where I specialised in training for the media contacts database that became, I believe, Cision.
From there I went to a design and build agency called Investis, where I learned a lot about web design. Good site structure and getting a site/data live in time for financially regulated markets.
After Investis I went to Yahoo! In 2005 as a BD and worked my way to head of UK commercial partners. It was a role I loved because of the people, the brands we worked with and most of all… the data!
Search data (at that kind of scale) tells you so much about human nature. I knew search was where I wanted to stay for a while, but even back then search days at Yahoo! Were numbered, so I launched my own SEO business @eruditeagency
Q2 When it comes about an SEO strategy for a corporations, what is the biggest challenge to overcome?
First up it's getting across the levels of management structure. Particularly in complex matrixed orgs. Difficulty in knowing who has the power and where the internal politics lay.
#VCBuzz A2.3
>>>

3) Execution
Getting approval is one thing – getting it "done" is a different matter. Resources (inc. people/skills), and dependencies (Frankensites/plugins/feeds), as well as other priorities may result in delays.

>>>

— Lyndon NA (Darth Autocrat) (@darth_na) September 6, 2022
A2. Understanding the brand itself is a big challenge, understanding their focus products/services, areas and the target audience and I see SEOs failing to create right strategy because of lack of understanding about the brand.#vcbuzz

— Amal Ghosh (@AmalGhosh3) September 6, 2022
Another big challenge is the defining success and winning the confidence of those who have a differing opinion of what success actually is. e.g. the CEO wants to see their site in p1 for a term that might not matter.
A2
SEO strategies for major corporations can be a challenge at best.

Some of the "issues" w/ Corporate SEO are:
* Getting In-house developers on board w/ SEO
* Optimizing for Multiple languages & Countries
* Working w/ legal department#VCBuzz

— Debi Norton (@BRAVOMedia1) September 6, 2022
Mixed in with both of those is GETTING YOUR WORK THROUGH TO DEV!!!! (But isn't that always the biggest obstacle large or small!?) Layers of bureaucracy can make this far more challenging here so the first 3 months is a politics game.
#VCBuzz A2.5
>>>

5) Local priorities
Though a corporation has goals,
those goals may have different priorities in different locations.
Different architecture, different development processes/resources, different prior optimisations etc.

Figuring that out sucks

>>>

— Lyndon NA (Darth Autocrat) (@darth_na) September 6, 2022
#vcbuzz A2;Most webpages out-there load abysmally slowly even for huge corporations, so getting the pages to load very fast is the positive one thing that needs to overcome.

— Lui Slauco – SEO💙💛/💚🤍❤️ (@continuityseo) September 6, 2022
Q3 Corporate SEO needs to keep large decision making units in mind. How to keep everyone's expectations right?
First step is to understand what success looks like to your boss/their boss. Is it ROI? Is it more traffic? Is it sales from search traffic? Sign-ups? Vanity? I.e. owning brand-SERP? Define what their North Star and secondary success metrics are first.
A3
Set the expectations from the onset – with the focus on the goal(s) & establishing the KPI's from the get-go!#VCBuzz

— Debi Norton (@BRAVOMedia1) September 6, 2022
Challenge the metrics if they are wrong, conflicting or misdirecting and do it EARLY. E.g. More organic traffic isn't always (bizarrely) the best measure of your worth, or fastest way to ROI depending on where the site is in maturity.
A3: Communication, communication, communication. Identify all decision-makers and keep everyone in the loop, so you're all working towards the same goals. Expectations need to be clearly defined early in the process, so you can make decisions and measure your results. #vcbuzz https://t.co/va1S8pVu0y

— Jaime Shine 💬 Marketer | Writer (@jaimeshine) September 6, 2022
In your business analysis period I'd be identifying my quick wins. 99% time speed work. We often prioritise that so that we have instant ROI. Better engagement metrics, higher conversion rates. Show your the star. Make your boss the star and that gets high up.
Anytime you can get some quick wins is where it's at.

This could be some title tag tweaks, internal linking restructuring, adding images and alt text, promoting some already existing content that people will link to if they know about it, etc.#vcbuzz

— Boyd Norwood – nozzle.io (@boydnorwood) September 6, 2022
Prioritise this type of work first to get listened to. This means more faith (in you) for holding- course on growth strategies that come later. Good, PR-led link campaigns that drive traffic are another good way to start with high-return activities/win board.
#VCBuzz A3.2
>>>

Match their language, their comprehension level,
explain in ways they will understand/relate to,
and play positives down, and negatives up (a little).

Manage the expectations, and always add additional time for delays, screwups etc.!

And use hedge-language 😀

— Lyndon NA (Darth Autocrat) (@darth_na) September 6, 2022
Q4 What are the key principles of a successful corporate (and possibly international) SEO strategy?
Being able to command authority and communicate at a very senior level. Everyone, throughout the org needs to trust and buy in to your advice. You need a helluva back story at times.
#VCBuzz A4.2
>>>

So the big difference (to my mind) is down to communications and relations.

The actual optimisations etc. are generally the same (just different scope/quantity),
but it's the number of people involved, and how you interact with them.

>>>

— Lyndon NA (Darth Autocrat) (@darth_na) September 6, 2022
A4: Accountability, cross-team support and patience. #vcbuzz

— Tadeusz Szewczyk (Tad Chef) (@onreact) September 6, 2022
The way we close our deals includes a complex forecast, which normally gets the CFOs review. Get this person on your side straight away. If large corp. means international the CFO will care most about the big 5 markets in $ terms. You may need their vote.
A4:
– stay aligned with target audience needs
– geolocate your international web versions
– implement hreflang annotation
– know how to identify top pages & queries#vcbuzz

— Jeannie Hill (@essentialskill) September 6, 2022
Understand hreflang inside and out and back inside again. However, do not be surprised if implementations can take 6 mo. to a year to get lit with multiple market stakeholders. You may often have to limit who gets a say. Or limit the implementation depth.
#vcbuzz A4: Nobody is focusing on metas at the start of each page even for international. Get this area all ❌wrong and the page fails 📉.
I'd spend some time getting both title tag and meta descriptions as robust as possible.

— Lui Slauco – SEO💙💛/💚🤍❤️ (@continuityseo) September 6, 2022
Local knowledge. Specifically in-country experts. Having a solid tech structure, approach to schema, EAT etc. etc all good. But you still need in-country expertise for content development and Digi PR. You can't make those relationships overnight.
A4
Enterprise Level SEO
– ccTLD for multiple locations
– Solid understanding of hreflang
– Utilize Structured Data Markup
– WHAT AM I FORGETTING??#VCBuzz

— Debi Norton (@BRAVOMedia1) September 6, 2022
If your SEO strategy is international, it's crucial that you understand and appreciate cultures wherever you go. Don't make assumptions (based on stereotypes) or simply translate your message. Build relationships/form partnerships with people/companies in those cultures! #vcbuzz https://t.co/UpttSMX18V

— Jaime Shine 💬 Marketer | Writer (@jaimeshine) September 6, 2022
Q5 What are your favorite SEO tools?
She's gonna say it….. "It depends!!! much on the job at hand. However most of my role now is in overview and sales prospecting, as well as data analysis. My absolute fave tools for the broadest view are @sistrix and @ryte_EN both give amazing insights.
#VCBuzz A5.

Chrome
Google docs (sheets, meet etc.)
PHP+MySQL
Site crawler (win httrack, Screaming From, SiteBulb)
Fireworks (sometimes pretty pictures/charts help :D)
Hammer and Pliers (kidding) (maybe)

— Lyndon NA (Darth Autocrat) (@darth_na) September 6, 2022
However… different tools for different jobs, so I've published a consolidated list all @eruditeagency fave tools' here.
Our previous corporate chats: