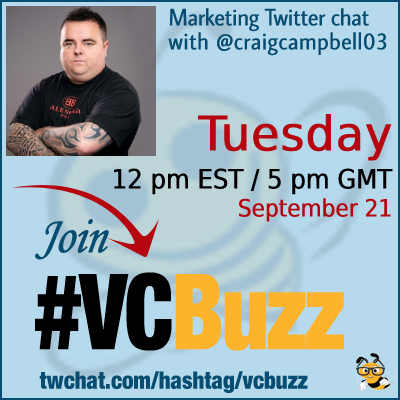 What does it take to become an entrepreneur?
How to get the courage and become your own boss?
Isn't it something most of us have dreamed about at one point or another?
Let's discuss and get inspired!
***Add #VCBuzz chats to your calendar here.
***Please sign in here to follow the chat -> twchat.com/hashtag/vcbuzz
About Craig Campbell
Craig Campbell @craigcampbell03 is Glasgow based SEO expert who has been doing SEO for more than 18 years.
Craig is an experienced SEO who has presented around popular conferences, including Brighton SEO, Search Leeds, and Affiliate World Europe to name a few.
Subscribe to Craig's channel on Youtube!
Questions we discussed
Q1 How did you become a digital marketer? Please share your career story!
I think becoming an entrepreneur comes from within, you have to have a good desire to be successful. I think we all dream of being our own boss. But you need to follow your dreams, it's a massive jump and is a scary thought though
But basically was just doing what everyone was at the start and took about 5 years to figure it out as a poor freelancer. Then started chasing clients and building a team.
I started in my bedroom as a very bad web designer, but it led me over to the world of SEO. Which seemed an easier option. I used the SEOChat Forum to learn. But it was early 2000's and completely self taught. It was a steep learning curve.
A1 For me I Started My Career Path
– Ad Agency
– Newspaper Advertising
– Cable TV Advertising
– Web work
– SEO by #1999#VCBuzz

— Debi Norton (@BRAVOMedia1) September 21, 2021
Q2 Why did you decide to start your own SEO agency and where did you start?
It was kind of a natural progression, I hired a sales guy, then a content writer, then a developer and before I knew it I ended up building an agency. It wasn't intentional as such, but just a progression on what I was doing.
But there was no why as such, I was learning SEO, got busy and then simply needed staff to delegate some of the grunt work too. Basically woke up one day and had a whole bunch of people it all happened so quick.
A2: When I started my own marketing agency, I started with the professional network I'd been building for the previous 9 years in corporate America. They were some of my first clients! Networking is so important. #vcbuzz #smallbusiness https://t.co/e7bOzEcEKZ

— Jaime Shine 🖋️ (@jaimeshine) September 21, 2021
Finding the people is the easy part. Dealing with the red tape and customers is the complicated part. #vcbuzz

— Gail Gardner (@GrowMap) September 21, 2021
Q3 What's the best way to find clients?
In this day I think a great way is to put yourself out there, use Youtube, Clubhouse or any other platform where you can demonstrate knowledge and expertise. It works wonders and I feel the days of cold calling and all of that stuff are gone.
I think FB groups work really well, engaging conversations on socials, podcasts, event speaking all work well. But think outside the box, people buy into people.
A3 Back when I did #PPC, the way I got clients was to offer a free evaluation of their existing accounts.

I'd provide a 2-3 page written document of everything I would recommend they change.

And 90+% of the time they'd hire me to do the implementation. #vcbuzz

— Gail Gardner (@GrowMap) September 21, 2021
Q4 How to manage clients? How much do you tell them about your processes? How to manage their expectations?
Having simple and to the point KPI's such as ranks, traffic and conversions is all they really need. However I think educating clients slightly is also important. It makes the job easier in the long term. The more they know, the easier it can become.
But managing them expectations is super important, if you think it will take them 6 months, tell them 9 months, always buy yourself time, never over promise and under deliver. In terms of my actual processes I try and keep the client out of that stuff.
A4 Referrals are the BEST (always a thank you to Gail here @GrowMap )

Secondly teaching workshops, classes on & offline.

Pretty competitive in my space as everyone is a digital marketer. #VCBuzz

— Debi Norton (@BRAVOMedia1) September 21, 2021
It's a results driven business, so I try and keep it simple and to the point, otherwise we end up with too much communication and not enough deliverables.
A4: I'm as transparent with my clients as they want me to be—even teaching them if they'd like to take over eventually. (Most aren't interested.) Setting realistic expectations upfront is critical, so I share case studies or expected results (as specific as possible). #vcbuzz https://t.co/iGnqPqzHjw

— Jaime Shine 🖋️ (@jaimeshine) September 21, 2021
But I also have a client account manager in place so that I'm not talking to clients directly, just how I see it best working for me personally.
Yes, it is best to have one liaison with the client. Those who do the indepth implementations can work best uninterrupted.

But clients like to be able to contact their liaison at any time. So having a separate client account manager works best. #vcbuzz https://t.co/cAaG14KHh9

— Gail Gardner (@GrowMap) September 21, 2021
A4 Educate them and share the analogy specially when it comes to KPI. I am always sharing learning points and action items based on the data points. #vcbuzz

— Hiren vaghela (@hirendream) September 21, 2021
A4 Transparency is best to avoid misunderstandings.

Scope creep is a major issue so be VERY clear about what is included to head off expectations of whatever pops into their head later as also being part of it. #vcbuzz https://t.co/93FVgt4e55

— Gail Gardner (@GrowMap) September 21, 2021
Q5 What are your favorite digital marketing tools?
Wow this question is difficult, @semrush @SproutSocial @sitebulb @surfer_seo are a couple of the ones I use on a daily basis. That's a good little combination for anyone working on websites.
A5 Best digital marketing tool.

Your Brain!#VCBuzz

— Debi Norton (@BRAVOMedia1) September 21, 2021
@FraseioApp @HubSpot @clickfunnels are a few others just to throw in there.
The one I use most consistently is @BuzzSumo. I really need to start using @SEMrush and @Ahrefs

And @NinjasMarketing Featured Snippet Tool https://t.co/MnizgVU6EV#vcbuzz https://t.co/yRgBeSaLrZ

— Gail Gardner (@GrowMap) September 21, 2021
Our previous SEO chats: