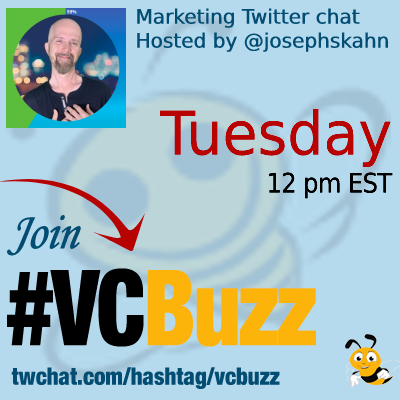 Search engine optimization has been evolving fast over the past decades.
One of the biggest changes in SEO has been an introduction of structured markup, Schema, that helps search engines understand website content and structure easier
***Add #VCBuzz chats to your calendar here.
***Please sign in here to follow the chat -> twchat.com/hashtag/vcbuzz
About @josephskahn
Joseph S. Kahn @josephskahn is President of HumJAM.com.
He has been an SEO and digital solutions expert since 1994.
Connect to Joseph on Linkedin!
Questions we discussed
Q1 How did you become an SEO? Please share your career story!
My first HTML page was created in 1994 and from there I have always been involved in digital marketing – creating web pages and such – clients such as John Maxwell, Microsoft and Cox Communications and Coca Cola to name a few.
Since I am a researcher at heart, SEO made a heck of a lot of sense once the field expanded – so I am super excited to be here!
I was out of digital work for a while and became a drummer after scoring with #crypto – because of the #pandemic, I returned to help small businesses in light of the situation and how being online could have helped a lot of people
Q2 What is Schema and how does it work?
Schema markup is a structured data vocabulary that helps search engines better understand the info on your website in order to serve rich results. These markups allow search engines to see the meaning and relationships on your site.
Think of it like the oil in a machine… you can't see it, but it makes a difference to the engine and how it works… (it WILL run without it, but not the best).
A2. Richard Wallis (@rjw), @danbri, @aaranged, and @JarnoVanDriel, among others, have contributed immensely through their involvement with Google and https://t.co/L3xn9uhWQq to define schema and promote it. #vcbuzz https://t.co/vfmoXrwX2E

— Jeannie Hill (@essentialskill) May 10, 2022
I have a 4 part series on this very topic – just saying.
Q3 Does Schema require any technical skill? How can a small business owner handle it in-house?
Schema can be managed easily through @Wordpress #Plugins or it can be "copied and pasted" from easy to use forms. @Google has great information on this.
This is a great place to start the search.
A3. Multiple WordPress plugins simplify basic schema. However, as with any #SEO strategy, advanced results come with a deep understanding of how search engines use schema markup. Whether managing a plugin, app, or custom coding, advanced opportunities come with skill. #vcbuzz https://t.co/EgAuK8liwp

— Jeannie Hill (@essentialskill) May 10, 2022
Q4 What are the best schema types content creators should be aware of?
The main ones content creators should be aware of is audio and video schema. If you are sharing a video from @Youtube on your page, it should have schema behind the scenes for better ranking.
A4.

Video schema is REQUIRED to show up in the Video features in the SERPs. I think many don't know that.#vcbuzz

— Kristine Schachinger (@schachin) May 10, 2022
a4 Hello jumping in here – interested in schema.
Is anyone using https://t.co/eQGWfn5uzp and how about having multiple schemas on one page? Thoughts?#VCBuzz

— Debi Norton (@BRAVOMedia1) May 10, 2022
A4.

Yes Schema is NOT a ranking factor though it is an "appearance" factor meaning you cannot appear for some Rich Snippets without it.

It also helps Google better understand your page, so it helps by giving Google exact information about your content. #vcbuzz

— Kristine Schachinger (@schachin) May 10, 2022
Q5 What are your favorite SEO and Schema tools?
Of course, everyone using schema must be on and from there @RankRanger has my favorite mark-up generator and my favorite plugin is @SquirrlyHQ and @RankmathSEO
A5 https://t.co/eQGWfn5uzphttps://t.co/iGSWz6NffF#VCBuzz

— Debi Norton (@BRAVOMedia1) May 10, 2022
A5.

This is not a tool but it is the best reference guide for Google approved #schema (also with the info on which ones that help you get into the rich snippets.)

Tells you what the schema is for, what it does, how it appears, and the code.https://t.co/0zXsgwYC6P

#vcbuzz

— Kristine Schachinger (@schachin) May 10, 2022
Our previous Schema chats: