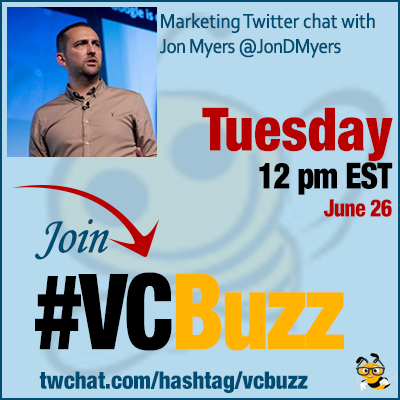 These days everyone is talking about optimizing for mobile search, making your website mobile-friendly and ranking higher in mobile search results.
This is exactly what we are talking about: What is Mobile-First index, how to optimize for mobile search results and why you should really start caring about both.
***Add #VCBuzz chats to your calendar here.
***Please sign in here to follow the chat -> twchat.com/hashtag/vcbuzz
About Jon
@JonDMyers is Chief Growth Officer behind @DeepCrawl and a long-time search guy.
DeepCrawl is the world's most comprehensive website crawler, providing actionable data for flawless website architecture.
Questions we discussed
Q1 How did you become an SEO? Please tell us your career story!
It all started in 1997 when I was a graphic designer in the offline word, then I got asked to design websites and then learned how to build sites in html and php.
Next thing I was optimising them pre google for Dmoz and Yahoo! All very easy back then! Google then came along with a static once a month index and you could pretty much get away with anything to rank high lol (not now!)
So I have been an SEO for 21 years now! But then in 2000 I ran some of the first Google Adwords PPC campaigns in the world so got involved a lot in that world.
@JonDMyers Don't you miss those old fun days? Everything was so much easier and we had so much fun too! #vcbuzz

— Ann Smarty (@seosmarty) June 26, 2018
@seosmarty I do! it was so much easier back then and Google was still learning, as SEOs we could get away with alot that you cant do now, I now find myself doing audits for companies that have been de-ranked due to doing the stuff we used to get great results with lol #vcbuzz

— Jon Myers (@JonDMyers) June 26, 2018
Helped built an agency for 8 years toll 2007 running PPC and SEO teams and then in 2007 moved to run Starcom Medivest search.
2010 after being a client for 10 years I went to Yahoo and ran their UK and Ireland tier 1 search business as well as the Mid Market business in Barcelona.
@JonDMyers Also was very much interested in cooperating with website owners… Made things so much smoother #vcbuzz

— Ann Smarty (@seosmarty) June 26, 2018
After that in 2012 I went Tech side to run EMEA for Marin Software and PPC and Paid Social platform leader at the time and we went to IPO on the NYSC which was fun with $7.2 billion dollars annualised media spend via the platform… fun times!
Then I went back to my SEO routes with Deepcrawl which has been a fun 2 years back in Tech SEO on the platform side working with great brand growing the company and going through a Series A funding round last year
Q2 In very easy-to-understand words, please, what's mobile-first index and why should we care?
The mobile first index for me is the biggest fundamental shift in Google in the last 18 years!
Google is flipping its index on its head and giving priority to mobile sites rather than desktop pages and sites and as SEOs there is a lot of work to do.
For both mobile and desktop results? @JonDMyers #vcbuzz https://t.co/ryJnSHDaO0

— Anna Fox (@manifestcon) June 26, 2018
@manifestcon A2 – yep, one index for both mobile and desktop results that will transition over time #vcbuzz

— Jon Myers (@JonDMyers) June 26, 2018
They first mentioned it in Nov 2016 so it is nothing new and we have had a while to prep, but 6 weeks ago on 30th April 2018 they officially announced that they were starting to move sites that were ready to the new index.
To be clear there are not 2 indexes for Mobile and Desktop, there in one that will hold both page types but priority will be given to mobile in the ranking algorithm
Danny Sullivan summed it up well by saying "Think of it like a library full of books, overtime more and more e-books will be introduced along side books and as time passes the library will become one of e-books, same one library just with new books in it".
What do you mean by "giving priority to," Jon? #vcbuzz

— Don Sturgill (@DonSturgill) June 26, 2018
@DonSturgill A2 – hi Don, google has basically now engineered its algorithm to rank Mobile pages higher that are optimised better than desktop pages of the same quality #vcbuzz

— Jon Myers (@JonDMyers) June 26, 2018
It is really important to get it right, heard and great quote the other day that will scare brands and website owners alike "Users who have a bad mobile user experience are 60% less likely to revisit and purchase from that brand in future"
Are you referring, Jon, to a business that has a separate mobile site rather than an optimized site for both searches? #vcbuzz

— Don Sturgill (@DonSturgill) June 26, 2018
Essentially yes, a business with separate mobile and desk top sites need to make sure they are both optimised well and on a par with each other to makes sure no rankings are lost as google will start to use the mobile pages rather than the desktop. Yes they will give preference to mobile pages, wish I could draw you a diagram in here
Q3 What are other mobile search terms should we be aware of and why?
In all honest none! The index will operate on the same keyword searches, google will just choose the most relevant page to rank highly and as time goes by give much more weighting to mobile
As SEOs we need to make sure we have Page Parity between desktop pages that ranked well in the past to the new mobile pages of the future or you will see a drop in rankings for sure.
All, the usual disciplines of SEO are the same you just need to make sure you adhere to Google best Practices for the Mobile Index and make sure if you have a separate Desktop and Mobile site that all the things you need to have in place are there.
A3 – I agree with @JonDMyers – Not aware of other terms. But schema is extremely important with mobile search #VCBuzz

— Douglas E Stewart (@dscweb) June 26, 2018
@dscweb A3 – schema is key and one I talk about alot, dont strip it back to far for mobile ie do things like video as well as our mobiles are just as good as PCs these days #vcbuzz

— Jon Myers (@JonDMyers) June 26, 2018
If you have a responsive or dynamic site set up your world is in a much easier place and Google is preaching the Responsive route.
For the dumb students here, what's schema? I know it's how you markup content for reach snippets but is there an easy to understand definition of "schema"? #vcbuzz

— Jessy Troy (@jessytroy) June 26, 2018
@jessytroy Have a look on here – https://t.co/zL39n8i2Yh Markup (often called Schema) is a semantic vocabulary of tags (or microdata) that you can add to your HTML to improve the way search engines read and represent your page in SERPs. #vcbuzz

— Jon Myers (@JonDMyers) June 26, 2018
Here is a good article on schema https://t.co/58tA7uvTdv #VCBuzz

— Douglas E Stewart (@dscweb) June 26, 2018
Q4 How can @DeepCrawl help a website get better prepared for mobile search?
Deepcrawl is a tried and tested website crawler that allows you to see what is lacking performance wise in your site to benefit most from SEO on Google
Late last year we added a huge amount of Mobile site functionality to allow you to see how well your site was set up for the new Google Mobile World and also to see where based against you desktop site you need to improve.
It is as simple as running you site via Deepcrawl and making two crawls of your site with Googlebot and Googlemobile bot and you will get all the answers you need to hand your SEO and Dev teams.
Does Deepcrawl require admin access to the site? #vcbuzz

— Don Sturgill (@DonSturgill) June 26, 2018
Nope, it crawls all of the open pages that site has on the web weather they are indexed or not in Google, that always throws back some interesting quick fixes.
Does @DeepCrawl integrate into Google Analytics? Then there will be even more things to uncover? #vcbuzz

— Jessy Troy (@jessytroy) June 26, 2018
Yes GA is one of many things it integrates with, also GA, Adobe, Logfiles, MajesticSEO and many more!
What should small businesses do to rank better in mobile, Jon? #vcbuzz

— Don Sturgill (@DonSturgill) June 26, 2018
In SEO it is a level playing field big or small, if you do the best practices there is ever chance you will do well in the new world, I have a Slide Deck on what you need to do that I am happy to share with the group
@seosmarty @donsturgill Good Point! Have a look at this one I did last week https://t.co/olxJtB6VCh #vcbuzz

— Jon Myers (@JonDMyers) June 26, 2018
Q5 You travel a lot! Which conferences are you speaking / visiting this year?
LOL I do travel a lot and I have done for a lot of years now! I have been very lucky to see a lot of places and making amazing friends while doing it.
I have already need to a lot of conferences this year from BrightonSEO, The Global Inbounder in Madrid,  Search Leeds, Search Love Boston and many more to come.
Up next is TuringFest in Edinbugh, then LearnInbound Dublin, BenchMark Conference Manchester, MENA Search in Dubai to take me up to October with more to come I am sure!
My favorite conference is @Pubcon: Vegas, here I come this October! #vcbuzz

— Ann Smarty (@seosmarty) June 26, 2018
@seosmarty That is one I have never done! Been all over the US with SES, SMX and many others but never that one! Maybe this year lol! #vcbuzz

— Jon Myers (@JonDMyers) June 26, 2018
Our previous SEO chats: