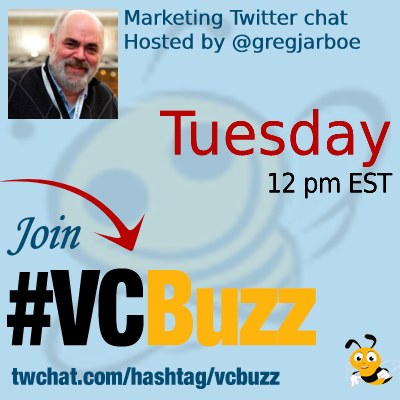 Youtube is one of the most powerful marketing channels.
It's also one of the hardest ones because it requires consistency and creativity, the two aspects that rarely come successfully together.
How to create a successful Youtube marketing strategy? Let's discuss!
***Add #VCBuzz chats to your calendar here.
***Please sign in here to follow the chat -> twchat.com/hashtag/vcbuzz
About @gregjarboe
@gregjarboe is president & co-founder of SEO-PR, an award-winning digital marketing agency which was founded in 2003.
Greg is also YouTube and video marketing author; Search Engine Journal contributor; Rutgers, Coursera, & New Media Academy instructor.
Questions we discussed
Q1 How did you become a digital marketer? Please share your career story!
My digital marketing career started in 1995 when I was director of corporate Communications at Ziff-Davis, which launched ZDNet and made a strategic investment in Yahoo! I became the VP of Marketing at WebCT in 1999. I co-founded SEO-PR in 2003.
SEO-PR started off optimizing press releases for Google News. In 2003, we optimized 3 releases for SEMPO, which generated 21% of its revenues. In 2004, we optimized 4 releases for Southwest Airline, which generated $2.5 million in ticket sales.
SEO-PR uploaded our first video to YouTube in 2006 to promote "Hostage: The Jill Carroll Story" for The Christian Science Monitor. After driving 450,000 unique visitors to the Monitor's site in 24 hours, I thought YouTube and video marketing "had legs."
In some ways it was easier to measure ROI in the early days, because most brands were doing less other things online. But in other ways it is easier to measure ROI today because there are more and better tools.
Q2 If you only have one hour to spare daily, what should you do on Youtube?
If you have one hour to spare daily, here are some ideas on what to do on YouTube:
Learn something new with a tutorial or educational video.
Be entertained by funny videos or music.
Get inspired by motivational speakers or entrepreneurs.
If you have one hour to spare daily on YouTube, watch educational and enlightening videos like tutorials or TED Talks. Alternatively, watch entertaining and inspiring content like comedy skits or motivational speeches. Choose wisely and make the most of your time!
If you only have one hour to spare daily, DON'T read my book YouTube and Video Marketing: An Hour a Day. It was published in November 2011 and is woefully out of date. Instead, read my recent articles on this topic at Search Engine Journal.
Q3 How to remain consistent? How to keep working on your Youtube strategy even if you are not yet seeing results?
Here are some tips if you are not yet seeing results:
Watch other YouTubers who have achieved success.
Experiment with different types of content and see what resonates with your audience.
Be patient and persistent – success takes time!
To remain consistent on YouTube, create a content calendar to stay organized. Keep creating content even if you're not seeing immediate results – success takes time and perseverance. Analyze your performance and adjust your strategy accordingly.
It's worth noting that 11.6 million YouTube videos were uploaded in the last 7 days. And only 1 video in 1,000 goes viral, which I define as getting a million views and 360,000 engagements. Those are the same odds of cracking open an egg with a double yolk.
Q4 What's the most successful Youtube marketing tactic you have discovered?
The most successful YouTube marketing tactic I have discovered is creating high-quality content that is relevant to my target audience. I also make sure to optimize my videos for search engines and promote them with $5 a day.
Another YouTube marketing tactic is to create high-quality, engaging content that resonates with your target audience. Be authentic, tell a story, and offer value to your viewers. Use strategic keywords, optimize your video for SEO, and engage your audience.
Jim Louderback @jlouderb has two alternative YouTube marketing tactics: Pay MrBeast $7 million to do something fabulous and on-brand for both of you. Or create the world's biggest micro-influencer campaign: Pay 10,000 creators $700 each in partnership.
Going viral is uncommon, but it's not rare.
The $5 a day tactic was developed by Dennis Yu, CEO of BlitzMetrics, It's brilliant.
Q5 What are your favorite Youtube marketing tools?
My favorite YouTube marketing tools are:
Google Trends: Helps me identify topics that I can use to create content.
VidIQ: Helps me optimize my videos for search.
YouTube Analytics: Provides valuable insights into my channel's performance.
Here are some other YouTube marketing tools to use:
TubeBuddy for SEO optimization and channel management
Canva for creating stunning thumbnails and channel art
Hootsuite for scheduling social media posts and cross-promoting content.
Our previous content marketing chats: