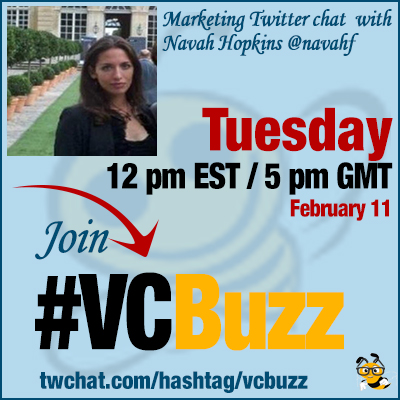 A good PPC strategy is a big part of content marketing puzzle. In many cases, to start building organic reach, you need to seed your content well, and it is often a good idea to seed your asset using paid ads.
But how to achieve positive results with PPC? It is not surely only about paying more, is it?
No, it is not. Here's what you can do improve your PPC performance: Optimize for keyword intent
***Add #VCBuzz chats to your calendar here.
***Please sign in here to follow the chat -> twchat.com/hashtag/vcbuzz
About Navah Hopkins @navahf
Navah Hopkins @navahf has a passion for innovation, fueled by a hybrid of strategic partnerships, data analysis, and consumer engagement.
She's a serial entrepreneur, SEO/SEM philosopher, blogger and content strategist, and a bounty hunter on the biz dev dance-floor.
Connect to Navah on Linked here
Questions we discussed
Q1 How did you become a digital marketer? Please share your career story!
I stumbled into #SEO back when it was mostly directories – then I decided to use my powers for good and do #PPC. The only reason I found this industry was because of the certifications and their path to freelancing.
A1. The TL;DR is that I was looking for an office job to get experience before grad school. Digital marketing was a god-send that let me be creative while still using the analytical skills from my econ degree. #vcbuzz

— Emma Franks (@akaEmmaLouise) February 11, 2020
A1. Well, I started in finance + transaction modeling, decided I wanted/needed a change. I actually found marketing through a college connection….it's all numbers really, just changing what you're adding up and what you're optimizing. #vcbuzz

— Sam Ruchlewicz (@SamRuchlewicz) February 11, 2020
Exactly. I love that about our industry too. There is also a huge variety of free courses and materials too! #vcbuzz

— Jessy Troy (@jessytroy) February 11, 2020
Q2 What is keyword intent and why should we care?
Keyword intent is understanding the full potential of a given keyword and it's probability it correlates to a profitable prospect. This is influenced by location, close variants, and audiences (great for prequalifying your marketing dollars)
A2. I like to think keyword intent is "peering into the searcher's soul" – it is what drives them to seek the information or product/service you're connecting them with. Bc it's signaled by the user, it can be one of the most valuable means of targeting. #vcbuzz

— Emma Franks (@akaEmmaLouise) February 11, 2020
Q3 How can keyword intent boost PPC performance?
Rather than bidding on syntax and holing onto control for dear life, you can free yourself to identify the reasons why a prospect will be valuable and craft creative, landing pages, and customer journeys designed to empower them to convert.
We've lived in a cross platform world for some time and harnessing the audiences behind a keyword is helpful to ensure your makreting dollars are going to the "right" people not just gaming #QualityScore
A3. PPC (esp. paid search) ads should be answering the "core" question or meeting the needs of the searcher. Queries aren't always phrased in the best way to show that so addressing the keyword intent is better than just keyword stuffing in headline and descriptions. #vcbuzz

— Emma Franks (@akaEmmaLouise) February 11, 2020
Curious how much the collective uses Google Trends to help you localize your keyword choices to harness the best intent by market. That's my favorite way to solve for this question.
Google Trends is fantastic for understanding keyword intent–and also the impact of non-search branding efforts to raise awareness of specific terms (e.g. brand name or way of talking about a product). #vcbuzz

— Emma Franks (@akaEmmaLouise) February 11, 2020
#vcbuzz https://t.co/3WoYcpL0gA

This looks at attorney vs lawyer in the US

— Navah Hopkins (@navahf) February 11, 2020
Q4 What are some other ways to improve your PPC performance, especially gearing towards content-based landing pages?
AUDIENCES!!!! Let your competitors pay for prospects to prequalify themselves as a good fit (in-market audiences) and use ad customizers that swap out copy based on which audience a given prospect belongs to.
Think about localizing the content of your landing pages (not just in different languages) – if you can honor the ways people speak and think, you'll have an easier time securing their desire
A4. Agree that audiences are PPC's new best friend. Especially where you can use broader/more general terms and/or longer-tailed keywords to cut down on competition while still reaching the highest-quality prospects for your business. #vcbuzz

— Emma Franks (@akaEmmaLouise) February 11, 2020
Q5 What are your favorite PPC tools?
Love me some free Editor, Analytics, Excel, Google Data Studio, and Trends. While there is value in paying for some tools, most platforms have evolved to the point where you don't really need to pay for extras.
But I do need to give a shout out to Keywords Everywhere, @semrush for competitive analysis, @WordStream because I can't help myself (the Querystream is soooo good).
Actually, while we're at it, let's give shoutouts to @unbounce CallTrackingMetrics.com and Callrail.
A5 Also by FAR the best #PPC tool is @Spyfu (as far as I am concerned) #vcbuzz

— Ann Smarty (@seosmarty) February 11, 2020
Our previous PPC chats: