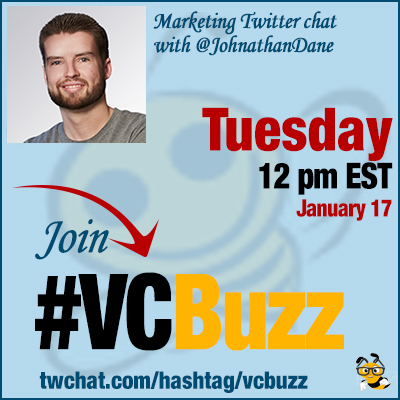 Few businesses get along without investing in PPC ads these days. So how to make the most of them? Let's talk about that!
***Add #VCBuzz chats to your calendar here.
***Please sign in here to follow the chat -> twchat.com/hashtag/vcbuzz
About Johnathan
.@JohnathanDane is a PPC lover and conversion rate fighter, spending most of his time in the trenches. He is Founder @KlientBoost specializing in PPC advertising and beautifully designed landing pages.
Please connect to Johnathan on Linkedin
Questions we discussed
Q1 What's your career story? How did you become a PPC and conversions expert?
I spend most of my time tinkering with new ways to execute PPC campaigns and find new ways to target audiences.
It actually all started on Craigslist. I used 2 detail cars & found a way for my listings 2 look more attractive than competition. It lead me to make around $400 a day here in Southern California, and then I went to a 2 day AdWords seminar in LA on my bday.
From there I started using Craiglist for my PPC services, and it snowballed from there.
That and I was born in Denmark and been in the US for about 8 years now ?
Q2 What's your favorite PPC platform and why? What's the most efficient social media PPC platform?
There are 2 platforms that work insanely well, AdWords & Facebook. AdWords because of the conversion intent w/ search. And Facebook because you can create an entire marketing funnel on their platform, which is insane.
Q3 How to achieve more results with PPC ads?
@vcbuzz A3 First one is minimizing what we call The Iceberg Effect in your PPC accounts: https://t.co/Cegj756HtD #vcbuzz

— Johnathan Dane (@JohnathanDane) January 17, 2017
Second one is Single Keyword Ad Groups and reducing wasted spend on traffic you don't control.
And the last one is knowing and adjusting your offers for different PPC traffic temperatures.
Q4 What's your favorite PPC hack that works in almost any niche?
Lowering the threat of your offer so that it's very easy for a visitor to convert on, even if the traffic is cold.
@vcbuzz A4 We then create an arsenal of different offers to target people from cold to hot #vcbuzz pic.twitter.com/F7WCCNknXs

— Johnathan Dane (@JohnathanDane) January 17, 2017
.@JohnathanDane Any examples for that? re Q4 #vcbuzz

— Sana Knightly (@SanaKnightly) January 17, 2017
It usually follows in this type of order: Blog post > eBook > Webinar > Macro Conversion (lead/sale/trial/demo)
Q5 What are your favorite PPC tools?
There are quite a few ?
AdWords Keyword and Display Planner
FreshKey
SpyFu (for Kombat report)
Facebook Audience Insights
AdEspresso
AdWords Editor
Unbounce/Optimizely (since PPC isn't a silo)
@JohnathanDune do you ever use facebook/Instagram ads? #vcbuzz

— Janette Speyer (@websuccess) January 17, 2017
Facebook, all time time – Instagram, not as frequent.
+1000 for @Spyfu! #Adwords #tools #vcbuzz

— Ann Smarty (@seosmarty) January 17, 2017
Our previous PPC and advertising chats: