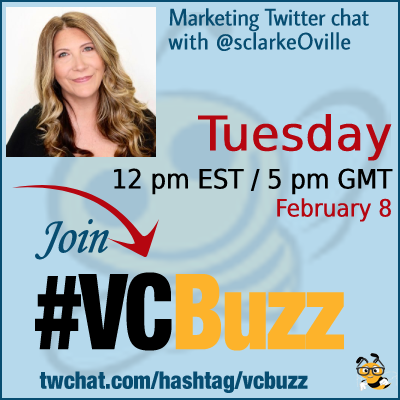 Social media marketing can help boost any brand's visibility.
But how to use it to promote a good cause?
How can each of us, professional marketers, utilize our skills to help spread awareness and generate traffic to a non-profit business page?
How can those looking to build career in social media gain experience and knowledge by helping a favorite charity spread their message on social media?
Let's discuss!
***Add #VCBuzz chats to your calendar here.
***Please sign in here to follow the chat -> twchat.com/hashtag/vcbuzz
About Sarah Clarke @sclarkeOville
Sarah Clarke @sclarkeOville has been working in digital marketing since 2003. She is a mother, wife, entrepreneur, sister, and volunteer.
Sarah is passionate about social media, branding, and marketing.
Questions we discussed
Q1 How did you become a digital marketer? Please share your career story!
Originally I was an accountant LOL, but I was always drawn to entrepreneurship and marketing. When I had an opportunity in 2003 to switch to digital marketing I jumped on it.
I worked in many areas including mobile app installs, affiliate marketing, and then found a passion for social media marketing in 2008. In 2012 I founded @DufferinMedia a full service digital marketing agency, and have continued to learn and grow in all areas
Q2 Going through your content, you often talk about helping charities and volunteering… What are some social media strategies people can use to help a charity they support?
I am very passionate when it comes to nonprofits. I am actually currently at my local foodbank on a volunteer shift! If you would like to help a charity you support using social media here are some tips:
Like, share, & comment on their social media posts – help them spread awareness online
Do your own social media posts about the organization (don't forget to tag them)
Leave a review for them on Facebook or Google
A2
I've been working with non-profits and new entrepreneurs & it is great and have volunteered a lot of my time.

My issue is that they do not have a budget available to pay for extended services. How do you get around that one?#VCBuzz

— Debi Norton (@BRAVOMedia1) February 8, 2022
This is tricky, and I think it is important for nonprofits to sometimes budget like a business, and invest in marketing and advertising in order to fundraise more funds to service their clients. Even a small budget will go a long way.
#VCBuzz A2.2

* Pick up their slack – if they fail to promote/post something, do it for them
* If you have the resources, reach out and offer a bit of your time/skills
* Network on their behalf – if you see an opportunity to promote/refer them, do so

— Lyndon NA (Darth Autocrat) (@darth_na) February 8, 2022
A2 Tie what a #charity is doing into a topic on a popular Twitter chat or share it in a relevant Facebook group.

The best way to get people to be empathetic to a need is to show them how it does or could affect them. #vcbuzz https://t.co/JlyhDRMOee

— Gail Gardner (@GrowMap) February 8, 2022
Q3 Where to start? How to find a good cause to support?
To find a cause to support I suggest you think about what causes in the World you feel most passionate about. Poverty? Environment? Mental Health? Then research nonprofits and charities that service this area. Or perhaps a local cause in your community.
I serve the Orangeville Food Bank because when I was younger my family required their services and it was always a dream of mine to give back.
A3: What cause do you have a passion for? Think about your priorities and values, and see where you can help. Unfortunately, you can't help everyone, so you have to choose where to allocate your resources. @GivingTuesday can help you get started: https://t.co/0Vbvvx8Dx5 #vcbuzz https://t.co/inf38TxgOs

— Jaime Shine 🖋️ (@jaimeshine) February 8, 2022
My best friends at @changingpresent provide great volunteering opportunities. Cannot recommend them more! 💕 #vcbuzz

— Ann Smarty (@seosmarty) February 8, 2022
This looks like an amazing cause.
At @DufferinMedia we adopt 2 charities each year for a full year of free social media services. Watch for this campaign every December and perhaps consider nominating them? #vcbuzz

— Sarah Clarke (@sclarkeOville) February 8, 2022
#VCBuzz A3.

In most cases, a "good cause" will be something you already care about.
You can do online searches for the topic (and use terms like "aid" or "support group" etc.),
or find official bodies and ask about organisations they know of and trust.

— Lyndon NA (Darth Autocrat) (@darth_na) February 8, 2022
Q4 How to find social media marketing volunteering opportunities to help charities and gain some experience?
Many charity organizations are looking for volunteers in digital marketing and social media. There are some Facebook groups that focus on this, as well as job boards just as "Indeed. Also check your local nonprofit directories.
A4 Add your support wherever you can. Find #charities with low overheads doing the most good.

Be aware of them. Search for what they're doing. And then like, comment, share.

Consider publishing a post supporting their efforts on your site, LinkedIn, Medium or others. #vcbuzz https://t.co/FX6azIdKq6

— Gail Gardner (@GrowMap) February 8, 2022
#VCBuzz A4.2

Failing that, you can often find local groups on social platforms and/or local network sites.
You can publicly/privately reach out via those channels too.

Or attend a local event, and just step up and say "hi" 😀

— Lyndon NA (Darth Autocrat) (@darth_na) February 8, 2022
A4. Engage with people in your community. You never know what you may hear-someone might mention there's a need for help you can provide. #vcbuzz

— Dana Lemaster Author (@LemasterAuthor) February 8, 2022
Q5 What are your favorite social media marketing tools?
My favourite social media tools for nonprofits include: @canva for content creation @hootsuite for content scheduling @Google Alerts for social listening @TailwindApp for Pinterest.
A5
Fav social media marketing tools – hummmm there are so many tools out there.

In honesty – I think it's one's *creative inspiration* that is the BEST tool one can bring to the table.❤️ Without creativity & inspiration – none of the *tools* will help.#VCBuzz

— Debi Norton (@BRAVOMedia1) February 8, 2022
I've heard good things about Buffer too, have not used it myself personally. We also love @Sendible as a social media scheduling tool. #vcbuzz

— Sarah Clarke (@sclarkeOville) February 8, 2022
Our previous social media marketing chats: