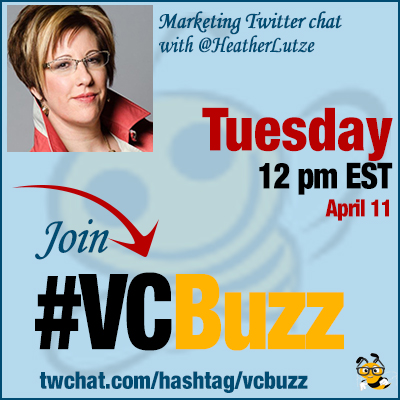 The ultimate goal of most websites is to get found. Findability lets you get heard, drives readers and customers. Can you learn SEO and findability principles? How hard is it? Let's discuss!
***Add #VCBuzz chats to your calendar here.
***Please sign in here to follow the chat -> twchat.com/hashtag/vcbuzz
About Heather
Heather Lutze @HeatherLutze is the widely acclaimed speaker, trainer, and consultant who literally wrote the book on search engine marketing. Two books, in fact: The Findability Formula: The Easy, Non-Technical Approach to Search Engine Marketing and the brand new Thumbonomics: The Essential Business Roadmap for Social Media & Mobile Marketing.
My first book! What a challenge that one was to write. I had come from Yahoo! and was deep in the "geek" of PPC. #vcbuzz

— Heather Lutze, CSP (@HeatherLutze) April 11, 2017
Connect to Heather on Linkedin
Here is a preview of our chat today @vcbuzz #vcbuzz pic.twitter.com/6PEPB6hcs3

— Heather Lutze, CSP (@HeatherLutze) April 11, 2017
Questions we discussed
Q1 How did you become a digital marketer? What's your career path?
Well I got fired six times in my 20's and my husband thought I should "give self employment a try".
Then I was recruited by Yahoo! Search Marketing after my last failed attempt at 9-5 and fell in love with PPC, SEO.
My career path was finally believing in myself and then going solo. I have never looked back after 14 years of self employment. I worked for Yahoo! for four years, ran my own SEM agency for 13 and now run Findability University.
I now help business owners and their marketing teams to "own" their Findability online with trainings, speaking and workshops.
Check me out at https://t.co/Au8w5Kbszo #vcbuzz

— Heather Lutze, CSP (@HeatherLutze) April 11, 2017
Q2 How hard is it to learn SEO these days? Where should a business owner willing to learn SEO start?
Hmm – If you stick to the basic principles of human behavior. Create content that speaks to that human behavior… Then you are 3/4 way. Google is a robot. Obvious but we give Google superpowers it really is not a hero, its an index.
We get caught up in the Geek Speak of it all but at the end of the day, its about the searcher not the robot! #vcbuzz pic.twitter.com/Kd5zYZi3A5

— Heather Lutze, CSP (@HeatherLutze) April 11, 2017
Here is a copy of Chapter One that explains this thoroughly.
Q3 So what is the findability formula? Can you share the secret?
The Findability Formula has evolved. I now think of it as Marketing Espionage: SPY On Yourself, Your Prospects & Competitors.
The secret is the human behavior, learning from more savvy competitors and understanding the lexicon of language of searchers.
You can be findable for the WRONG keywords and anything you "google" has search results, does NOT mean anyone searched for it. That is putting it lightly and it also is very expensive guessing. Guessing is Expensive.
Google is NOT all knowing and all seeing. Your searchers is! Until you get real about that, SEO will always allude you. #vcbuzz pic.twitter.com/n2Y6YnYQNI

— Heather Lutze, CSP (@HeatherLutze) April 11, 2017
Q4 How has SEO changed over the years? What's the most exciting trend you've been seeing?
I am seeing a great trend i using Google data and search results in a SMART way. No more memorizing the algorithm.Ever seen "searches related to…" at the bottom of search results?
These are called "symantic searches". If you weave in these ideas, then you are the most learned professor/expert in your field. #vcbuzz pic.twitter.com/546xu6S9AC

— Heather Lutze, CSP (@HeatherLutze) April 11, 2017
If you google "succulent Garden" how do I really know what they want? What content do they need?
Take your inspiration from those searches and you are immediately the only game in town. #vcbuzz pic.twitter.com/nmrMc2Gs68

— Heather Lutze, CSP (@HeatherLutze) April 11, 2017
Q5 What are your favorite SEO tools? What helps businesses become findable?
Also we have access to the best tools for SEO. I love @hubspots tool https://t.co/57PR3sYxXU. #vcbuzz pic.twitter.com/oREzF0aenp

— Heather Lutze, CSP (@HeatherLutze) April 11, 2017
My most favorite tool is @Semrush. I use this tool for all of my students. @Semrush has a keyword tool called "Keyword Magic Tool". Its is great and it gives you semantic phrases with the core phrase.
They also have an amazing tool called SEO Content Tool. It searches the top 10 sites for a given keyword – that formula. Then the formula is the where to place the keyword on the page and how many words do the top 10 average. Its a game changer.
NO MORE GUESSING! I just follow that formula and it downloads in a Word template format.
I also use @woorank for their intensive audit tool for clients who want to go deep into the technical. Then have their guru fix it. #vcbuzz pic.twitter.com/Neac5YmUEm

— Heather Lutze, CSP (@HeatherLutze) April 11, 2017
I also teach my students about T, H, B, L, I – where do I put the keyword on my page. #vcbuzz pic.twitter.com/6DpKtydlUA

— Heather Lutze, CSP (@HeatherLutze) April 11, 2017
@spyfu is another one of my favorite tools to SPY on your competitors. @spyfu lets you figure out "Why Does That Site Rank & Mine Does not!" Know they online competitor!
"The healthiest competition occurs when average people win by putting above average effort." Colin Powell
Our previous search engine optimization chats: