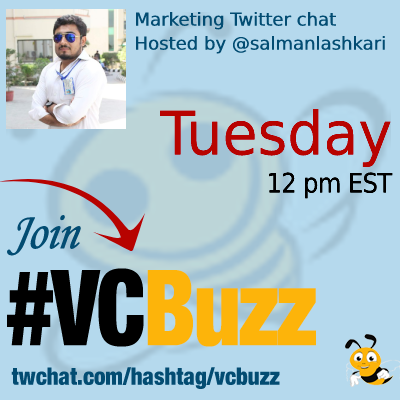 Being self-employed is many people's dream.
Self-employment means being your own boss, flexible hours and freedom.
But how hard is it to succeed in that lifestyle?
Unfortunately, being self-employed comes with a lot of insecurity and stress which makes it hard to succeed.
What are the keys to self-employed success? Let's discuss!
About Salman Saleem @salmanlashkari
Salman Saleem @salmanlashkari is no stranger to #vcbuzz Twitter chats. He has already hosted a chat on promoting your project in a very competitive niche and another one on using account-based marketing.
Salman Saleem @salmanlashkari is is digital marketing strategist and contributing author @RWW, @TDataScience, and @Medium
Questions we discussed
Q1 How did you become self-employed? Was it difficult to make that step?
For years I have been working as a full-time employee where I learned the art of digital marketing service and client management. I realized that I should take a leap of faith and start small from Upwork and communities on FB/Slack. Once I started building my portfolio, I left my job and started working as a marketing consultant for different companies.
It was a difficult step as you get to leave your comfort zone but then being your own boss is something worth it.
Q2 How to cope with fear when deciding to move to self-employment?
In order to cope with fear, I would recommend having enough savings to back yourself at times of crisis because that is the only fear I experienced when moving to self-employment.
A2 Many people are afraid to work for themselves because they believe there is security in working for someone else.

Once they realize that there really isn't, they should bve less afraid of working #freelance.

First step: relationships with others who do it. #vcbuzz https://t.co/GbxAAO4fhv

— Gail Gardner (@GrowMap) April 19, 2022
My advice would be to never leave your full-time job for self-employment unless you get employed as a consultant contracted for a company (part-time/Freelancer) or your saving is enough for 3 months of sustainability even if there is no client.
A2: Figure out the source of your fears—money, failure, the unknown—and address them specifically before going out on your own. People fear different things, so you need to understand your own fears and how to move forward with them. #vcbuzz #entrepreneurtips https://t.co/tpDG7rHxev

— Jaime Shine 💬 Marketer | Writer (@jaimeshine) April 19, 2022
Q3 Where to start? How to start making a plan a reality? How to tell if you are ready?
Identify whether you want to start your business as a service provider or launch a product that could turn into a unicorn. Make a 5-year plan. Where do you want to see yourself at? What are the assets that you want at your hand?
A3: Network, network, network while you're working for others. You never know who could be a potential client, partner or investor. Talk to your current employer to see if they're interested in becoming a client. Helps with a smooth transition! #vcbuzz #entrepreneurtips https://t.co/xWo2H6wC8j

— Jaime Shine 💬 Marketer | Writer (@jaimeshine) April 19, 2022
Break that Five-year plans into a year and break the year plan into the quarter. Run a 10-11 days sprint to see how you are progressing towards your quarter target.
A3 Join groups of freelancers who can provide advice, serve as mentors, and pass work along to you.

We have a #Freelance Writers group in BizSugar Mastermind and a Freelance Opportunities group where people share leads.

Already-established freelancers recommend others #vcbuzz https://t.co/D9M4dJQCAH

— Gail Gardner (@GrowMap) April 19, 2022
Something I made for Small Biz, a couple of years back. You can use this template for your own Objective & key results. From my experience, if u have 3 to 4 years of market and industry experience, you are equipped enough to go for your own business.
Q4 What one piece of advice would you give to someone planning to become self-employed?
There isn't one though but
Always have enough savings to keep yourself protected at times of crisis before thinking of self-employed
Hang out/Engage in communities on Facebook/LinkedIn/Reddit/Slack/Discord/Telegram
Build Valuable relationships with key influencers
Make Guides and checklists for every service you provide and share in communities for networking.
A4 Find mentors who have already done what you do. Offer to do some work for them in exchange for them showing you how they manage projects, deal with customers, create processes.

Good processes are the difference between success and failure! #vcbuzz https://t.co/gOVLlZ2Ajl

— Gail Gardner (@GrowMap) April 19, 2022
A4 Become a voracious listener and learner. Don't kick your daily gig until you have listened, learned and experimented with your future gig. Develop genuine connections and contacts. See how you can help and support, earn trust.. before you ask for anything! #VCbuzz https://t.co/xeHozsNbzn

— Zen Yinger (@ZenYinger) April 19, 2022
A4: Advice for new entrepreneurs:

🔹 Remember your why
🔹 Be ethical always
🔹 Your time is your most important asset
🔹 Focus on paid work
🔹 Put current customers first
🔹 Celebrate the little (& big) victories#vcbuzz #smallbusiness https://t.co/R8VpI6AhDR

— Jaime Shine 💬 Marketer | Writer (@jaimeshine) April 19, 2022
Q5 What are your favorite self-employment tools and resources?
Google Suite for documents excel, and presentation
Grammarly for writing
Canva for designing
SEMrush/Ahref/Spyfu for SEO/SEM Calendly for Meeting Scheduling
Loom for video recording (Short Tutorial)
Tools for freelancers
A5 The best places to see what kind of remote work is available are: https://t.co/AglwG7Osag – select "remote" instead of a location when you search. https://t.co/97eJ3BPnSi – especially good for writing jobs.

Downside: can't always tell what they pay; some CHEAP. #vcbuzz https://t.co/ynXC3XrJU6

— Gail Gardner (@GrowMap) April 19, 2022
Our previous self-employment chats: