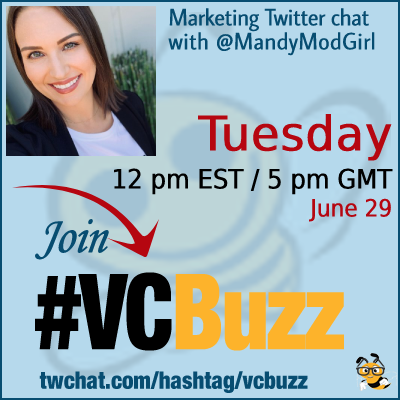 Linkedin is one of the most popular social media platforms out there.
Yet, it is also one of the most misunderstood social media networks.
How to truly succeed on Linkedin and is your business a good fit there?
Let's discuss!
***Add #VCBuzz chats to your calendar here.
***Please sign in here to follow the chat -> twchat.com/hashtag/vcbuzz
About Mandy McEwen @MandyModGirl
Mandy McEwen @MandyModGirl is a LinkedIn marketing consultant, trainer, and speaker.
She is the founder and CEO of Mod Girl Marketing and Luminetics

Mandy gives enterprise teams the training, strategies, and support they need to generate incredible results with LinkedIn.
Connect to Mandy McEwen on Linkedin
Questions we discussed
Q1 How did you become a digital marketer? Please share your career story!
Thanks for having me! I've always had the #entrepreneur bug. I started out experimenting with #OnlineMarketing after graduating college. #RockChalk (@UnivOfKansas). Then, started an affiliate #marketing business while working a full-time sales job.
After college I sold windows and paint before discovering my love of #OnlineMarketing – #TrueStory. I didn't even major in #Marketing. Psychology and Spanish degrees.
I quickly saw an opportunity to help local businesses with their #SEO and online marketing. So I cold emailed several local #businesses offering free SEO services.
Once I got them listed on the first page of #Google, they'd pay me $500. It worked. My first client was a chiropractor, then a local roofing company in #KansasCity.
They told their friends, I got more clients. Eventually, I was able to quit my job and do it full-time. That's how @ModGirlMktg was born. After helping local businesses I ventured out and started offering my services globally.
A1) Now, my team specializes in enterprise #LinkedInMarketing and #B2B demand generation. You can learn more about me, my companies, and watch my speaker reel here: https://t.co/FhoYUxanK0
#vcbuzz

— Mandy McEwen (@MandyModGirl) June 29, 2021
Q2 What types of businesses are best for Linkedin marketing? Does it work for everyone?
LinkedIn isn't ideal for every type of business. For example, local retail businesses and other B2C businesses. If your target market isn't active on #LinkedIn, go where they are active. That's the general rule for marketing – go where your target market is
With that said, #LinkedInMarketing is ideal for #B2B companies in industries that are active on LinkedIn. As an example, we work with a lot of #technology companies, #financial companies, #healthcare companies, #RealEstate companies
How do you know if you have an active target market on LinkedIn? You can use @LinkedIn search and Linkedin #SalesNavigator to determine how active your audience is on LinkedIn. Most innovative B2B companies have some sort of active market on LinkedIn
A2) on the paid side, we've always said that LinkedIn marketing is best for companies with a high AOV, ideally with an ABM (B2B) strategy. It can be difficult to scale organically and costly to advertise so you want to be precise with your targeting. #vcbuzz

— Emma Franks (@akaEmmaLouise) June 29, 2021
You can use @LinkedIn search and Linkedin #SalesNavigator to determine how active your audience is on LinkedIn.
With LinkedIn #SalesNavigator you can use the "Posted in the last 30 days" feature to see how many of your target audience are actually "active."
Q3 How to actually succeed on Linkedin? What are the most effective tactics?
I have a 5 step plan I'll share with you now to get results on #LinkedIn. This is a longer series of tweets – Warning 🙂
Step #1 – PLAN. In order to succeed with #LinkedIn, like everything in life, you need a #plan. What are your goals with LinkedIn? What are you trying to accomplish? Be specific. You can't get results without having clarity on your #goals.
Step #2 – KNOW YOUR TARGET AUDIENCE – Determine who your specific target audience is. What size companies? What industries? What job titles? What geographical locations? Etc etc. The more specific you can get the better.
Step #3 – OPTIMIZE YOUR PROFILES – You want to make sure your LinkedIn profile and company profile are optimized. Keep this in mind – it's about THEM, not about you. I have a checklist that makes it easy. You can download it here
Step #4 – CREATE CONNECTION & ENGAGEMENT STRATEGY. If you want to make it easier, build your targeted lists with Sales Navigator. Create your LinkedIn engagement strategy which includes how you are going to engage and reach out.
Tip and request – Please don't blast out sales-y, annoying messages. Spend a few days leaving comments on recent posts from your prospects before you reach out with a connection request. Then, mention their awesome content in the connection message.
The more personalized your messaging and engagement, the better results you will see with LinkedIn. People are jaded. They've been annoyed one too many times with spammy messages from lazy people who don't take the time to be human and engage properly.
A3 There are many guides on how to optimize your profile. I notice that a lot of people don't have much on theirs. That is a mistake as LinkedIn is the first place many people look to find out more about you.

You do have to answer messages, too. #vcbuzz https://t.co/OyhtCXp7uq

— Gail Gardner (@GrowMap) June 29, 2021
When you do it RIGHT, and you engage BEFORE you send the request to connect, they'll recognize your name from your comments and appreciate the compliment. Aka, they will most likely accept your connection request.
Step #5 – BUILD A CONTENT STRATEGY. Only 3% of LinkedIn users post content consistently on LinkedIn. There is a huge opportunity right now to build a powerful brand presence with engaging humanized content.
Try to post at least once a week, once a day is best. I now aim for 5+ posts a week. Post a good mix of content topics and content types – personal posts, inspirational posts, educational posts. Videos, photos, text-only, PDF carousels, polls.
A3: Be active on the platform! Utilize all the features on your profile or page, search for prospective customers, engage with their content and respond to comments/messages. Research the best hashtags, and add a note to connection requests. #vcbuzz https://t.co/q5XR7d4ZHP

— Jaime Shine 🖋️ (@jaimeshine) June 29, 2021
Avoid posting links directly on your LinkedIn posts. They don't like them. Instead, if you want to link to something, put it in the comments. You'll notice a big difference in the number of views when you do this.
A3) If you want to stay in the LinkedIn loop, each Thursday I send the latest and greatest #LinkedInTips to my #LinkedinInsiders email subscribers. You can sign up here: https://t.co/wEkia1TpcO
#vcbuzz

— Mandy McEwen (@MandyModGirl) June 29, 2021
Q4 What are some Linkedin Marketing mistakes to avoid?
We could be here all day talking about LinkedIn mistakes to avoid 😉 In addition to LinkedIn tips NOT to avoid… So here are a few mistakes I see..
Of course, I think you can all agree with me here – the biggest mistake is abusing the platform. Spamming people. Blatantly pitching your products/services without building relationships. Don't do this. It doesn't work. And it's not a good look.
Leveraging automation for your LinkedIn Sales strategy isn't a smart move right now. Stick with manual, highly targeted outreach. It will increase your conversion rates, lower your sales cycles, and prevent you from getting permanently banned.
LinkedIn has been cracking down recently on spam and automation. They've been permanently banning accounts. It's not worth it. Manual outreach performs 10X better. As my friend @BrynneTillman says, "Slow down the outreach to speed up the outcome"
Another mistake I see a lot of enterprises make on LinkedIn – posting lame content with no intention. A lot of company LinkedIn pages are full of boring white papers and webinar links. There is no emphasis on creating engaging #ThoughtLeadership content.
In addition, many corporations are failing to leverage their most important asset – their employees! If enterprises want to get real results on LinkedIn, their employees have to embrace the platform.
This might be helpful for some after the chat. I recently interviewed LinkedIn content badass, Amber Naslund, on our podcast. Hope it's not bad form to share this. She offers some great advice here: https://t.co/PmvBmv3awo #vcbuzz

— Jon-Mikel Bailey (@JonMikelBailey) June 29, 2021
This is exactly why we provide #LinkedInTraining for enterprise sales and marketing teams. Most sales reps and marketers are not experienced or knowledgeable in leveraging LinkedIn for social selling and marketing.
Q5 What are your favorite Linkedin marketing tools?
I'm a big fan of LinkedIn's #SalesNavigator platform. It's an amazing tool that offers so many opportunities to connect and engage with your ideal customers. You can get really specific in your searches in order to build highly targeted lists.
One of my favorite @LinkedIn Sales Navigator features is the – "Posted in last 30 days" feature which filters the active LinkedIn users in search. Then, you can ensure you are focusing your LinkedIn outreach efforts only on the most active users.
If you want to try out Sales Navigator, I have a link where you can try it out for 60 days. Disclaimer: it is my affiliate link so if you sign up after the first 60 days, I earn small commission. Every LinkedIn sales program MUST include SN.
I'm also a big fan of Shield App for LinkedIn analytics. It's really the only tool I've found to directly integrate with LinkedIn, easily, and produce very valuable analytics data.
Although there are a million social scheduling tools you can use to schedule content on LinkedIn, our studies have found that your views increase substantially when you post directly to LinkedIn, and not use automation to schedule posts.
So if you have content you really want to get lots of eyeballs on, don't schedule it. Post it directly on LinkedIn. And remember to put the link in the comments if you are linking to a 3rd party website.
You don't really need "tools" per se, aside from your skills 🙂 Make it a point to be consistent on LinkedIn. Engage with people – try to leave 5+ meaningful comments a day, send personalized connection requests, follow up via messenger, & post content
Speaking of content, I like to peruse LinkedIn's feed for content ideas and then click the 3 dots in the top right corner of posts, and click "save." Then, when you are ready to write content, go back and look at all your saved posts for ideas.
And remember that even though LinkedIn is a business platform, personal posts are crushing it right now. People are craving human-to-human interaction. They want to know the people behind the brands. My personal posts ALWAYS outperform my business posts.
The key is to diversify your content on LinkedIn. Try new things. Don't be afraid to stand out. Don't be afraid of what people think of you. Help people. Provide value. Show your personality and realness. And be consistent!
Our previous Linkedin marketing chats: