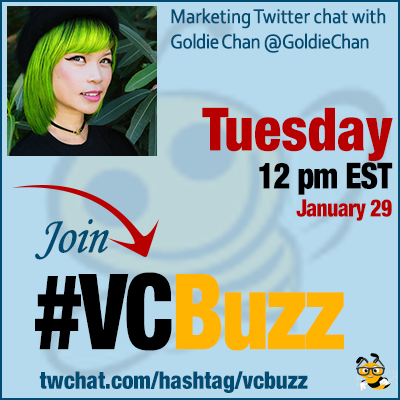 Writing on LinkedIn is a solid inbound marketing strategy that can help build leads and develop an audience within your niche.
That's why we added Linkedin support at Viral Content Bee last year: It works!
But how to succeed on Linkedin? Let's discuss!
***Add #VCBuzz chats to your calendar here.
***Please sign in here to follow the chat -> twchat.com/hashtag/vcbuzz
About @GoldieChan
@GoldieChan is known as the green-haired "Oprah of LinkedIn." Her LinkedIn video channel garnered 3 million views in under a year and is the platform's longest-running daily show with a global community. She is a top LinkedIn creator, digital strategist and personal branding expert.
Goldie @Forbes contributor and owner of Warm Robots, a corporate social media strategy agency. Connect to Goldie on Linkedin!
Questions we discussed
Q1 How did you become a digital marketer? Please share your career story!
I've been in #digitalmarketing for over a decade

I first started as a #Marketing associate at a #startup in #SiliconValley and grew from there.
I've always been interested in #LinkedIn but I never thought to grow my presence on there (I was rebuilding @LinkedIn profiles for C-level executives at Fortune 500 companies).
I got into the LinkedIn #video beta and decided I wanted to try making content that I enjoyed and wasn't tied to a brand or in-house. #VCbuzz

— Goldie Chan ? (@GoldieChan) January 29, 2019
When content creation is your first love/obsession AND you have a community behind you, it's easy to focus your time and energy on making videos or written content! #VCBuzz pic.twitter.com/0xKyTnvu5x

— Goldie Chan ? (@GoldieChan) January 29, 2019
Q2 How did you become top voice on LinkedIn? How much effort and time did it take?
Becoming #LinkedIn #TopVoice took me 1.5 years to do. I spent 1/2 a year growing an engaged #LinkedinCreator #community and regularly creating content – #DailyGoldie is the longest running daily Linkedin video channel ever.
A great article by @danroth, the Editor in Chief at @LinkedIn about what Top Voice is: https://t.co/RJicC5iSEG

— Goldie Chan ? (@GoldieChan) January 29, 2019
You can follow along with my #LinkedIn video & written content here: https://t.co/Dq54vdldJu

— Goldie Chan ? (@GoldieChan) January 29, 2019
Q3 What other LinkedIn influencers can you mention as examples of solid LinkedIn marketers? What are they doing right?
I like what marketers like @amyblaschka @pelpina and fellow Top Voices @Allen @Shama @RisoNatalie have done on the #LinkedIn platform in terms of growing a unique audience and also explaining part of their process.
These #LinkedIn marketers are growing their audience with authentic engagement and strong content (and not secret hacks). It's that real thought and care that shines through their marketing.
@goldiechan I consider a post successful if its number of views is greater than 50% of my followers – your thoughts? #vcbuzz pic.twitter.com/ptT6d5SD9r

— Stefan Debois (@sde77) January 29, 2019
Great question, Stefan! I don't measure metrics as thoroughly per post (since I do daily content) but I check by what is my average baseline per post (is it 30 likes + 10 comments) etc and see if overall engagement increases regardless of #LinkedIn follower count.
The "how many times to post" is audience and content dependent question. Some audiences want to see one post a week and some can tolerate daily #LinkedIn posts. You have to go out there and try a schedule for a month to get real data on this. #VCBuzz

— Goldie Chan ? (@GoldieChan) January 29, 2019
@sde77 Yes, that's the trick, Stefan. On any social platform, the more you post the lower your engagement per post (unless you have a viral video channel, maybe). #vcbuzz

— Gail Gardner (@GrowMap) January 29, 2019
Q4 How to leverage LinkedIn to build leads (without being too salesy or spammy?)
LinkedIn can be used for leads when what you are looking for is hyper-focused. What industry/vertical are they in? What is their primary job function? Age range? Where do they go online and offline?
A4 Start with optimizing your profile and getting some testimonials and publishing some posts there. I have never actively built leads that i can recall on LinkedIn, but I get a lot of inquiries from it. #vcbuzz

— Gail Gardner (@GrowMap) January 29, 2019
Once you have these questions answered, search for them using the general search function or invest in #SalesNavigator if you'd like to do outreach on scale.
Q5 What are your favorite social media, in general, and LinkedIn, in particular, marketing tools?
I have many favorite #marketing tools – high among them is @buffer (both tool and insights), @SproutSocial (for larger enterprise), @amazon's influencer program for linking to products, @Adobe for editing photos/videos.
A5 LinkedIn likes to detach itself from marketing tools. Is that getting better or does it happen less frequently on some of them? #vcbuzz

— Gail Gardner (@GrowMap) January 29, 2019
LinkedIn-specific tools depend on if you're using them for brand pages (many more options) or personal brand pages. There is currently no way to push video onto a #personalbrand page from a 3rd party app (or schedule natively)
A5 Linkedin marketing tools from myself: @ContentCal_io and @mavsocial – love using them for Linkedin sharing #vcbuzz

— Ann Smarty (@seosmarty) January 29, 2019
Our previous LinkedIn marketing chats: