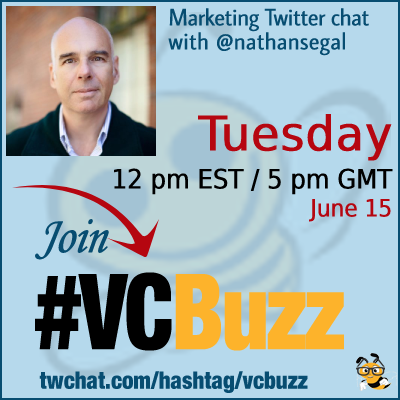 The Internet has brought about lots of unique opportunities, including the ability to become a freelance writer.
Whether it is a full-time job or a occasional gig, making money as a writer is something many people can do.
But how and where to start?
Let's discuss!
***Add #VCBuzz chats to your calendar here.
***Please sign in here to follow the chat -> twchat.com/hashtag/vcbuzz
About @nathansegal
Nathan Segal is a copywriter and author with over 21 years of experience. He has written for consumer and trade journals and corporate communications.
As a travel writer, he has written about his journeys between Canada, the United States and Mexico.
Questions we discussed
Q1 How did you become a digital writer? Please share your career story!
I was fired from my job as a software instructor. Two weeks after I had been fired, my mentor asked me if I wanted to learn how to write. With no other prospects, I said, "Yes."
Q2 How can one decide they can become a freelance writer? What set of skills is required? Can you learn to become a writer from home?
If you want to write, you can become a writer. All it takes is the decision to write. As for making sure your copy is good, you need to work with an editor. That's key and what helped me a lot.
A2 It really helps if you writer proper English (or whatever language you write in). And can organize your thoughts in a logical manner.

Those who aren't good at grammar or writing can consider making videos or having a podcast instead. #vcbuzz https://t.co/F9nZJSDA0g

— Gail Gardner (@GrowMap) June 15, 2021
In my opinion, no special skills are required.
A2. A love for writing and the skill to make the most of words that resonate with with the target audience. #vcbuzz

— Jeannie Hill (@essentialskill) June 15, 2021
My English was pretty good and I had some direction from my mentor. The number one thing he told me is to write as if I'm speaking to a 10-year-old child.
A2. Anyone can learn to be a freelancer with the right resources. Knowing whom to listen to and what advice to ignore is key when you start in this niche. #vcbuzz

— Teodora Ema Pirciu (@emapirciu) June 15, 2021
It depends on the niche. I used a lot of the resources from @copyblogger and @HubSpot. @Grammarly and @Upwork have super helpful blogs, too.
Writers should also try to find a community to learn from others — Facebook groups, Twitter Lists, and Twitter chats. #vcbuzz

— Teodora Ema Pirciu (@emapirciu) June 15, 2021
Q3 Where to start? How to find your first clients?
The first step is a mind map, to determine your interests. After that, my mentor took me to the library, where we access the Gales Directories to find clients. That method still works, but not as well today. These days I find most of my client on Facebook and by search
Posting in Facebook groups works but where I got most my work was from joint ventures. Where you create partnerships. Writing for magazines and blogs had a cap and it was almost impossible to go above that.
A3: I jumped at every opportunity to write when I worked in corporate America. While I was pursuing my love of writing, I was also building my portfolio (unknowingly at first). Some of the people I met during this time are still my clients today. #vcbuzz https://t.co/SWMTnHW5rw

— Jaime Shine 🖋️ (@jaimeshine) June 15, 2021
Joint ventures allowed me to change that. With my first joint venture, I tripled my income and now., my number one goal is to do joint ventures. Joint ventures are without question, the best way I know of to make $$$
With my first joint venture, I earned over $90K in royalties and one can do much better than that. I know of one marketer who was able to earn over $300K by writing a report.
A major key to success is getting out of the lone wolf mindset and learning how to partner with others. That way, you can multiply your success using the resources of others.
A3. I'm a big fan of platforms like @Upwork.
That's because, when you're just starting, you're a target for scammers. Having someone on your side initially is the best way to stay protected as you get some experience under your belt. #vcbuzz

— Teodora Ema Pirciu (@emapirciu) June 15, 2021
Q4 How to manage your freelancing business? Do you recommend hiring people (like a virtual assistance, etc.) or are you more of a one-man business? How to bring your business to a new level?
I only hired transcriptionists for my interviews. I managed all my deadlines with a calendar on the wall and using a dry erase marker to put in the appointments over a two-month period.
If you are doing a lot of outreach, a virtual assistant can be helpful, but I never used one, partly because my pitches were often changing. It was easier to do that alone.
A4 It really depends on your goals. Most #freelancers handle everything themselves. The ones that want to operate like an agency will hire a #VA to do outreach. #vcbuzz https://t.co/Yi2jBBFauF

— Gail Gardner (@GrowMap) June 15, 2021
When you start making over $5K month, it might be useful to hire a VA to help with appointments.
A4. At first, you're the CEO and the person who cleans the trash bin.
I still can't afford a VA, but I pay for some services.
It's all about planning and making sure you work both for your clients and your business to keep growing the business and building the brand.#vcbuzz

— Teodora Ema Pirciu (@emapirciu) June 15, 2021
For me, the calendar was my most important tool. At a glance, I could see my deadlines.
I eventually want to use VA's for editing, interviewing and cover creation. That will come in time.
Yes, finding a good VA is challenging. Some have the skills, but no passion for what they're doing. Others need the income, but you're never quite sure whether they're actually doing what you trained them to do or not. #vcbuzz

— Gail Gardner (@GrowMap) June 15, 2021
Q5 What are your favorite freelance writing tools?
Prowritingaid, MS Word, Techsmith SnagIt.
For doing videos my Logitech 9000 webcam, Camtasia Studio, and Photoshop.
A5 Love love love Trello and Google Docs for planning and collaborating! #vcbuzz

— Jessy Troy (@jessytroy) June 15, 2021
I also have an iRig MIC HD for high quality audio.
I sometimes use Google doc for collaboration.
A5 Always @ahrefs and @textoptimizer #vcbuzz

— Ann Smarty (@seosmarty) June 15, 2021
If you hate to type, you can talk into a recorder and get your words transcribed Another option is Dragon Naturally Speaking. Famous blogger Jon Morrow uses that setup.
If you're into book writing or screenplays, I recommend Scrivener. WAY better than MS Word.
Our previous freelance writing chats: