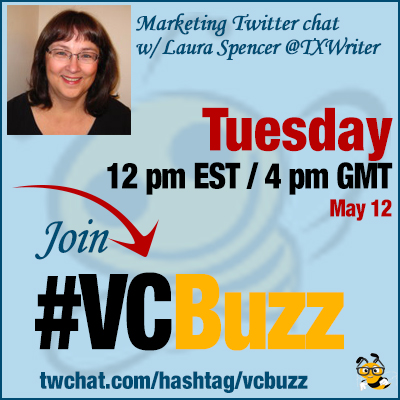 Social media promotion relies on the quality of the content, in the first place. Therefore we pay so much attention to content and how to produce top-quality articles. After all, we all want your content to succeed at Viral Content Buzz!
So today we have invited the content PRO: meet Laura Spencer @TXWriter
***Please sign in here to follow the chat -> twchat.com/hashtag/vcbuzz
***Important: Join this event on Google Plus to be notified of upcoming chats (It's easier with daytime savings and different time zones!)
About Laura
Laura Spencer a freelance technical writer, blogger and copywriter. You can read her thoughts at her own blog.
Please connect to Laura on Linkedin.
Questions we discussed
Q1 How did you become a freelance writer? Did you ever plan to earn your living by writing?
I started in the corporate world as a marketing writer for 5 years. Then I was in corporate technical writing for 11 years. So I was accustomed to earning my living as a writer. Freelancing was totally new for me, though.
I switched to freelance writing when I found myself with the need to better control my work schedule.
Q2 What would be your #1 advice to content providers: How to produce top-quality content?
Wow, there are so many things I could say here. If I had to pick the most important advice it would be a tie.
1st of all, don't quit too soon. A lot of writers start freelancing, but give up with their 1st rejection.
Next, know who you're writing for. Find out everything you can about them. What's important to them? Where do they go online?
A2 LOVE every article you write. No need for perfectionism (we need to work done) but read it and enjoy it! #vcbuzz

— Ann Smarty (@seosmarty) May 12, 2015
It's true. You need to be proud of what you write.
A2 Just paying attention to comments and shares (and replying) is a good way to figure out your audience! #vcbuzz

— Ann Smarty (@seosmarty) May 12, 2015
I'm still a big believer in comments. As long as they are not spam, I always answer them.
Of course you can use your stats to find out a lot, but I also recommend interaction with your readers.
It only begins! RT @jessytroy: A2 When your article is live, your job is not over (interact!) #vcbuzz

— Ron Sela (@ronsela) May 12, 2015
@seosmarty create more than some text, use visuals (image, video) and audio to. Use eveything you got to tell a story that sell sell #vcbuzz

— Robert Katai (@katairobi) May 12, 2015
Q3 Freelance writing is an interesting industry. On one hand, there are plenty of writers offering cheap services all over the web. On the other hand finding a good writer is tough! What's your most efficient way to find leads and clients?
For me, building relationships is the way to find work. As a result most of my clients come from repeat business or referrals.
A3 Referrals from old clients! #vcbuzz

— Jessy Troy (@jessytroy) May 12, 2015
Also, make sure you can be found. I just wrote about this in my latest post.
A3 Relationship building is VERY powerful for finding clients! And it's free ? #vcbuzz

— Ann Smarty (@seosmarty) May 12, 2015
Plus, you're working with someone you already know, so trust is there.
Every 1 of my clients from referrals and MBU – Seriously – I never have to look for work – #vcbuzz

— Phil Turner (@EP_pturner) May 12, 2015
You can get to know people through social media, writer's forums & groups like Viral Content Buzz.
A3 Odesk (=Up-something) is pretty good… and it's not as overloaded with cheapy services are DP and Freelancer… #vcbuzz

— Jessy Troy (@jessytroy) May 12, 2015
I've also found that my blog provides me with an online platform where I can interact with potential clients & other writers.
GREAT point: Find your selling point! Stand out by being an expert in ONE thing! RT @katairobi: Nobody can do everything ? #vcbuzz

— Ann Smarty (@seosmarty) May 12, 2015
Q4 Writing is a very creative process. When you earn your living by writing, you have to produce content whether you feel inspired or not. How do you fight the writer's block?
Good question. I've written posts on this. Here's one: 4 Types of Creative Block and How to Overcome Each.
Another big problem that I have is finding enough time to do personal writing projects.
I get work only from word of mouth. It's been an awesome process. Hope to keep going this direction ? #vcbuzz

— Wendy Kiana Kelly (@WendyKKelly) May 12, 2015
That's one reason I wrote 6 Steps for Managing Your Time as a Writer.
@TXWriter How much time does it normally take to write, say, 600-word article? #vcbuzz

— Jessy Troy (@jessytroy) May 12, 2015
Excellent question. I would say that it depends on how much research the article takes. Of course, every writers is different. Without research, sometimes I can do a draft in an hour. Then I revise. I usually spend as much time revising as writing. The research is really important, though. I've spend a whole 8 hours doing research before.
@jessytroy takes me a morning to write 750 words #vcbuzz

— Phil Turner (@EP_pturner) May 12, 2015
Maybe it's just the editor in me, but I've been noticing lots of mistakes on big blogs and even the news lately.
I'm coming to the conclusion that spell check should be turned off and writing care filter in my brain turned on again! #vcbuzz

— Steve Counsell (@stevecounsell) May 12, 2015
Q5 Related to Q4… How do you keep yourself organized? Creativity is not easy to organize to keep your productivity high…
An organization tool has to be simple, or I won't use it. I'm big on using spreadsheets. Google Docs or Excel. I have a special spreadsheet that I created to track topics I write about and where I've been published. Another tracks my pay.
I use Google Docs for sharing but create documents locally and then copy / paste into GDocs #vcbuzz

— Steve Counsell (@stevecounsell) May 12, 2015
I put off learning Google Docs until a client required it. I've found I really like it, especially for teams. It's good to know your best times.
I'm sure it's me, but I haven't caught onto Trello yet. I looked at it and I know others use it.
@TXWriter I also love Evernote – great for lists and notes all together. #vcbuzz

— Maria Elena Duron (@mariaduron) May 12, 2015
For social media, you can organize tweets with TweetDeck and shares with HootSuite or Buffer. A non-technical way I organize myself is to differentiate between work time and personal time. I've found I have to do it, or I start feeling burnt out. I try to organize my days to have at least some time away from the computer and take at least 1 weekend day off.
Previous freelance writing Twitter chats: