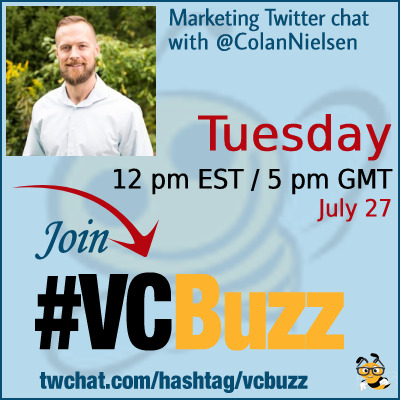 Google has been displaying local business results within their main search page for years now, and still there's no clear way to rank your business there.
What works when optimizing your business for Google's local results and how to list your business within the general search?
Let's discuss!
***Add #VCBuzz chats to your calendar here.
***Please sign in here to follow the chat -> twchat.com/hashtag/vcbuzz
About @ColanNielsen
.@ColanNielsen is Vice President of @SterlingSkyInc
Colan started in the local SEO world back in 2010 and is also deemed a product expert by Google as a Top Contributor on the Google My Business Forum.
He is a contributor to Moz's famous Local Search Ranking Factors survey and is a former Google MapMaker Regional Lead.
Questions we discussed
Q1 How did you become a digital marketer? Please share your career story!
I studied Tourism Management in college. After college, I landed a job at a marketing agency to help build their travel/tourism clients. It was 2010 and I knew nothing about SEO at that time.
After doing sales first, I moved to the SEO department and began my SEO career. I was a citation builder, then moved on to Google Places optimization work, and eventually became the SEO director.
I fell in love with the puzzle-solving nature of local SEO and the rest is history. Fast-forward 11 years and I get to do local all day, every day, with the best local SEO's in the world as part of the @SterlingSkyInc dreamteam™
Q2 What is Google 3-pack? Are there any studies as to how much more exposure businesses within the pack generate? What should small business know about that search element?
The 3-pack is front and center for any search on Google that has local intent. It displays 3 businesses that are connected to Google Maps, and sometimes an ad as well.
We put a case study together that does a nice job of demonstrating the additional exposure a business gets by expanding their rankings within the 3-pack.
You need to keep a close eye on your competitors as they can push you out of the 3-pack at anytime.
Ranking in the 3-pack is heavily weighted on proximity to the searcher. This means you need to track rankings with a geo-grid-style rank tracker.
What is the geo-grid-style rank tracker that you use?#vcbuzz

— Boyd Norwood – nozzle.io (@boydnorwood) July 27, 2021
There are a few good ones. @PlacesScout @brightlocal @dbaPlatform all offer them.
Q3 Is there anything within Google My Business dashboard that can help a business rank higher locally?
There are really only a few things in the GMB dashboard that have a direct impact on ranking. Business name, categories, website field, reviews, and certain GMB attributes.
@JoyanneHawkins breaks down the fields that impact ranking in this @Moz Whiteboard Friday.
Colan, is Google still offering an agency management platform for GMB? #vcbuzz

— Don Sturgill (@DonSturgill) July 27, 2021
Yes they do.
Do you use the agency platform, Colan? What do you think of it? #vcbuzz

— Don Sturgill (@DonSturgill) July 27, 2021
It's a game changer. They had some kinks to work out in the beginning but seems to be fine now.
Q4 Which outbound tactics (reviews, links, citations?) help a business rank in Google 3-pack?
All of the above! Reviews, both Google and non-Google, can influence rankings. Same with backlinks and citations.
Not an outbound tactic, but I would classify strategic internal linking as something all local SEO's should be prioritizing.
Oh really? O never thought of that for local SEO! #vcbuzz

— Anna Fox (@manifestcon) July 27, 2021
Big time. People often overlook the websites impact on GMB/local rankings. It's a big part of the ranking pie/puzzle.
A4: List and getting mention on quality local directories. Maintain the NAP while doing distribution. More mention will help make you more closer in 3 pack. Last but not the list update gmb profile as much as you can. #vcbuzz

— Hiren vaghela (@hirendream) July 27, 2021
I have felt for many, many years now that internal linking is one of the most underutilized SEO tactics for any SEO campaign. When it comes to local SEO, do you add internal links that include the city in the anchor text?#vcbuzz

— Boyd Norwood – nozzle.io (@boydnorwood) July 27, 2021
If that's what the strategy calls for yes. Especially if you are trying to improve rankings of an explicit query (ie. with a geo in the query)
Q5 What are your favorite local marketing tools?
I use several tools on a daily basis. Each toolset has unique features that I love. At the top of my list are tools from @PlacesScout@brightlocal@whitespark
We have also started using these incredible tools created by @noahlearner who is the product director @twooctobers Hit him up if you want to take your data collection and analysis to the moon!
A5 Love @brightlocal and the awesome team behind it! #vcbuzz

— Ann Smarty (@seosmarty) July 27, 2021
Our previous local marketing chats: