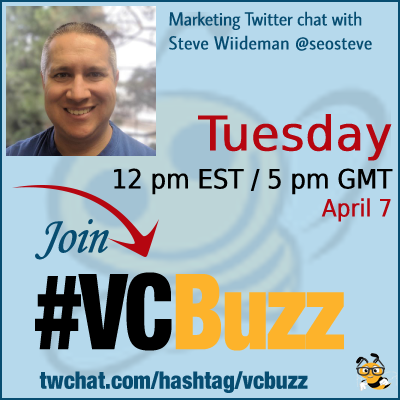 Local marketing is a huge small business driver: It helps any local business get discovered and build customer base.
But for multi-location businesses, it can also be very challenging as there are more questions than answers.
How to scale local SEO for multi-location businesses? Let's discuss
***Add #VCBuzz chats to your calendar here.
***Please sign in here to follow the chat -> twchat.com/hashtag/vcbuzz
About @seosteve
Steve has consulted for various enterprises and well-known brands for over 10 years, while playing key roles within multiple agencies and solution providers in the inbound marketing industry.
When not at work, Steve enjoys traveling with his family, reading historical fiction, and training his Padawan Jedi here in La Mirada, CA.
If you are looking for SEO services, be sure to check out Steve's company wiideman.com
Questions we discussed
Q1 How did you become a digital marketer? Please share your career story!
I became a digital marketer out of necessity being a freelance webmaster in the late 90s and grew to love it. So much that I went back to school and earned a degree in E-Business Management.
As my passion for search grew, I started documenting everything I was learning and eventually started selling information products in mid-2000s, which was the catalyst to some pretty exciting career opportunities.
Q2 Which challenges do multi-location businesses run into when trying to set up local entities?
Multi-location businesses have 3 primary challenges that affect setting up local entities. Those are Strategy, Organization, and Coordination. Let me elaborate…
Strategy – this challenge can be fixed by starting with in-depth audits and industry studies across the competitive playing field. So many multi-location brands won't take the time to figure out WHAT to do and WHERE to take action.
Organization – deciding on a project management system that ALL team members are comfortable with. For example, I'm not a fan Trello (I like lists not boards), you also need the right team members managing the right group of placements and tasks.
Because you wouldn't give a writer technical tasks, or a citation-builder writing tasks.
Cooperation – getting buy in from individual location managers to be involved in the process. Mom and pop's have the flexibility to grind, but getting a location manager to fill out a survey or get a 360 street map video is like pulling teeth.
When all three of those challenges are addressed, you have a seamless process of new data point acquisition, consistent service data, reputation management, and measurement that all team members view together become accountable to.
A2) Micro-managing can be a task. Also, managing local content. #VCbuzz

— Megha (@WanderlustGirl_) April 7, 2020
That's fantastic! Twitter is definitely still a good marketing source IMO.
@WanderlustGirl_ You're not kidding. Writing local content shouldn't be a job, it should be a fun way for businesses to share more about themselves with the local community, but marketers try too hard to push instead of pull with content. #vcbuzz

— Steve Wiideman (@seosteve) April 7, 2020
Q3 Multi-location versus service-based: Which businesses can set up "service area" and if it still worthwhile for them to verify each location in Google Maps?
I think it was in September that companies were no longer be able to say their services cover a certain radius around an area and November that Google added the ability to add up to 20 service areas. I see how this can cause concern…
Google is trying to help those businesses affected by geographical limitations in Organic (primarily caused by black hat SEO practices) by offering Local Service Ads and beta testing other pay-to-play solutions.
But if you're a good result because you provide a more helpful experience AND users are searching for you by name more so than competitors, you can still win in the Organic race without paying for ads; but studies show doing BOTH can benefit both.
Q4 With many locations and listings, how to keep yourself organized and updated on new reviews and questions?
I mentioned Project Management system earlier. Our favorite places to load up LSEO tasks are Ignitur, Monday, and Smartsheets (which we're currently on). Additionally, platforms make it very easy to manage LSEO data management and syndication…
My favorite multi-location data management tools include Yext, Rio SEO, Brandify, Synup (for agencies), and a few others. DM for feedback on any of these.
Those tools also help manage business reviews with sophisticated AI that uses natural language processing to summarize and report on sentiment, response rates, and to prioritize issues.
@seosteve Which seo news site you follow for updates in SEO industry? #vcbuzz

— Salman Saleem (@salmanlashkari) April 7, 2020
I follow all the SEO news sites via Feedly. Here's my OPML file if you want to import it into yours.
On that same note, there is a Local SEO feed list in my Feedly. Bryan on our team monitors that like a hawk throughout the day to stay in the "know" on local SEO. (Hey, I'm a poet and I didn't know it) 🙂

We have a nice curation tool for SEO news too: https://t.co/fFK8i47KH3 #vcbuzz

— Ann Smarty (@seosmarty) April 7, 2020
Q5 What are your favorite digital marketing tools?
Our current multi-location toolset includes: Rio SEO, Yext, BirdEye, WhiteSpark's Local Citation Finder (intersecting citation opps), and BrightLocal's citation-building services (for struggling locations).
But let me share a few of my own guides that might help you. The first is a guide you can distribute to franchisees or location managers to remind them of who is doing what and how they can help.
A5 My favorite SEO tools: feat @screamingfrog @textoptimizer @yoast @neilpatel @sistrix All reviewed here -> https://t.co/4ZRFgueZcl #vcbuzz

— Anna Fox (@manifestcon) April 7, 2020
The second is our internal Local SEO Framework doc that works as an audit. I'll keep this open for a few days for you.
We use ScreamingFrog for small sites and Ryte for larger ones. Yoast also has Ryte integration for small sites that use WordPress.
A5 All I use is @semrush and @yoast! #vcbuzz

— Jessy Troy (@jessytroy) April 7, 2020
Which are GREAT for organic SEO or single location businesses. We have both! But this particular chat focuses on multi-location SEO, so I tried to stay on point.
A5 Give a try to @serpstat and @seranking – those two are pretty solid multi-purpose SEO suites! #vcbuzz

— Ann Smarty (@seosmarty) April 7, 2020
A5: I'm a huge fan of RankMath when it comes to optimizing my posts for SEO on WordPress. #vcbuzz

— Jacob Laguerre (@jacoblaguerre91) April 7, 2020
I've heard great things about RankMath. Just make sure you're keeping it up-to-date, as there was a vulnerability compromised recently.
Our previous local marketing chats: