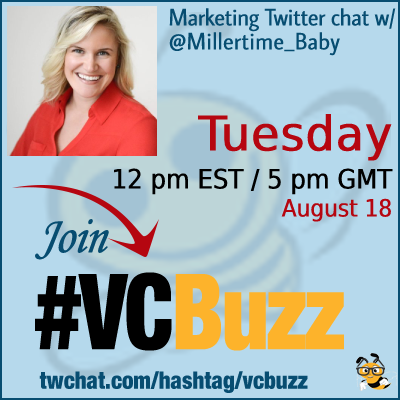 SEO is an interesting and exciting field: There's something for everyone there.
Whether you love technical stuff or prefer a creative job, there's a place for you in the SEO field.
But how easy is it to build a successful career in the field that seems to get over-saturated with experts?
How to land an SEO job of your dream?
Let's find out!
***Add #VCBuzz chats to your calendar here.
***Please sign in here to follow the chat -> twchat.com/hashtag/vcbuzz
About @Millertime_Baby
Holly Miller Anderson @Millertime_Baby is an SEO and marketing strategist with a background in product management and optimizing marketing channels.
Her most recent role was SEO Product Manager at Macy's TECH. She is also on the Board of Directors for @BaySearch, the largest SEO meetup in San Francisco. The group brings together SEOs for knowledge sharing, jobs and networking.
Holly's enthusiasm for search comes from her diverse set of professional experiences in online marketing from filmmaking to communications to creative agency work. She's passionate about sharing her unique professional insight to help marketers improve their products and customer experience.

Please follow Holly's blog at ItsMillerTimeBaby.com
Questions we discussed
Q1 How did you become a digital marketer? Please share your career story!
Seemed like a good idea at the time 😉 Seriously, I was basically starting my professional career amidst the 2008 housing market crash. I lucked out getting hired doing corporate trade shows & events at a tech company.
Then I moved into Account Management. From there, as an SEO Account Manager at a digital agency.
I also made sure to put myself out there and volunteer for nonprofits in the marketing & advertising industry. This was always a great opportunity to get out and meet people & a chance to MC events. This all helped me to build my personal brand early on.
That's the way to learn, get your hands dirty. You don't learn by just reading guidelines. You need to get into the weeds to learn true SEO. #VCBuzz

— William Álvarez (@williamalvarez) August 18, 2020
Q2 Ok, so let's start from the main question: How did yo manage to land a job at @Macys? What was your experience of being part of such a huge company?
It was actually a previous client of mine that reached out and encouraged me to apply to work on their team at Macy's TECH. It was eye opening working for a monolith of a company because prior to that my experience had been in SaaS and agency roles.
I'll forever be grateful that I had the opportunity to be a part of the product team at the tech office in San Francisco. I learned and grew so much being exposed to a diverse team and getting to work cross functionally with so many departments.
I recommend getting enterprise level experience at least once in your career. You make so many great contacts and get the opportunity to contribute to a well known brand.
But I also want to say to those looking for their "dream SEO job," it's also OK to have a job be a job. Especially if you're balancing your side projects that you're really passionate about.
In SEO, it's OK to try lots of different aspects of it to find what you excel at.
Q3 Have you ever considered being / been an independent contractor? What are the pros and cons of going solo?
Absolutely. In fact I'm usually an IC when I'm in between jobs. I wrote a blog post about the pros/cons of freelancing and the reality behind it. I'll link it here.
I think being an independent contractor is something everyone should try at least once because it helps you become self-aware about your strengths and weaknesses and what online services you really want to provide.
I was there, but it's pretty challenging, since I don't like cold calling. That was tough, I'm more passionate about the practice. It was a draining experience for me, for some other people it works pretty well. I only miss my super flexible schedules back in the days. #VCBuzz

— William Álvarez (@williamalvarez) August 18, 2020
In full transparency, I learned I'm not great at creating leads for myself. I'm better at doing the strategy work & delivering insights to clients. When you're freelancing, you learn very quickly how to navigate your own ship. It's fun but it's sink or swim.
A3 I guess that's where I am today. A gun for hire! Pros .. flexibility. Cons .. having to keep your name out there 🙂 #vcbuzz

— Phil Drinkwater (@phil_drinkwater) August 18, 2020
Q4 A lot of SEOs have lost jobs over this spring's quarantine. How can they find new jobs?
This pandemic has affected so many different industries. If you're an SEO or digital marketer looking for work please connect with me on on Twitter or LinkedIn. I'd like to do what I can to refer you to jobs and hiring managers that contact me.
A4 The best 2 places I know of to look for new #marketing including #writing and #SEO #jobs are:https://t.co/ef9qJEc0Qchttps://t.co/NxGE9cqibC

#vcbuzz

— Gail Gardner (@GrowMap) August 18, 2020
I did a webinar on how to find a job during the pandemic with the DMO (Digital Marketing Org). Here's the replay.
A4. Hussle. Stand out. I've done a ton of recruitment in my time and when you get a lot of cvs, you need something to jump out of the page.

And in the meantime, offer help. You never know where things might go #vcbuzz

— Phil Drinkwater (@phil_drinkwater) August 18, 2020
Some of the best advice I can offer about finding a new job is to get involved with the industry networks (VC Buzz of course!). In SF, there's @BaySearch. Get engaged in the conversation, check their job boards, offer to be a speaker, volunteer for events.
Networking should be a top priority right now, being open about their current situation. The job market is reopening and comes with great opportunities to work remote. There's a new job search engine purely focused on #RemoteWork https://t.co/WhCd9XvWxR #VCBuzz

— William Álvarez (@williamalvarez) August 18, 2020
Candidates today should try to stay visible online across professional social platforms. Be genuine in your outreach to people you'd like to do an informational interview with. Always add value first before asking what someone else can do for you.
A4 Invest time in personal branding now (or better yet – yesterday!) #vcbuzz

— Ann Smarty (@seosmarty) August 18, 2020
While job hunting, have a project that excites you. It can be blogging, learning a new skill online (I'm taking intro classes on Python). You need something that feeds you and is also something to talk about with recruiters that also shows your initiative.
A4. It helps to have strong industry peers to align expectation. Hiring an SEO, for instance, has been a negative experience for just about every project that I have. Black hat SEO and taking shortcuts has been unfair to clients and they may need nuturing RT @manifestcon #vcbuzz https://t.co/mZ6mzv3Ri9

— Jeannie Hill (@essentialskill) August 18, 2020
If you're lucky, a new skill could be just what a company is looking for. Document your learnings. Investing in yourself and your brand is always a good use of your time.
Q5 What are your career-building and job finding tools and resources?
If you can't tell I'm big on Twitter & LinkedIn for career-building 😉 It's important to participate in SEO industry chats like #ContentChat, #SEMRushchat. I've "met" people that have referred me later. It's also a great way to pay it forward to others.
I've also found that in times like this when so many people are pivoting in their careers, reaching out and talking & reconnecting with folks in your network will help keep you top of mind when opportunities do open up.
No one likes to admit it but job hunting takes a while; you need a lot of resiliency. Companies are also trying to figure out what kind of SEO they need based on their own resources. Be who you are and practice your craft. You only need one yes.
Our previous career-building chats: